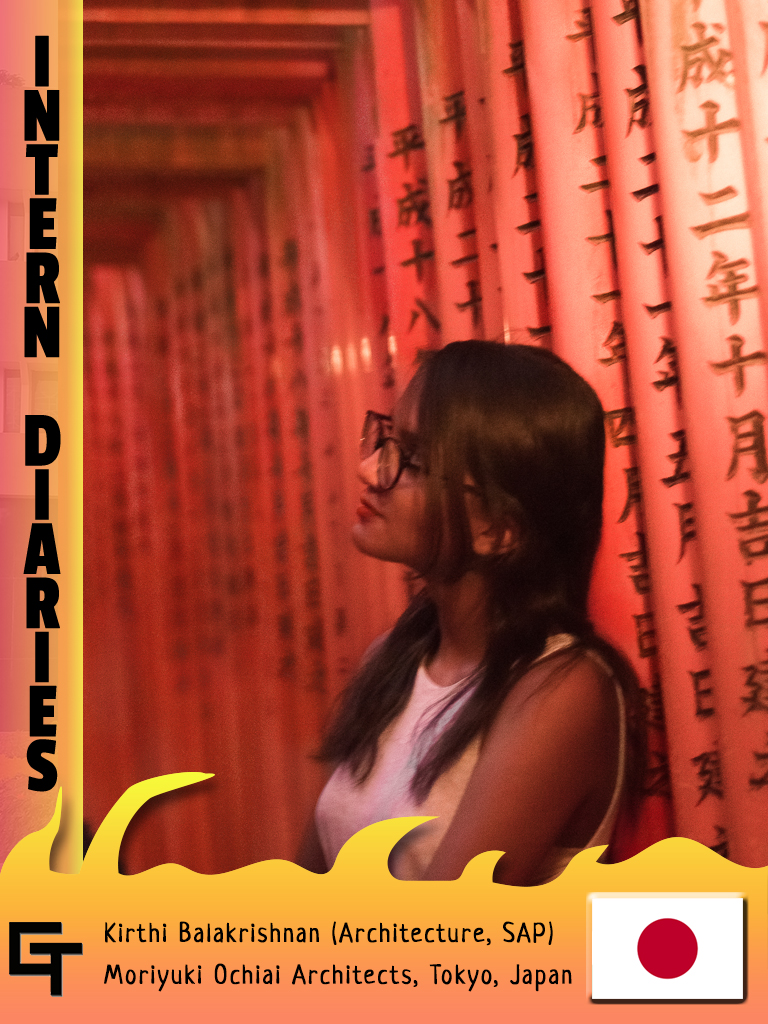 Interviewer - Skandhan
Interviewee - Kirthi
GT- Introduce yourself as an AU-ian
KIRTHI - I'm Kirthi Balakrishnan, currently in my 4th year of B. Arch, from SAP. Although I'm studying architecture, I'm not completely sure what I want to do in life. So I think internships are a pretty good way to figure out what kind of job is for you. This summer I interned at Moriyuki Ochiai Architects in Tokyo, Japan. It was a busman's holiday of sorts because Japan is a place I've always wanted to visit, and I was able to do it, while also getting professional exposure.
GT- When is the best time to start applying for internships?
KIRTHI - I applied for a summer internship and I was already pretty late to apply to a lot of places. So, ideally, start applying at least 4 months ahead, especially if you are applying abroad. This will also give you ample time to apply for your visa, book your flight tickets, set up the form of accommodation and plan your weekend trips.
GT- How is independent living different from normal college life?
KIRTHI - To be honest, it made me pretty eager to get college life over with as soon as possible. I had a lot more free time that I didn't have to take any of my work back home & spend time on group projects and whatnot. Yes, it got boring once in a while, but there was a lot to explore in Tokyo & that made every day packed with some plan or the other.
A downside of independent living was that I had to do my dishes, sometimes cook my food and do my own laundry. Being a hostel-dweller here, I don't have those responsibilities during the semesters. But it was still worth it.
GT- What was the most challenging part of the internship/research process?
KIRTHI - The language barrier was a bit of a challenge. Most people in Japan communicate with each other in Japanese because they have one language for the country, unlike India where we have 200+ languages which mandate people in corporations to speak English. But it was also fun to learn a bit of Japanese. People did speak English, but only to me. So if anything, the challenge was for them, not me.
Work-wise, the challenge was to be more artistic and aesthetic in my design approach instead of purely functional, which accustomed to doing. I had to be a bit more creative & stop being so rigid with my ideas.

GT – How did you manage staying abroad, away from home? Please give a word of advice regarding the same, to the juniors.
KIRTHI - Being away from home isn't that foreign to me. I still spoke to my family just as easily, thanks to WhatsApp calls & the small time zone difference (3.5 hours). I did miss home food a lot, especially biryani. It's really hard to find authentic Indian food abroad. If any juniors plan to go to Japan, life is going to be tough there if you're a vegetarian or very particular about what you eat. Get an international phone pack, Japan Travel SIM or a Matrix SIM card before you go. Call or text your family as often as possible, especially if it's your first time abroad without them, because they'll probably be anxious.
GT- What was the most challenging part of the interview round, and what was your special mantra to ace it?
KIRTHI - I didn't have an interview round, per se. I had submitted my resume and design portfolio, and they had sent back a couple of questions like why I chose that particular company, how long I could work, etc. There were no technical questions as such. Just make sure you have a good resume, with relevant experience & write a cover letter that clearly conveys your intentions about why you think you should be selected. Maybe have a senior or a staff, review it before you send it.
GT - Do you feel if you had probably studied up a few vital subjects beforehand, you could have found yourself in a better place? If yes, elaborate.
KIRTHI - Academically, I didn't face many shortcomings on the job. But I wish I was faster with SketchUp. I usually use Fusion 360 & Revit, and the office I went to, primarily used SketchUp and that slowed me down in the beginning. Besides that, I wish I had been a little more rigorous in learning Japanese because it was still a bit of a struggle to communicate & read labels on food (google translate camera can only do so much).
GT - Where and how did you book your accommodation? Was it taken care of by the institute or did you arrange for it separately?
KIRTHI - I booked my accommodation myself, much before I would reach Japan at a Sakura House. Sakura House is basically a guesthouse service for non-Japanese people. Sort of like a house with 10+ bedrooms (out of which you get one), and shared bathrooms, dining areas and a kitchen. They have branches all over Tokyo, so you can choose one that's closer to your workplace. I picked one close enough to my office, so that I walked to work every day, instead of having to catch a bus or train. Other guest house services in Tokyo are Oakhouse & Fujimi House.
GT - What are the difficulties you faced to get the visa?
KIRTHI - Japan Visas are quite easy to get if you have a proper purpose, have all your documents (including your bank statements, birth certificate, Aadhaar, etc.) and are a law abiding citizen. They give the visa three days after the interview, which is pretty much a simple exchange about your purpose of visit and a check if you got into trouble with the law at any point. Make sure to visit the website to know the exact requirements well in advance. The only issue I faced was that the shipping of my passport from my house to the hostel got delayed a little and I was worried I might not get it in time for the interview. So, prepare well in advance.
The Guindy Times thanks Kirthi Balakrishnan for her time and wishes her all the best for her future endeavors.