Nithish R
Bachelors in Geo-Informatics, Fourth Year, College of Engineering Guindy
Intern
The Space Applications Centre, ISRO, Ahmedabad.
Interviewer: Jagatheeswari(GT)
Interviewee: Nithish R
GT: Apart from ISRO being such a prestigious organization, what other factors made you choose to intern there?
Nithish: ISRO is the top-rated organization for geoinformatics in India. In addition to being a highly reputed institution, working with their scientists is also an added benefit as they may also aid in any field-related endeavours in the future.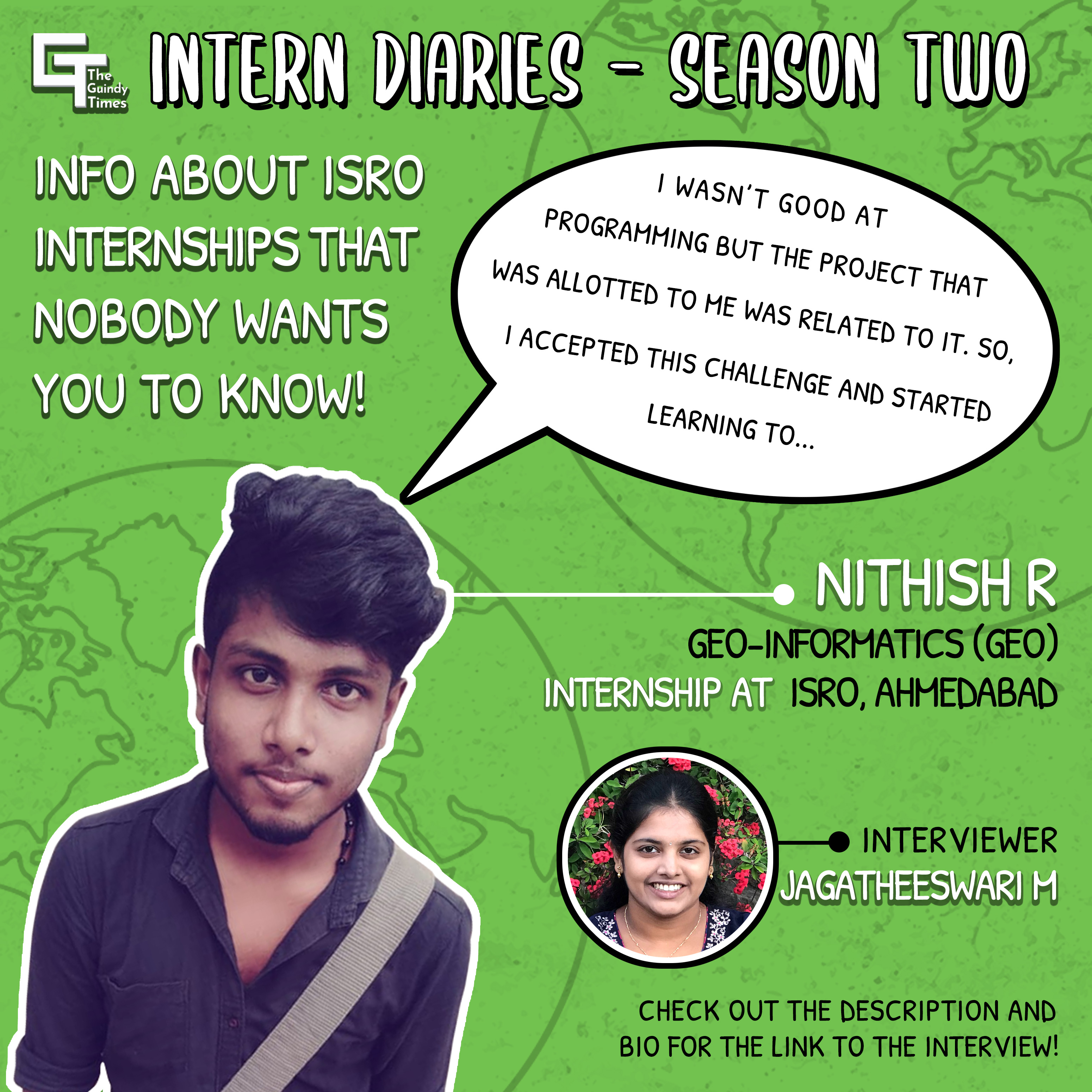 GT: What do you think are the aspects ISRO looked for in your candidature?
Nithish: ISRO mainly looks for an undeniable interest and passion to learn. I was required to write a statement of purpose i.e. the reasons why ISRO should give me the opportunity to intern and how I would be able to contribute to their organization. For instance, in the field of geoinformatics, one of their gauges is by seeing how different one's ideas are in the aspect of remote sensing.
GT: What are the details of the application process and how long did it take?
Nithish: A photograph, statement of purpose and minimum of 3 months of internship is a must for an intern in ISRO. It took one month for me to complete the application procedure alone. Application and statement of purpose must be sent to their mail ID which, in turn, will be forwarded to the selection committee for further perusal.
GT: Can you walk us through the project that you worked on at ISRO?
Nithish: My project was regarding the classification of convective and stratiform rain using INSAT 3D. From ISRO's own INSAT, information was obtained regarding classification of rain intensity on the basis of agriculture and water management.
GT: What are the challenges you experienced during your time as an intern?
Nithish: I wasn't good at programming but the project allotted to me involved using python. So, I accepted this challenge and started learning to program at ISRO and now I am fairly confident in my skills with Python.
GT: What are your future plans with respect to your profession?
Nithish: Initially, I thought of working or writing government exams after graduation. But after my internships, my interests have shifted towards research and to pursue a Master's degree in the field of metallurgy, preferably from a European country.
GT: What was your everyday routine like?
Nithish: My internship period was 3 months. Since I was a novice and lacked the level of programming knowledge required, my guide took me through the basics of python for the first 2 weeks. ISRO was very helpful and encouraging and proved to be a good platform for learning.

GT: What are few steps a student could follow to be able to intern in an organization like ISRO?
Nithish: If someone is planning to intern at ISRO, they have to have an idea about what they are planning to do in their future and thus prepare their statement of purpose, so thinking about your field of interest and where and what you would like to do your master's in is the very first step to procuring an intern at ISRO.
GT: What are the changes that the internship brought in you?
Nithish: Rather than feeling embarrassed by my lack of knowledge in any field, I am now open to accepting it and learning something new everyday, as failing is actually not a lack of knowledge but rather refusing to gain any new knowledge.
GT: Are GPA and backlogs a barrier for an internship?
Nithish: Internship is purely based on your interests and how much you are willing to learn. This has nothing to do with academics. In fact, ISRO didn't ask me for any certificates from the university.
GT: What are your past intern experiences?
Nithish: I did an internship at NIOT (National Institute of Ocean Technology) during my 2nd year. The project dealt with the changes in shoreline in Chennai. We went as a group which made things easy and smooth. We used software that we learnt in the 2nd year to complete the project. This experience was one of the reasons that motivated me to intern at ISRO.
GT: What do you want to say about Intern Diaries?
Nithish: Many students will get to know about my ISRO internship by sharing my experiences with GT. It's not just geoinformatics students but also CS and IT students who are doing their internships at ISRO. So, I think GT acts as a platform to convey information to many students from various fields.
The Guindy Times thanks Nithish for his time and wishes him luck.