The Department of Civil Engineering organized the inaugural function of Society of Civil Engineers for the year 2015-2016 on 19th August 2015 at Tag Auditorium. Every year, after the new office bearers have been elected, the Inaugural Function initiates their activities for that academic year. The President and the Treasurer of the Society for this year are Dr. C. Umarani and Ms. K. Karthiga respectively.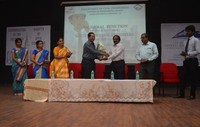 The session kicked off with Dr. K. Nagamani, Professor and Head of Department of Civil Engineering welcoming the Honorable Chief Guest, the Additional Registrar, the faculties and the students of Civil Department. The Office Bearers of SCE 2015- 2016 were introduced to the gathering. Thiru R.Ramanathan, the Director (projects) of Chennai Metro Rail Limited was invited as the Chief Guest for the function Chief Guest. He is an alumni of our college with B.E., Honors in Civil Engineering. As a token of respect, mementos were given to last year's society President Dr. K. Premalatha, the Treasurer Dr. H. Jane Helena and to the office bearers of the Society by the chief guest.
A lecture on Chennai Metro Rail Project was given by the chief guest in the most exquisite fashion appeasing the hunger for knowledge among budding engineers. He, with his comic style and presence of mind kept the interactive session an interesting exercise unlike conventional academic lectures. Some very relevant questions that has been plaguing us about the construction of metro were answered like high pricing of tickets, delayed construction, construction cost per km. After the session our negative notion about functioning of metro construction seem extremely erroneous as he made everyone aware about the genuine challenges faced by the industry.
The former Dean of CEG, Dr. M. Sekar adorned the function as the Guest of Honor. His speech was very inspirational, where he gave valuable inputs on how students of our college can update themselves to be employable in the Industry. The action plan of SCE for this academic year was presented by the General Secretary Mr. M. Stalin. The session concluded with Dr. C. Umarani giving the vote of thanks.
OFFICE BEARERS OF THE SOCIETY OF CIVIL ENGINEERS 2015-2016
President - Dr. C. Umarani

Treasurer - K. Karthiga
General secretaries
M. Stalin

V. Shripriyadharshini
Joint secretaries
Executive members
J. Anbu

B. VidhyaaShri

A. Rajendran

Sai Mohit Srinivasan

S. Boopesh

S. Dinesh Babu

R. Gayathri

R. Ishwarya

M. Periyarselvam

S. Ramprasath

V. Ranjith Kumar

C. Saai Vignesh

Shree Kumar Maheshwari

M.R. Vijayalakshmi

N. Vijay Krishna

S. Tamizharasi

P. Abhinesh

R.K. geethanjali