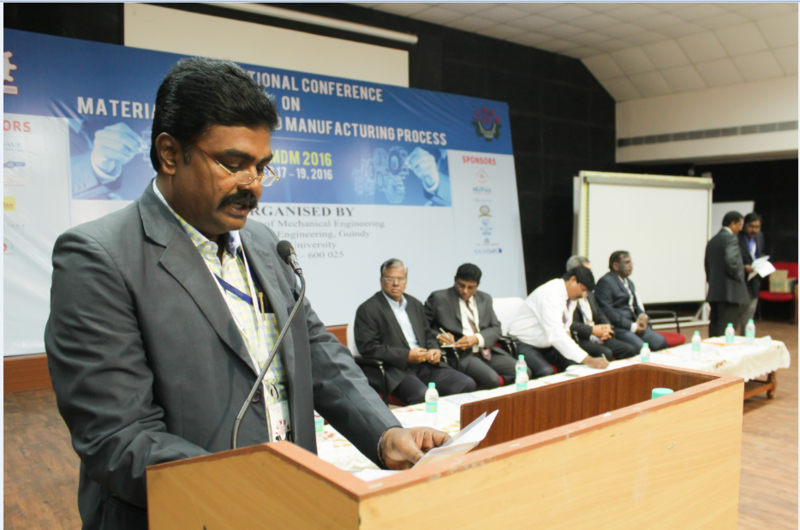 The International Conference on Materials, Design and Manufacturing Process - 2016 was a three day international event held by the Department of Mechanical Engineering, CEG, Anna University. On the 17th February the event began with the inaugural function at the tag auditorium followed by which the paper presentation sessions began in the various venues such as Henry Moudsley Hall and Linde Hall. Dr. P. Sivakumar a former alumni of CEG was the chief guest who inaugurated the event. The Vice Chancellor Prof Dr M Rajaram, the Dean CEG Dr P Narayanasamy, the Head of the Mechanical Department Dr. B. Mohan were constant pillars of support throughout the course of the event and encouraged the event incharge to host the event with ease. On the 17th evening, an entertaining cultural program was held. This was not just a glee to the eyes but also a platform for the students to showcase their talents. The program included dance and music of various genres.

Over 134 research papers were presented at this conference by various participants from all over the world. The papers included a broad spectrum of ideas, from fuel cells to alloy characterises and so on. Each of the presentation halls had experienced chair members that inoculated discussions for the various topics and facilitated a good learning process for all the participants. The conference also included sessions from keynote speakers such as Dr Mustafizur Rahman, Dr K A Padmanaban, Dr Helmut Wolf, Dr B P Gowtham, Dr L Vijayaraghavan, Dr Gowtham Sutradhar and Dr H K Shivanand. Each of these esteemed speakers, masters in their specific domains left the audience mind boggled and intrigued by the concepts that had once been alien to them. They also inspired the youth to pursue research.

As a symbol of creativity, the department also encouraged the BE Material Science rangoli team to design and come up with a 3D Kolam which was quite the pinnacle of attraction during the conference. Kits and certificates were provided to all participants as a souvenir for all participants.

The conference also consisted of a short day trip to Mahabalipuram, a fun filled experience that relaxed those technical minds. The event was a tedious one, that had come to life thanks to the hard work of Dr V S Senthil Kumar, Dr K Shanmuga Sundaram, Dr M Pradeep Kumar, Dr S Senthil Kumaran, Dr S Bala Sivanandha Prabhu, Dr G Shibu, Dr Thirumavalavan, Dr J Sudha, Dr Rashia Begam, Mr Ajay Guru Dev, Mr Praveen Raj and Mr. Yuvaraj. The students of the department also did their tasks whole-heartedly contributing to the success of the event.

While the organisers of the event today celebrate the success of the event, they also paved way for the 2nd edition of the event that is to come in 2017! For those of you that missed it this year, you know where to be in the next!