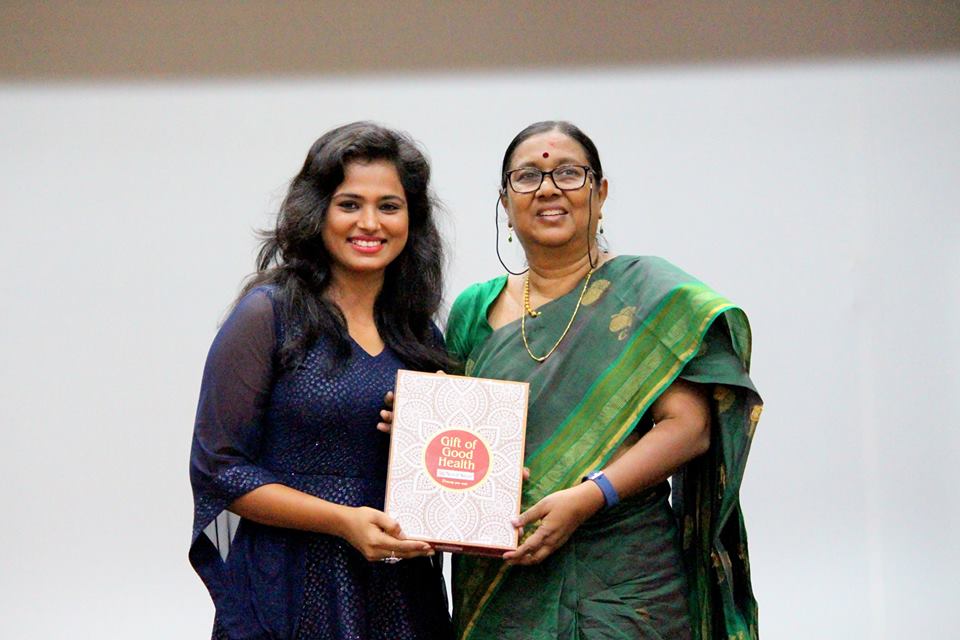 Ramya Pandian, the one with the tag 'namba ooru ponnu', is also that 'namba college ponnu'. She is an alumnus of College Of Engineering, Guindy. Constantly attempting to inspire everyone through her hard work and her laudable contributions to the Tamil film industry, her performance in Joker, a critically acclaimed movie which won 2 national awards, won her both admiration and recognition. Here is an excerpt from GT's interview session with her when she graced the Fresher's Day conducted for the grey tags on 29th September 2018.
Interviewer: Ishwrya AG (GT)
Interviewee: Ramya Pandian
GT: What inspired you to get into the film industry?
Ramya: It all happened unexpectedly. A friend of mine offered me a role in a short film which I agreed to take up. Later on, I developed a passionate for acting. But my parents were not too supportive. I was also working then. So, I used to act in short films during weekends. I acted in about 4-5 short films like that. Eventually, I got into the industry.
GT: Out of all those short films you have acted in, which is your favorite?
Ramya: My first short film is pretty close to my heart, 'Maane Thaeney Ponmaney', directed by Mani sir's assistant director.
GT: How did your family react when you decided to choose acting as your career?
Ramya: My mom supported me as always. She believed in me. She just raised concern about the way it may influence my personal life. I neither expected nor received the extended family support. But, Joker's success changed everything. It just didn't make my family proud, but, cleared all their doubts about my future and gave them a new confidence.
GT: One thing about CEG that you miss the most?
Ramya: I don't miss anything very much. Because I believe, if we enjoy every moment and live it to the fullest, there won't be anything that we may miss, no matter which phase of life we are in. Regretting or the sense of missing something occurs only when you fail to seize the moment. As for me, I have lived my college life to the fullest.
GT: What is the biggest struggle faced by budding female actors?
Ramya: With new faces showing up in the industry on a daily basis, one of the biggest struggles for every actor is finding themselves a place and sustaining in that. It requires taking up roles that are powerful, unique and lingers for long in people's minds. Fortunately, I was given a role in Joker. As an actor, I felt that the role didn't help me establish a strong identity for myself, even though the film was a critically acclaimed one. But, I believe 'Aan Devathai' (an upcoming movie) will help me carve myself an identity in the industry.
GT: What do you look for in a movie before signing up?
Ramya: Either my character should be strong and must be able to create an impact on the audience or the script should be simply good.
GT: A small rapid fire session!
Which movie did you have more fun working in, Joker or Aan Devathai?
Ramya: Joker
2. Raja Murugan sir or Thamira sir?
Ramya: (laughs) Raja Murugan sir
GT: Do you remember the dialogue that you had delivered in the audition for Joker? If so, could please say it here?
Ramya: (Laughs and delivers the dialogue) 'En paer Malliga, naa Dharmapuri pakathula iruka oru roja thotathula vela seiren, daily roja parikanum, parichu parichu, mullelam kuthi kaiyelam kaachi pochu, oru nalaiku aruvadhu ruba sambalam' which translates to 'My name is Malliga, I work in a rose garden near Dharmapuri, I pluck roses every day and remove thorns in them, which tires me every day. I earn 60 rupees per day.'
GT: Have you ever got frustrated for being called a 'Bengali'? You have mentioned that Pa. Ranjith sir had mistaken you for a Bengali, in one of your interviews!
Ramya: (Laughs) Yeah! Well, I got frustrated for not being recognized as 'namba oor ponnu' (a girl from Tamil Nadu). I was thinking that it would have fetched me a few more offers too, until they explained to me that they felt Bengalis were good theatre artists. So I took that as a compliment! But I was still annoyed as I wanted that 'Tamil Ponnu' recognition more.
GT: The transition phase from an employee in a company to an actor. What was it like?
Ramya: It was indeed difficult because when I spoke to the CEO of Before Technologies (the company she worked in) about doing short films in weekends, she offered me to choose between the company and acting, as she felt it couldn't be both. My passion lied in acting. Initially, it didn't turn out to be well. I went for a movie shoot the day after I resigned my job and they changed the actor the next day. After six months of auditioning, I was given a role in Dummy Thapasu, which didn't come out that well. Frustration and a lack of financial backup kept crushing me during those days. Finally I was auditioned for Joker, which was the turn of events.
GT: Anything which you want to share with us, the students of CEG?
Ramya: Try your hands in everything; do participate in all activities as that will help you understand the way things work. You can, later, decide from that understanding about what you can do in the future depending on what interests you the most. Meanwhile, enjoy life, a small piece of advice.
The Guindy Times thanks Ramya Pandian personally for her time and wishes her all the best for her upcoming venture 'Aan Devadhai' set to release on October 5 '18 and thanks the Students Association and Arts Society (SAAS) of CEG for this oppourtunity and congratulates them for the success of the Fresher's Day.
Tweet