Raghava Krishnan T E
Bachelors in Computer Science and Engineering, Fourth year, College of Engineering Guindy
Intern
Amazon, India
Interviewer: Vignesh RV (GT)
Interviewee: Raghava Krishnan T E
GT: When is the right time to start applying for internships?
RK: There's no restriction with regard to internships. For example, there are companies which hire students even in the first year. After all, it's all about how well you can handle problems. And proper application of your technical knowledge will ease you through the interview.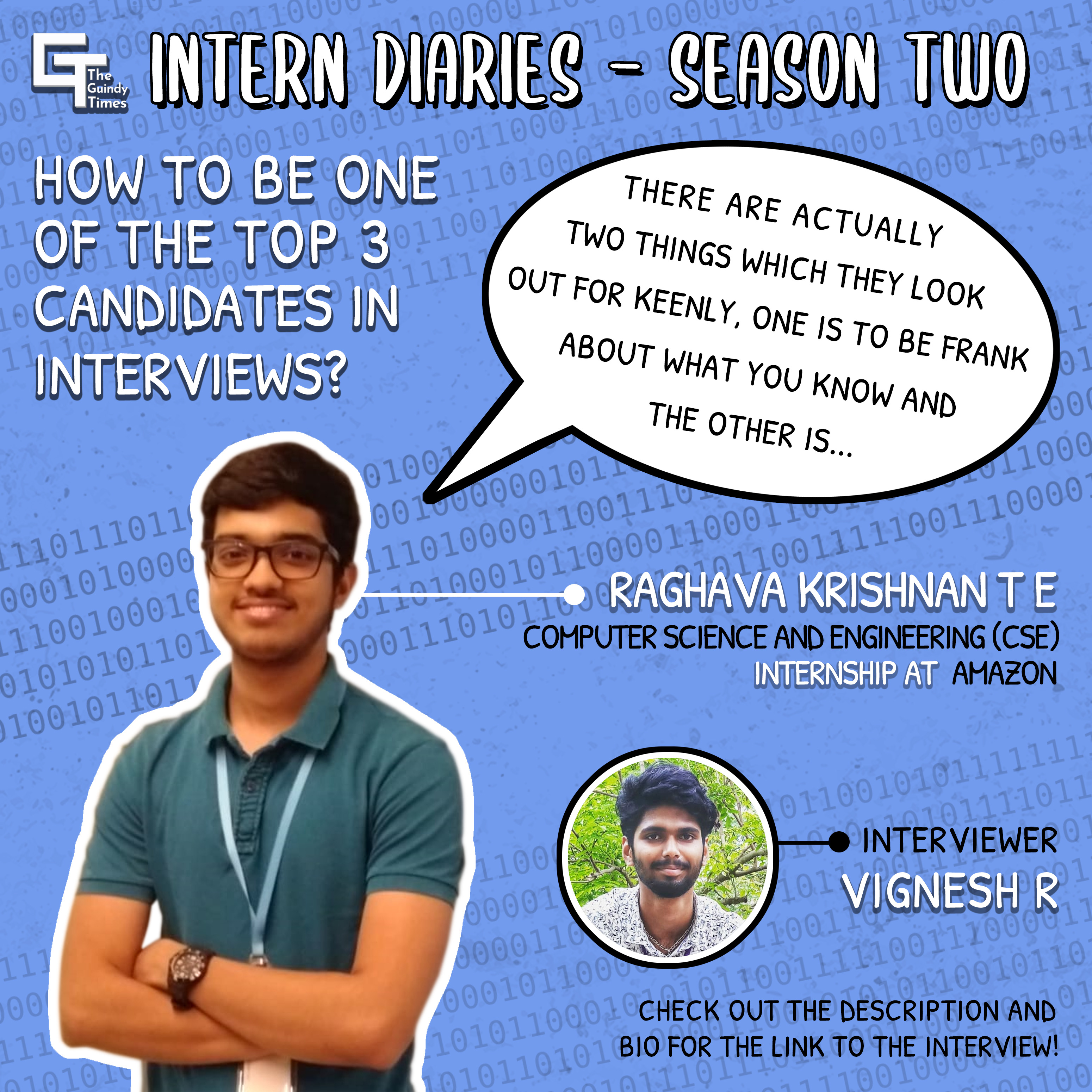 GT: What are the pre-preparations to be done for an internship?
RK: There are no special preparations one has to do separately in order to acquire an internship, it is required to study the curriculum thoroughly along with their real-time applications and that will suffice.
GT: What was your approach for applying to internships?
RK: Actually, I got selected through the job/internship drive in our college, but there are websites like Internshala, through which we can apply and get internships outside the college as well.
GT: How competitive was your selection process? And what are the key elements they look out for?
RK: Five people were shortlisted for the second round, which was a personal interview, out of 500 participants from the first round, which comprised of questions to test one's aptitude, and three of us got finally bagged this internship in Amazon.
There are actually two things which they look out for, very keenly. The first one is how assertive the candidate is when he/she talks about what they know. And the other is how good a solution they are able to come up with for a given problem, while the interviewer may facilitate you in developing giving a good solution is mandatory. And it all boils down to how well you worked on your basics.
GT: How was the work atmosphere in Amazon?
RK: The atmosphere is pretty cool and it breaks all the stereotype of a work place, say, following the stringent rules like working there hours, dress code, etc. You can even take some days off and work from your home, and all they expect is for you to get the work done and keep up with their expectations.
GT: What was your project about?
RK: I was a part of a team working on Alexa communication, which can connect with many devices having different functionalities. We were building a platform to test the skills developed by the customers, on how well it is working, by involving customer feedback as quality control check.
GT: What was the most challenging part of the internship?
RK: Amazon has a unique way of developing its own products. Most of the packages we witness are built by themselves, and we often come across newer concepts that are to be learned in order to implement them. We also had mentors to help us out when we had doubts and to guide us in the right direction.
GT: In what way do you think Amazon has an edge over other e-commerce websites?
RK: The people here are quite customer-obsessed and we have a concept called 'on-call' for which a person is assigned to. When there is problem or query from a customer, his/her work is to report it immediately and provide a solution. In addition, they don't prefer their customer to deal with problem for too long. They practice a saying," We don't give customers what we build, but give them what they want". So, they put customers before everything, which in turn puts them at the apex of the market.
GT: How would you describe your experience in teaming up with different people?
RK: It was indeed an amazing exposure, as we don't get much room to mingle with many people in college. But here, it was different and a wonderful learning opportunity, in discussing each other's ideas and work on the problem at hand.
GT: How did the internship experience change you?
RK: This is the first major application or project that I've ever built and working on my own gave me self-satisfaction and the fact that what I built is being used at Amazon gives me immense pleasure and an impetus to do better.
GT: What is your advice for the juniors to ace those interviews?
RK: Be focussed on the concepts and make your foundation strong. Study the application of each and every concept. Be humble and be confident to provide solution for a problem.
GT: What is your view about this 'Intern Diaries' series?
RK: Actually, I read an Intern article at Amazon last year, and it was through the article that I got ideas on how to get into these companies. Interviews like these are really beneficial. So it is indeed an amazing initiative by GT.
The Guindy Times thanks Raghav Krishnan for spending his valuable time and sharing his experiences with us and wishes him success for all his future endeavours.