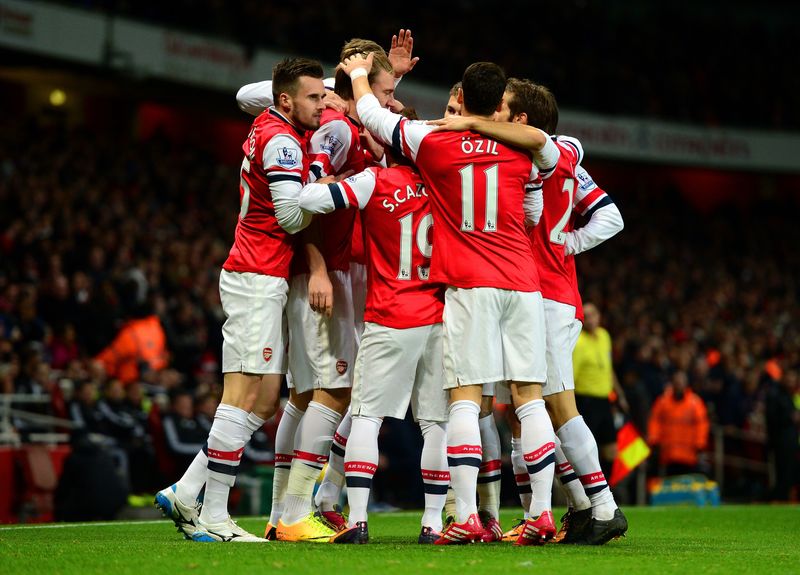 One day back in 2005, my mom and I went to the Landmark book store. There, I saw this FIFA 05 video game CD-ROM. I begged and somehow convinced my mom to get me that, as I had been playing FIFA 98 on my neighbour's comp, which had turned out to be a lot of fun. It was a big deal, since she thought video games were useless and a waste of time.
After a few initial struggles, I got to know that it worked only on my dad's Compaq laptop, since it was apparently too 'graphic intensive' for my primitive desktop PC. So, I started the game. I had no idea how to go about it, so called my school friend home, who having played the previous FIFA editions, taught me the controls and introduced me to 'Career mode'. The first team on the list – Arsenal. 5 star rated, only one of the two teams to get that rating, the other one being AC Milan. The reasons: Arsenal were the 'Invincibles' the preceding season. They went a whole bloody season unbeaten, led by talismanic captain Patrick Vieira and a bomb of a striker, Thierry Henry. The first ever club to achieve that feat. Milan were Milan, having claimed their 6th UEFA Champions League title only a year back.
So, I picked Arsenal and started playing career. Thierry Henry, rated 97, just cut through defenses and made a mockery of the opposition. I wasn't even pronouncing his surname right, but had become his fan in the year that followed. I played nine continuous seasons of FIFA career, evading parents by locking the room, or playing when they were out. I got so attached to Henry and the team, that I stopped playing as soon as he sought retirement (in the game) after the 2013-14 season.
I then started watching the videos of the Arsenal's Invincibles. Henry's goals, Pires' assists and Bergkamp's runs. It was like magic. Not football. Opponents were shit scared of this legendary team, headed by a legendary foreign manager – Arsene Wenger.
Right there, I went into the world of Arsenal. Read blogs, tracked the Official Website and participated in contests. Following the Champions League final 2006 heartbreak, things started going downhill. Failure after failure. Criticism after criticism. And to top it all off, the biggest players started leaving the club. Anybody can follow a successful club. 'Glory hunters', they are called. A true fan is one who sticks by the club through the rough patches.
Fans were made fun of and ridiculed. Some even started taking pity on us. That's the worst for a football fan. My mom used to say while I was watching the matches, 'Andha kaaka mookanum avan team um. Yen da indha sothappal team ah support panra?' (Yes, she has seen Arsene Wenger enough times on TV to know that he has a very long nose). The most disturbing fact of me being an Arsenal fan was that, I had never seen them lift a trophy in my living memory.
That changed though, on 17th May 2014. The 'specialist in failure' as branded by Jose Mourinho (manager of Chelsea), won the FA Cup after a trophy-less nine years. Euphoria, tears, celebrations. Everything happened. The mockeries were over. A new era is here. All hail the new, resurgent Arsenal Football Club.
Fun facts you should know about Arsenal:
St. Totteringham's day: The day when it is known that Arsenal's fiercest rivals Tottenham cannot finish above us in the league table. The day has been celebrated consecutively since the inception of the Premier League. That indirectly means, they've never finished above us, ever.
Attractive style of play: Introduced by Arsene Wenger, this has been our motto. Irrespective of trophies, we play to entertain. No boredom when it involves Arsenal.
Only self-reliant club in the league: We aren't pumped with money every year from the Gulf, like rivals Manchester City and Chelsea. Arsene Wenger, the economist professor, has seen to that what we spend is only from what we earn. We are hence number one in the Financial Fair Play rules.
Stability: Arsenal haven't sacked their manager since his appointment 17 years ago. This is contrary to the recent trend, where 12 managers have been sacked out of the present 20 in the Premier League. The board backs the manager, and are being rewarded in the process.
Arsenal is not a football club. It is a family. And I'm proud to be a part of it.
P.S: In case you wondered, I've moved on to bigger and better things in life since quitting FIFA 05 – Like playing every edition that followed, including FIFA 14.
The author is on track to become a Velayilla Pattathari and hopes to become a professional cricketer and do this world some good in some way.