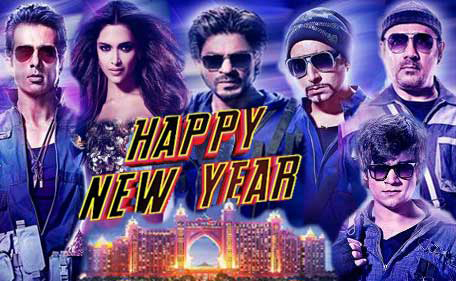 Shah Rukh Khan and Farah Khan, the Duo who gave us mega blockbusters like "Main Hoon Na" and "Om Shanti Om" are back to give us the most anticipated movie of the year "Happy New Year".
PLOT:-
With a motive to avenge the humiliation faced by his father, who was wrongly accused of stealing diamonds by Grover(Jackie shroff), Charlie(SRK) builds a team of 5 people to perform the biggest diamond heist in Grover's Hotel in Dubai. But, in order to get a chance to perform their heist, they must participate in the World Dance Championship. All of them being poor dancers, seek the help of a dance teacher Mohini (Deepika Padukone) to train them. The rest of the movie is all about how they perform the heist, told in a very ridiculous way.
If you expect a heist movie like Oceans series or Don 2, I pity you. This is a full length comedy movie, not to be misunderstood for a heist action movie. There is not even an iota of logic in the whole movie. Take these scenes for example,
The guy who plays the hacker can hack anything within 1 or 2 minutes. LOL.

Boman Irani has fits while cracking the vault and Charlie thinks peacefully for a long time while there are just 5 minutes to perform the heist.

From a boat in the middle of the sea, they can reach centrestage neatly dressed and dance for the finale in literally no time and without the police noticing it. Boo yeah!!

It is clearly shown how well the other foreign teams danced. But, Charlie's Team with a mediocre dance performance can manage to win the "World Dance Championship". Oh God Why??
I can see you fainting there, but these are just a few scenes I've mentioned.
On the positive side, the comedy is absolutely hilarious. The music is good with awesome visuals. SRK and Sonu Sood display their well-toned bodies in many scenes. Deepika looks glamorous on screen, especially in the Item Song "Lovely".
Abhishek was spot on in his comic timing, and all actors have done considerably well.
This movie is yet another addition to the list of brainless masala Bollywood entertainers like Dhoom 3, Kick etc. With a whopping business of 45 crores in India within the 1st day, this movie is going to be a big blockbuster for sure.
Dear SRK, Please be the good guy you once were and give us awesome Movies like Veer Zaara, Kal Ho Naa Ho, My Name is Khan, Swades and Chak De! India.
We need quality movies from you, not senseless money spinners like Chennai Express and Happy New Year. Well, I blame the taste of the Bollywood audience these days!
Watch if you are a typical masala Bollywood fan but avoidable if you are looking for a classic movie.
Rating 2.5/5