'Your interest should fuel your career' says Yogesh.
Yogesh S
Bachelors in Electronics and Communication Engineering, Fourth year, College of Engineering Guindy
Intern
Viasat Inc, Chennai
"I am an electronics and communication student, but only in my third year did I discover that my true interest lies in communication and that has what led me to intern at Viasat Inc".
Interviewer: Sameeha
Interviewee: Yogesh (Intern at Viasat Inc)

GT: Was this your first internship? How did the interview and the selection process take place?
Yogesh: Yes, this was my first internship, and to be honest, I was surprised to learn that only a few core companies offer internships for ECE students. And among those few, Viasat is communication-based. Their interview consisted of four rounds. Around 50 students of CEG and MIT participated in it. The first round was aptitude based. The second and third rounds were based on technical knowledge. The students selected at the end of these three rounds entered the final round, during which the participants were allowed to take their own time. The difficulty per round gradually increased throughout the interview.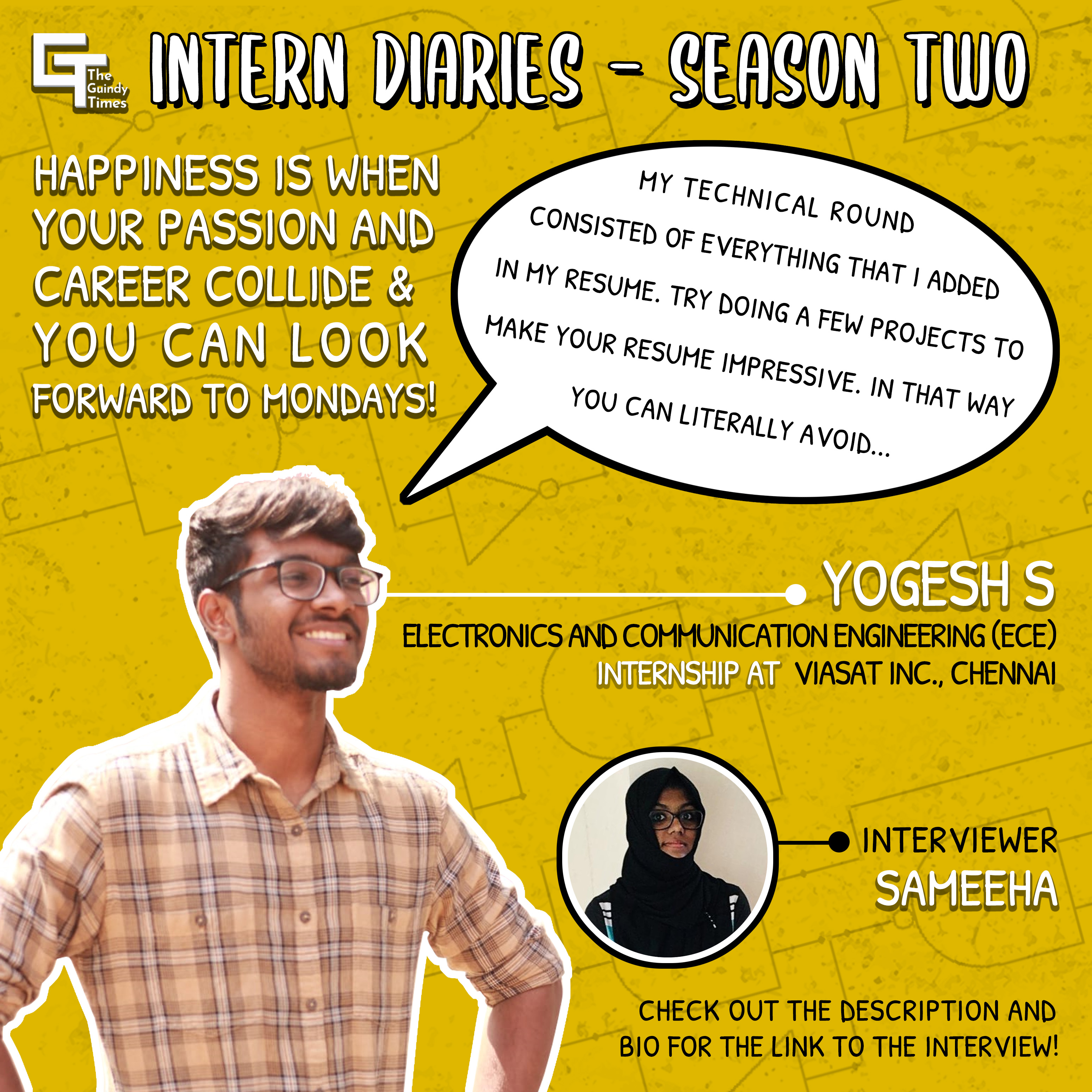 GT: Now that you've had an experience in the corporate world and its culture. What you think Viasat looks for in a student during an interview?
Yogesh: I felt that Viasat understood the state of students like us; they already knew what to expect, as they were aware of our syllabus and its practical scope. So, their questions were very much limited to our knowledge. They also didn't expect us to know about the demands and current trends in technology but wanted our understanding of the subject to be clear and thorough.
GT: Could you give us an idea of what are the goals of your internship and how you worked towards it?
Yogesh: I worked on a project of Viasat called the 'Message Brokering Model' based on the latest high-speed data structures; what I did not expect is that I'd work alone, instead of as part of a group. I'm not allowed to reveal more about the technicalities of the project. But what I can tell you is, I truly enjoyed working in the field.
GT: What was your favourite part of this internship? What were the working hours and a work culture like?
Yogesh: What I liked most at Viasat is the work-life balance the employees have. They say, "Happiness is when your passion and career collide and you can look forward to Mondays"- I felt that at Viasat. There is no pressure at all, and they don't have a very compulsive environment. There are no due or deadlines and we are allowed to work at our own pace. They have an open-door system, which means you can come in and leave whenever you want. This makes work feel more comfortable and allows the employees to do things at our own pace.
GT: How should one build a resume if they want to be accepted as an intern at Viasat?
Yogesh: Your resume is your reflection, which makes it the most important thing in getting an internship. So, make sure you are careful and add only what you know. Just because you want to make it attractive don't try to add unnecessary details. My technical round consisted only of concepts that I mentioned in my resume. Also, try working on a few projects to add to your resume to make it impressive. In that way, you can avoid too many questions, by making use of the time to explain your project instead.
GT:Have you done any large projects to date? Can you suggest some ideas in which juniors can develop a project?
Yogesh: I haven't done any big projects yet. But no matter how small your project is you can feel free to add in your resume. My mantra is - it's not in the size, it's in the skill. Additionally, if you are in ECE, it is very useful to learn some kind of emerging programming language.
Normally people think projects are 'solutions' to pre-existing problems. But I suggest one to find a trending concept in the market and try to make a project out of it. Even if the same problem can be written in C++ or python, it doesn't matter. This is not something beyond our capability. Anyone can learn and master it.
GT: These days most of the students are seen spending their vacations interning. Why do you think internships are necessary?
Yogesh: On one hand, I think internships are not obligatory at all. It is a myth that if you don't do an internship, you won't get a job. The thing is if you feel internships are important, do it in a relevant field that you foresee your career in. Have a purpose and ignite the fire in yourself, don't get stuck doing a job that doesn't suit you. We should be aware of what direction we should choose such that the path will be outspread and glossy.
The Guindy Times thanks and wishes Yogesh all the best for his future endeavours!