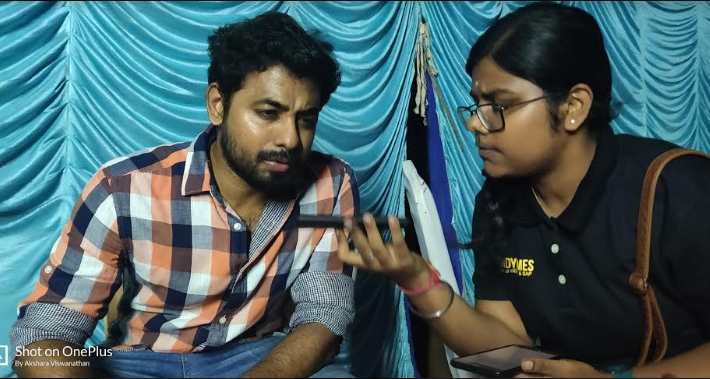 Aari, one of the critically acclaimed actors has established himself in the industry solely because of his persistence and sincerity towards the work he does. Apart from that, he has been inspiring the youth with his 'Maaruvom Maatruvom' and his work towards the society is amazing indeed!
Interviewee - Aari (A)
Interviewer-Ishwrya AG (GT)
GT: What do you look for, while choosing a movie?
A: I'm looking for a good and proper content. People are automatically approaching me, if it's for a social cause, which I'm happy about. I never preach any ideas voluntarily. I just cater to the demands of the story and the director to emulate the best version of my character.
GT: 'Autograph', 'Aadum Koothu', your first movie and the one which won the national award were with Cheran sir; could you describe the experience of working with him.
A: Cheran sir is a great director. Even now, people reminisce about his works. Today, 96 is the biggest hit which takes people back to some glimpses of the movie 'Autograph'. He is one director who does culture based movies of exceptional quality and can deliver movies embedded with strong content, the popular genre being about relationships. I was working as a body sculptor in 'Autograph' and worked in 'Thavamai Thavamirindhu'. One of the main reasons for getting 'Aadum Koothu' is Cheran sir. It's because of him that I got the opportunity of working with PV Chander sir. I have a huge respect for him and again he is the man who helped me to establish myself in the industry.
GT: You trained in body sculpting, went for acting classes and then started off your acting career with a bang! Why did you feel that much hard work was required to get into the industry?
A: No pain, no gain. Without hard work, there's nothing that you can have. I'm from a rural background and it's very tough to break that cinema barrier without having a family background in the cine industry. I love struggling; I earned a lot of profound experiences. The body sculptor was the role which fed the growing actor in me; else this passion towards cinema wouldn't have survived. The initial three years were so painful, as I was naïve and wasn't even close to portraying basic acting skills. When I was asked to deliver a dialogue at any audition, I couldn't perform and I was constantly embarrassed because I couldn't deliver the lines properly. I joined theatre after that, I took up television serials for around six to seven years, which increased my confidence level and acquired me chances. Now, I've almost done 8-9 films. I would like to tell the youngsters that one should find his talent and work on what he is good at.
GT: How was your experience working with the lady super star, Nayanthara?
A: Working with Nayanthara is obviously an amazing experience. She's very professional. She doesn't show any attitude on sets and is very humble. She maintains proper boundaries between her professional and personal lives.
GT: 'Ellam Mela Irukavan Paathupan', your next movie, few words about it.
A: That's one phrase which we use when we're all completely fed up with life! It's one of the famous dialogues of Gowndamani sir. It's a science fiction involving aliens and spaceships. I personally feel it'll be entertaining and will definitely be one of the remarkable movies in my career.
GT: What difference did you find in the audience when you had come for 'Aatral', the NSS event and Agni?
A: The audience for Aatral was solely service-oriented and the audience for Agni had turned up for entertainment. We cannot obviously talk about culture in a cinema theatre right!
GT: Maaruvom Matruvom, how did you get that thought?
A: Jallikattu! I had started participating in social activities since a long time and had been doing organic farming also, which I started promoting later. After those 7 days (for Jallikattu), there were many changes in my life. I felt more responsible towards the society after seeing the victims. Every individual should have social responsibility. It's not something that only someone like Aari should be doing! That's what we've lost in the current generation. It's not like you should only do what you're supposed to do! It's not like only politicians should handle management, or orators should orate. There's nothing of such kind! The upcoming generations need to equip, develop themselves and help others to do the same. We have to create awareness about social issues to take some initiatives and we need to develop individual leadership qualities.
Rapid fire
GT: Nayanthara or Navya Nair?
A: Nayanthara
GT: Nedunchalai or Rettaisuzhi?
A: Rettaisuzhi, I'm the only person who has acted with both Bharathiraja and Balachander!
GT: Nagesh Thiraiyarangam or Maaya?
A: I can't really compare the two, there are disparate.
The Guindy Times thanks Actor Aari for his time and also thanks SA-AS of CEG for facilitating the interview during the last night of AGNI 2018.
Tweet