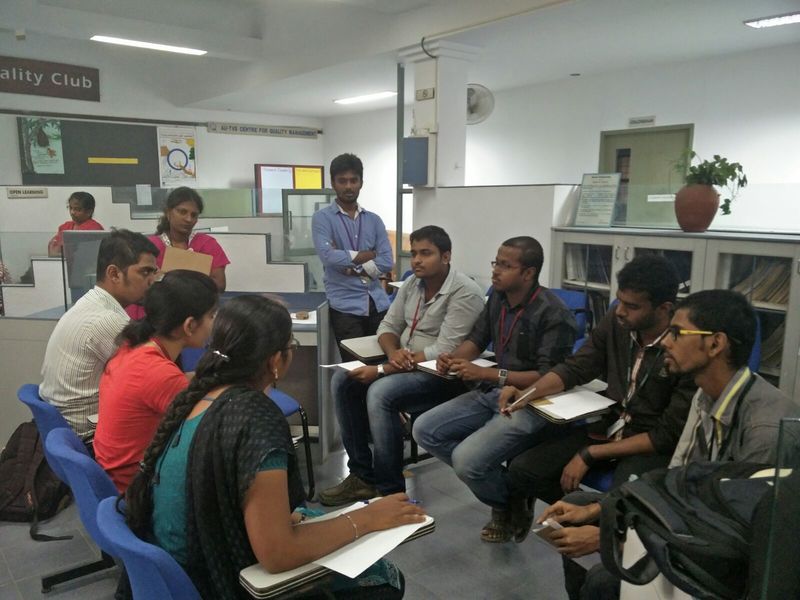 On the evening of 11th of Jan, 2016, the Students Quality Council held a training session on Group Discussion exclusively for second years.
As I entered the hall, I noticed that already many students had been well organized into various groups of eight with the event organisers moderating each one, while some others were still enrolling themselves for the session. Being only in their second year, for most students this was the first time that they were taking part in a formal Group Discussion set-up. Students were aware that Group Discussion would be a vital part of the recruitment process by many companies and organisations and they took part in this session beacuse they wanted to begin their preparation early on to gain an edge. Topics discussed included "Impact of Cinema" and "Privatisation of Schools". One of the participants said that the sessions held made her exposed to various topics, making her aware of the various viewpoints that were put forth by others in her group. She added that the suggestions given to her by the organisers at the end of the Group Discussion were helpful and made her realise her mistakes.
President of the Students Quality Council, Mr. Pethan Raj told that the event was held not only to improve the clarity of the points and effectively presenting them, but also to exchange ideas on frequently discussed topics. He also said that the Council plans to have more such sessions, which will remove the element of a "contest", so that the weak and the strong alike can improve themselves.
Photography: Tharun Balu