Anna University conducted a two-week induction programme for the incoming batch of 2019 at the four campuses(CEG, MIT, ACT and SAP).
Ashaa Vigashini and Swetha Balaji were the speakers for the workshop on Conceptual photoshoots and Branding. On that note, The Guindy Times had the pleasure of interviewing these young women who are growing every day with their work and constantly passionate about creating and incorporating unique ideas.
"In this generation, you have to always remember that you have so much to learn and constantly analyse and be your own biggest critic in order to be the best version of yourself. ", says Ashaa Vigashini the Creative Director, Design with SAA, who also holds a degree in B.E Geoinformatics and is a CEG alumni of batch 2018.
Swetha Balaji is a wedding and lifestyle photographer at Studio S, which is owned by her and she is currently pursuing a degree in M.Sc. Electronic Media, College of Engineering, Guindy (CEG).
Interviewer: Tejashwini K R (GT)
Interviewee(s): Ashaa Vigashini , Swetha Balaji
GT: What inspired you to start SAA?
AV: I began SAA as a way to follow my passion. My mom is a designer who has been designing for almost twenty years. She always liked customization and used to design my symposium sarees. After getting my degree, I wanted to take what she did to the next level. I was moreover not interested in corporate jobs, and was far more inclined towards other activities that I was passionate about. It actually started with me customizing clothes for my friends. And now, its been a year since we started SAA.In addition to my passion for design, another reason I undertook customisation as my sole motive was my intense dislike for fast fashion. I wanted to be able to customise clothes to suit the customers vision and personal sense of style in a eco-friendly and sustainable way thus SAA is a customized fashion boutique where unique and customer-oriented designs are made at an affordable rate.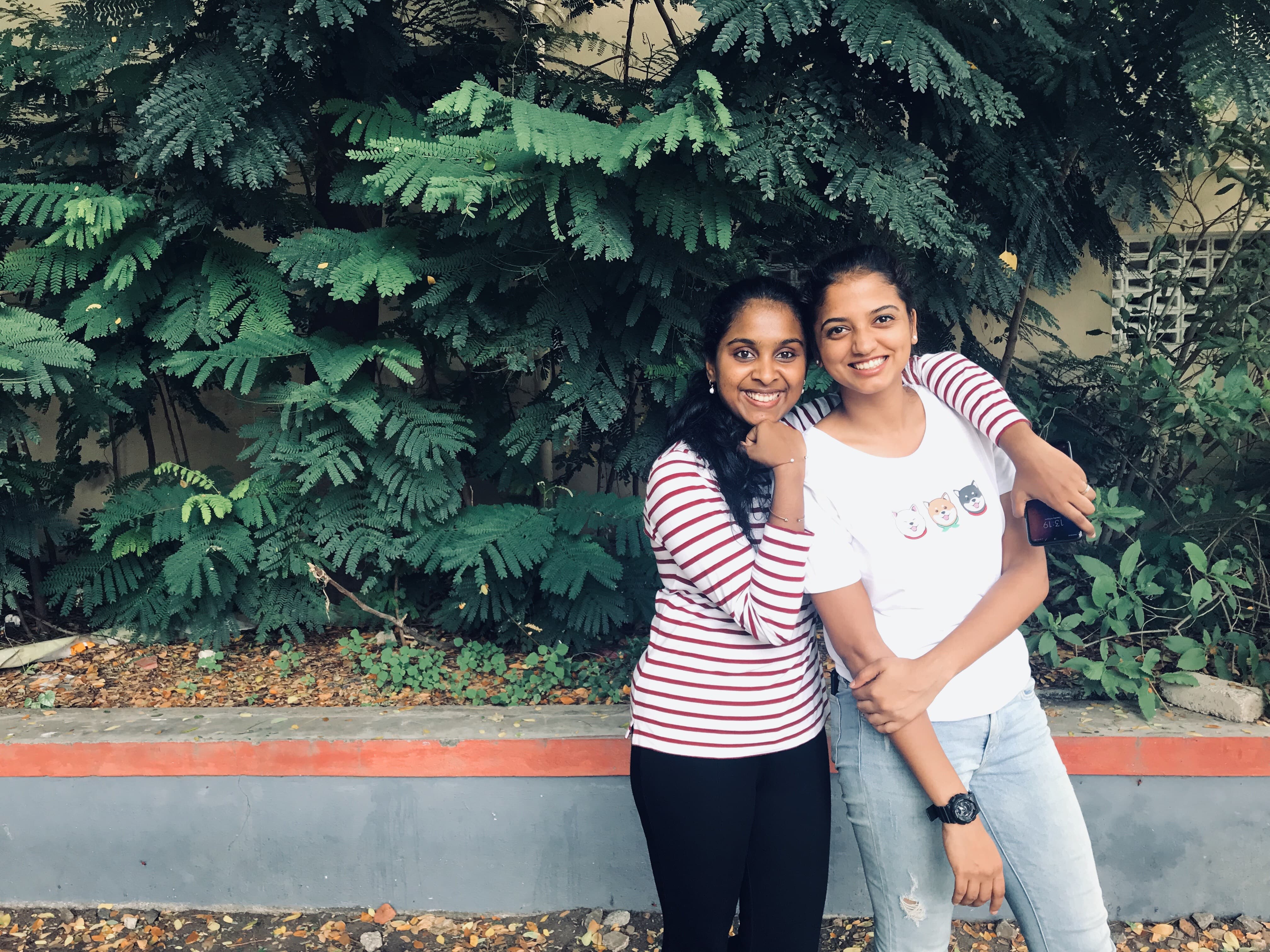 GT: What does your logo signify?
AV: I actually got the logo done through a CEG alumnus who helped me go over a lot of designs since I wanted my logo to be simple and readable. The logo of a company is the front face of the brand after all. I also wanted it to be very geometrical and for the colours to be taken from my mom's engagement saree, since she was and is my biggest inspiration and pillar of support both in life and the running of SAA.
GT: The designs you create are so different, yet maintain quality- what and who do you draw inspirations from?
AV: The clients are the main focus of customisation and they are the ones that inspire me to take risks and make unconventional designs that vary with the personality of the client. I start out by discussing colours, frequency of usage and purpose before starting my design.
GT: What about you Swetha, did you have a course related to photography before you ventured into starting Studio S?
SB: I have not done any courses in particular but I make it a point to attend a lot of workshops that come my way. For me personally, workshops are very useful to learn a lot of new techniques and pick up on different styles.
GT: What techniques you use in your photographs?
SB: I don't stick to one particular style of photography as the reasons and the models play a huge factor in this area of business. However, if asked what my preference is, I'd say wide angle shots as personally I try not to use too many close up shots.
GT: Ashaa, how do you want women to feel while wearing your designs?
AV: I want women to always feel very confident, whether they are wearing my designs or not. However there is a myth that customisations are for high class people and celebrities, so my main motive is to prove that customisation is for anybody. Whenever I send out the finished products, I make it a point to send them a mail with a list of instructions on how to maintain the outfit, the most important point being, "Wear this with confidence". Because regardless of weight or looks, every woman is beautiful and deserves to feel that way too!
GT: How do you start convert your ideas into designs?
AV: I am not that good at drawing actually, and can only sketch stick figures. So, I start out by deciding colours using colour palettes and even go as far to take images of sceneries with similar colour combinations and send them to my clients. I then drape it on the body foams to finalise and bring my mental image to life.
GT: What's your favourite part being a designer?
AV: Being a designer I get to interact with so many people and understand their thoughts. Few of them are even specific about colours and emotions and why they want that which is always very interesting to me. I also love the process and am very passionate about what I do.
GT: Do you do the stitching by yourself?
AV: It's not practical for me to stitch everything. So, I have an embroidery team: two tailors, and a pattern maker. I make sure I personalize the designs and patterns, and then sit with my team to get it done.
GT: How did you source the initial funding for your start up?
AV: SAA as such was a small start up built on experiences with my close friends from CEG and started on a very small investment from my father, which actually brought along with lot of responsibilities. Now I outsource fabrics and take advances from my clients and have been building on the initial investment to take SAA to the next level.
GT: Where do you guys see yourself after 10 years from now?
AV: More than a designer, I initially wanted to be known as a dancer and now I really hope that these two find a way to mesh so I can be happy doing both the things that I love and hopefully earn money from it as well!
GT: What is a significant touch you give for your design?
AV : I'd say shifting to natural fabrics like silk, khadhi, cotton and moving away from synthetic, but honestly my signature touch is customization that I design which won't be worn by anybody but you.
GT: What are the dos and don'ts you'd each would suggest for those who are aspiring to become like you?
SB: Don't get demotivated and always remember that there will come a time for everyone's success. So, practice constantly and never fear to experiment.
AV: For designing in specific, you have to keep reaching out to people and take risks, this will help you learn, reflect on your flaws and fall backs, and better them.
The Guindy Times thanks Ashaa Vigashini and Swetha Balaji for spending their valuable time with us, and wishes them all success for all their future endeavours.