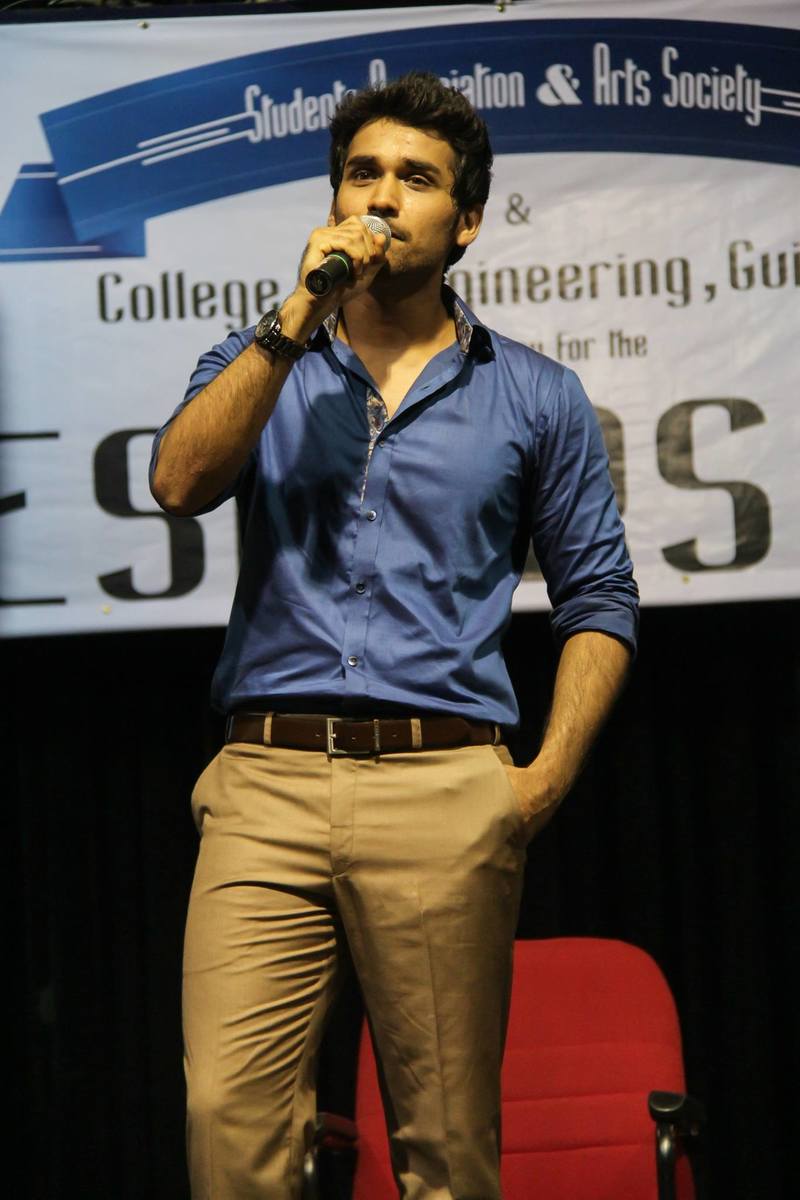 From founding Theatron during his Masters, he has shot off into stardom while following his heart. Read on for excerpts from a exclusive interview with our alumnus, Amitash Pradhan, of VIP fame:
How did the movie break happen?
Founding Anna University's 'Theatron', directing five plays and starring in several more, have helped me establish myself in the theatre circuit.
In addition to that, Anirudh Ravichander and I are childhood friends. At the wedding of his sister, I was introduced to Dhanush. We got talking, and he casually offered me the role of the antagonist in his next film.
How was the experience of shooting for VIP?
In just two words: life-changing.
I've been training my entire life to be an actor – I've been involved in theatre since I was eight, and participated in several dance competitions in school and college. So, this was a cherished opportunity right from the beginning.
A pivotal scene in the movie is shot at the Slum Clearance Board. Over 200 people had gathered to watch, having heard the film crew of Dhanush's next movie would be there. With three pages of dialogue, all that huge lighting equipment, and in the presence of stars like Dhanush, I felt overwhelmingly conscious of my newcomer status in the industry. It was Dhanush and Director Velraj who helped calm my nerves, and assured me that I would do well.
Through all the ups-and-downs of shooting –professional growth, personal discoveries, and moments of doubt – I emerged with the conviction that this is what I was born to do.
What were your thoughts on portraying the villain in your first movie, when actors generally prefer to debut as hero?
Due to increased exposure brought about by social media, current audiences are able to discern between an actor and their on-screen characters. So, I had no qualms about playing the villain.
Dhanush Sir calmed away all fears I'd had about essaying such a central role.
What challenges did you face to establish Theatron?
Back in 2008, the mindset of the AU populace was very acad-oriented. It was quite trying to get seriously-interested people to sign up. I remember camping outside the Dean's Office, getting turned away at classroom entrances while trying to make announcements, and even holding up banners and shouting out in front of the CEG Canteen !
Most initial members had little knowledge of theatre culture. Since theatre is an actor's medium, grooming these people was of paramount importance. This activity is a lesson in personality development for both the teacher and the taught.
The best result was, none of it was in vain – every lesson in theatre performance was incorporated into their psyche, and not one member came back to square one.
Are you still in touch with Theatron proceedings?
The current Head of Theatron and I are good friends, so I'm aware of every major development in the club! I attended our adaptation of Girish Karnad's 'Wedding Album' as well, last year.
How far has Theatron helped to shape your career?
In Theatron, I came across great mentors, gained the skills and confidence to do my own plays (directed five plays), which established me in the theatre-circuit.
What would you suggest to our students wanting to make it big in theatre and the film industry?
Making it big in the theatre and film industry takes a lot of effort and patience. You'll be able to give it your all only if you are dead sure that this is your calling.

Do this for the love of the art – there's SO much more to it than the money and fame.

While in Theatron, dabble in as many facets of the play as possible – acting, directing,
screenplay. It helps to learn the ropes early in your career ! Experiment with different styles of each facet to know which one best suits the play.
These continued, dedicated efforts should get you well-placed contacts in the industry.