The even semesters at Anna are traditionally filled with more of the events, symposiums and cultural festivals that enable the student community to showcase its talents on an impressive scale. This year round, the season of symposiums started off with Imprint, the national-level technical extravaganza conducted by the Society of Printing Engineers and the Department of Printing Technology, CEG. Held between 26th and 28th February, the fest, captioned Print Beyond Limits, highlighted the importance of traditional ways of printing. Despite the number of colleges offering courses in printing technology being very low, students from campuses all around the country, such as MIT Manipal, Calicut University and Guru Jambheshwar University of Science and Technology (Haryana) turned up for Imprint.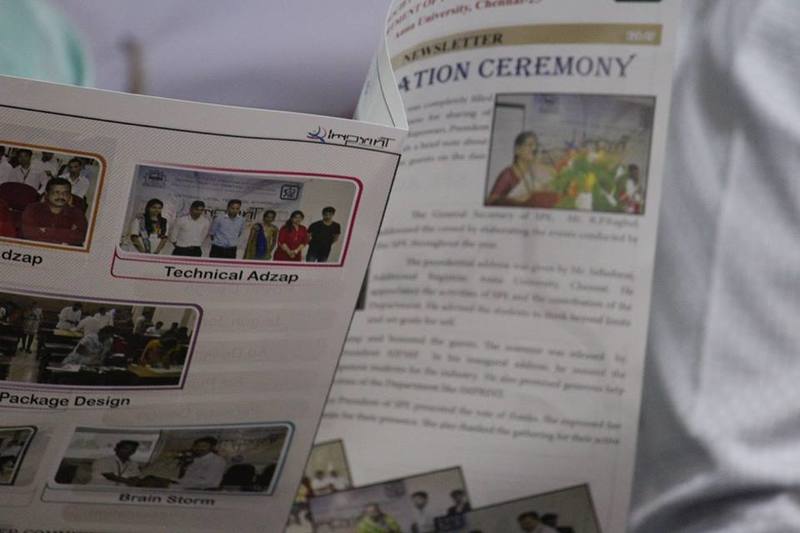 The inauguration ceremony saw the presence of top officials of the AIFMP (All India Federation of Master Printers), such as its Vice Presidents of the East and South divisions, Mr. Shyamal Chandra Basu and Mr. Manickam, the honorary General Secretary Mr. Sunil Garg and Dr. Selladurai, the Additional Registrar of Anna University, among others. A vibrant evening, this laid the foundation for all the events of the next two days.
Most events conducted, like Poster Design, Package Design, Technical Quiz, Paper Presentation and Brainstorming, were fully related to the core subjects associated with the department, with participants battling hard to secure laurels in the intense final rounds. The alumni meet that took place on the second day was a fun-filled highlight of the symposium, with third-year students conducting interactive game sessions for their graduated seniors. This session also comprised of qualitative discussions regarding career aspects, with valuable tips being given by the veteran alumni.
Finally, the valediction ceremony that took place on 27th February, had the CEO of Emerald Publishers, Mr. G. Olivannan, delivering the Chief Guest address. He explained why printing can never be replaced - "Technology may produce marvels; we may have e-books and online materials. But the personal feel of having a book and reading it can never be overshadowed by any material, whatsoever," he quoted, encouraging students to realise and appreciate the value of the department. The evening also saw Dr. P. Narayanasamy, Dean – CEG, delivering the Presidential Address and Mr. K. Vipinendran, Treasurer – Society of Printing Engineers (SPE), delivering the Vote of Thanks. R. P. Raghul, Secretary – SPE, expressed his sincere gratitude to all the sponsors for having been the pillars of support throughout the event.
With more symposiums set to follow, it can be said that Imprint has provided the perfect impetus for this even semester.
List of Winners:
Tech Quiz:
Naman Jain, Utkarsh Bajpai, Goheth Siddhanth – MIT

Nandhini S, Jananee M, Loganayaki N – CEG
Ad Design:
Ujjiwal Srivastava, Amit Kumar – Kurukshetra University

Naman Jain, Trianka Mitter – MIT
Biz Plan:
Manjula S – CEG

Gaurav Jawa – Guru Jambheshwar
Paper Presentation:
Ranjani S, Kalaiyarasi C, Deepika S – CEG

Keerthana S, Jayasree S – Avinashilingam
Vintage:
Shailesh Chauhan, Sunny Raj – Guru Janbheshwar and Gowthami, Karthick – CEG

Sridutta Goud, Kiran Kumar Naik – MIT
Package Design:
Athika O V, Lekshmi S, Nivea M J – Calicut University

Rajeswari L P, Deepika S, Raghvai T – CEG
Jargon Jostle:
Vijay Shankarr, Pragadeesh – CEG

Utkarsh Bajpai, Goheth Siddhanth – MIT