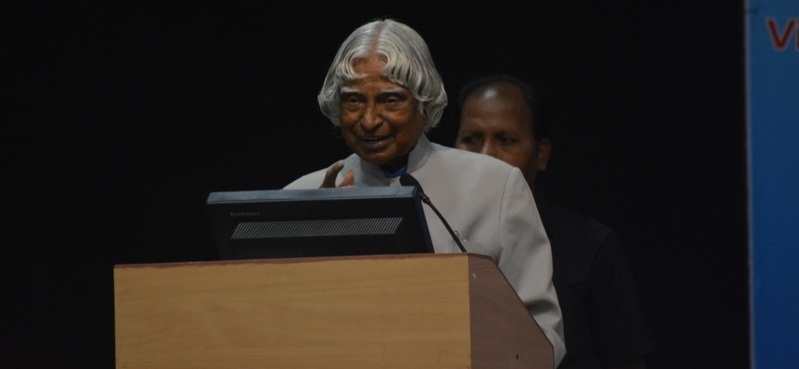 Sept 5, 2014[9:15am]: For the first time my Computer Organisation class got cancelled today because my Professor apparently had a function to attend. Then it took me a while to realise today was their day – Teacher's day! So, they were to have a function in the Tagore Auditorium a.k.a Tag Audi with Dr. A. P. J. Abdul Kalam presiding over as our Honorable Chief Guest. I took my camera and raced to the auditorium at 9:45 a.m. Thank God, it was to start at 10:00 a.m. On the way, the entire college was buzzing about, like just any other day not at all aware that we were going to be in the presence of such a great dignitary. In fact, I doubted if today was today and double checked the date!
So many police cars were parked outside the auditorium and press reporters from various channels were present. When I showed the security my press pass, (I know what you are thinking. Yes, the campus magazine is quite cool.) I was allowed inside to witness the former President and almost all the noted dignitaries of Anna University under the same roof. Everyone was chatting, texting, and the audi was buzzing with activity before his arrival.
But then, he arrived. Instantly the audi sounded like a library – PIN DROP SILENCE. Everyone looked in muted admiration as Dr.Kalam swiftly walked down the aisle and reached the stage. He was welcomed by our student, and an endless list of his lifelong achievements were read out. Then our Vice Chancellor Dr. Raja Ram welcomed all the teachers and paid his reverence and gratitude for their selfless effort in shaping the students' career and enriching the education system in the process. He took this opportunity to thank all the faculty members of our University who have contributed to the University and society.
Then, He walked to the podium. Silence dawned again. Everyone caught their breath to hear his voice clearly. Some camera clicks were heard distinctly. He scanned the entire auditorium trying to make eye contact with ALL the teachers! He smiled. Then he slowly started saying,
I am indeed delighted to participate in the Teacher's day function
This struck me with great awe. He had chosen to accept our invitation to come to our campus today, of all the places he could have gone, AND he was delighted!
Then he went on congratulating all the awardees for their work, spoke of TEACHER as a facilitator of innovation, and quoted 'The Student's prayer' poem by Maturana. He shared his experience about six innovators from various schools of our country whom he met at Rashtrapati Bhavan on 2nd Sept,2004. Then, directly addressing the teachers, he quoted Dr.Radhakrishnan (our former President whose birthday is celebrated today as teacher's day) saying,
It is well known that all great arts centre around religious leaders: music, painting, sculpture, literature centre around and get inspiration from the great religious leaders. Great teachers do teach us those things etc. and they ask us to abolish caste, get rid of untouchability but it takes a long time for us to practice those teachings. We still suffer from these disabilities. Only great teachers can remove this disability from our society.
After this, he became nostalgic and shared his experiences with his design teacher Prof.Srinivasan, the then director of MIT, who was his guide during a 9 and a half month project session. He concluded with a self–prepared eleven point oath for the teachers which he administered.
Then prizes were distributed, a music CD was released, the vote of thanks was given, National Anthem sung and he left the auditorium. The press people ran behind him (I doubt if they even paid attention to his speech, but why should they – they weren't teachers). But the teachers there, took a moment to understand what had happened today in their lives – one of the greatest living teachers known to them had congratulated them today and encouraged to continue with their lives with what they had been doing – TEACHING! I saw some teachers feeling proud and lifting their heads up and smiling to themselves.
For the first time I realised while my friends and I were running around to secure the highest paid jobs and air-conditioned offices, our teachers, who raised and shaped us simply derived pleasure from seeing US successful. I wish a "HAPPY TEACHERS DAY" to all the selfless teachers of our campus.