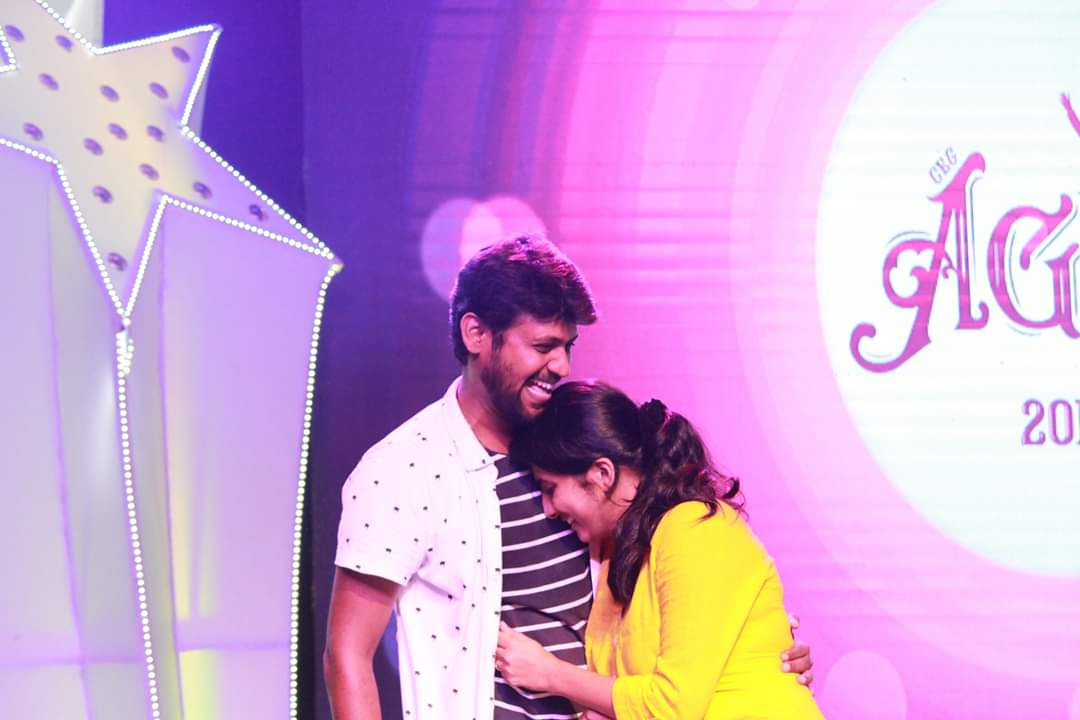 The famous Dude and Dudette show on the last night of this Agni was hosted by VJ Rio Raj who graced the cultural night along with his wife Shruthi. Rio has acted in Kana Kaanum Kaalangal and Saravanan Meenakshi telecasted in the leading regional television channel Vijay TV and has also anchored for Sun Music, doing highly viewed shows like Wife kaila Life, Suda Suda Chennai, Your Attention Please, Free uh Vidu, etc.
The Guindy Times got an opportunity to interact with him over an interview. Read on to know what Rio shared with us.
Interviewer: Akshara Viswanathan
Interviewee: Actor RIO RAJ
GT: You started off with Kana Kaanum Kaalangal as an actor and then moved on to Sun Music as an anchor and again, you came back as an actor in Saravanan Meenakshi. So, how does it feel to be back to the same place where you started off?
Rio: It didn't feel like I have come to the same position where I started off. I had a completely different feeling with Saravanan Meenakshi, because I got committed to that serial as a full-on hero. It just felt nostalgic, meeting friends after a very long time and doing what I did few years ago.
GT: What kind of difference did you find in the style of working in both the serials?
Rio: I really didn't feel much of a difference in my style of working or the way the crew worked. Only thing that stood out to me was that my responsibility was explicitly more in Saravanan Meenakshi than Kana Kaanum Kaalangal because my role was very small and comparatively less significant in the latter.
GT: Saravanan Meenakshi has completed around 1765 episodes till now. The part that you had acted has gotten great appreciation and viewership. How was the overall experience on working with such a huge project?
Rio: I learnt a lot about acting only from this serial. I learnt to be more patient through this project. Usually, if I need to go for shooting scenes in the morning and will have to wait till the evening or night for the crew to say 'PACK UP'. And throughout, we must put our mind and soul into the scenes. For some days we shot only one scene while three or four in others. That is where I learnt to become more patient in terms of personal and professional life. I was also very notorious before Saravanan Meenakshi. This serial made me discover what my passion is and also work on achieving what I want, more seriously. Maintaining physique and diet are a few amidst the many things that I learnt.
GT: Did you do a lot of workout and training for your role in Saravanan Meenakshi?
Rio: During Saravanan Meenakshi, I didn't do much. After Saravanan Meenakshi, I've started to follow routines to keep myself fit.
GT: Who do you think can replace you and Ratchitha in Saravanan Meenakshi for the next Season?
Rio: I think the channel should decide that. To be frank, I will not wish for anybody to replace me. I want it to be purely for myself. I can't take in replacement due to high possessiveness with my role in Saravanan Meenakshi. Therefore, I can't generously name a person to do my role really well.
GT: You are one among the Chennai Times' Top 50 most desirable men on television and best anchor as recognized by Vikatan. Which would you say you're the best at? Anchoring or acting?
Rio: Anchoring is what I would say I'm best at. But with regards to acting, I feel I'll be able to do much more should I be given the right time and opportunity. I'm very much particular and conscious about circumstances, the team I work with, etc. If I'm not comfortable with the team, I'll just act according to protocol and not be able to add my personal style and touch to it. In anchoring, I never consider the circumstances and environment.
GT: If some director wishes to portray the love story of yours and Shruthi's in a film, will it be like an autobiography in which you would act, or do you feel someone else can take it up and do it well? When can we see your love story in the big screen following the lines of Two States?
Rio: I will definitely not act or direct. I don't know how it will turn out. It's a complicated story. I will, in fact, try to convince the director not to make this movie. But if the movie was to be made, I'd suggest the title to be Two Religions.
GT: There is an upcoming venture in your acting career along with Sivakarthikeyan's support. Tell us a few words about it.
Rio: I'm acting as a hero in it. I have a feeling that everybody would enjoy the film. The mistakes I did on television will not happen in this movie. This is all that I can tell for now. Music, crew and release dates will be out soon. As you asked, the genre is an entertainer/comedy. But, we've incorporated sensible humor throughout the film. Black Sheep is a socially responsible team when it comes to making YouTube videos also. I guarantee that it will be a perfect family entertainer.
GT: What kind of stories and scripts will make you say yes on the first go?
Rio: Good question (laughs). I have a clear idea on what not to work though I don't have a clear mindset about what to work on. I have few ideas on what not to do, that I will never take up under any situations. Regarding what to act on, I'm open to many choices.
GT: How was your experience hosting Agni's Dude and Dudette?
Rio: It was wonderful. I enjoyed it a lot. Personally I love visiting Anna University, because that is where Shruthi and I met and fell in love. I felt really happy to be back. There are times when we will feel that we're growing old. That thought will be eradicated if we go to college culturals. We become nostalgic after seeing various places within the campus.
GT: Almost all our college students had put your dance on the Agni stage as their status with caption as couple goals. How did it feel during the performance? You did a solo for Aaluma Doluma and a duet with Shruthi for Kaathale Kaathale theme. Which was your personal favorite?
Rio: I loved the dance with Shruthi. She was already very nostalgic sitting inside the college. And when we were asked to perform, she blushed very much. It had been a long time since I saw her that way. I really loved it.
GT: A quick rapid fire:
Vijay TV or Sun Music: Most comfortable to work with!
Rio: Sun Music is more comfortable. Vijay TV makes me come out of my comfort zone with many roles and different shows. I do everything in Vijay TV: acting, anchoring, dancing etc.
Ready Steady Po or Wife Kaila Life: Your most favorite show!
Rio: Wife Kaila Life
Kana Kaanum Kaalangal or Saravanan Meenakshi: Best Learning Experience!
Rio: Kana Kaanum Kaalangal. It was my dream.
GT: Thank you so much for the interview sir.
Rio: Pleasure is all mine
The Guindy Times thanks actor Rio Raj for his time and patience and the SA-AS, CEG for giving the opportunity to interview him.