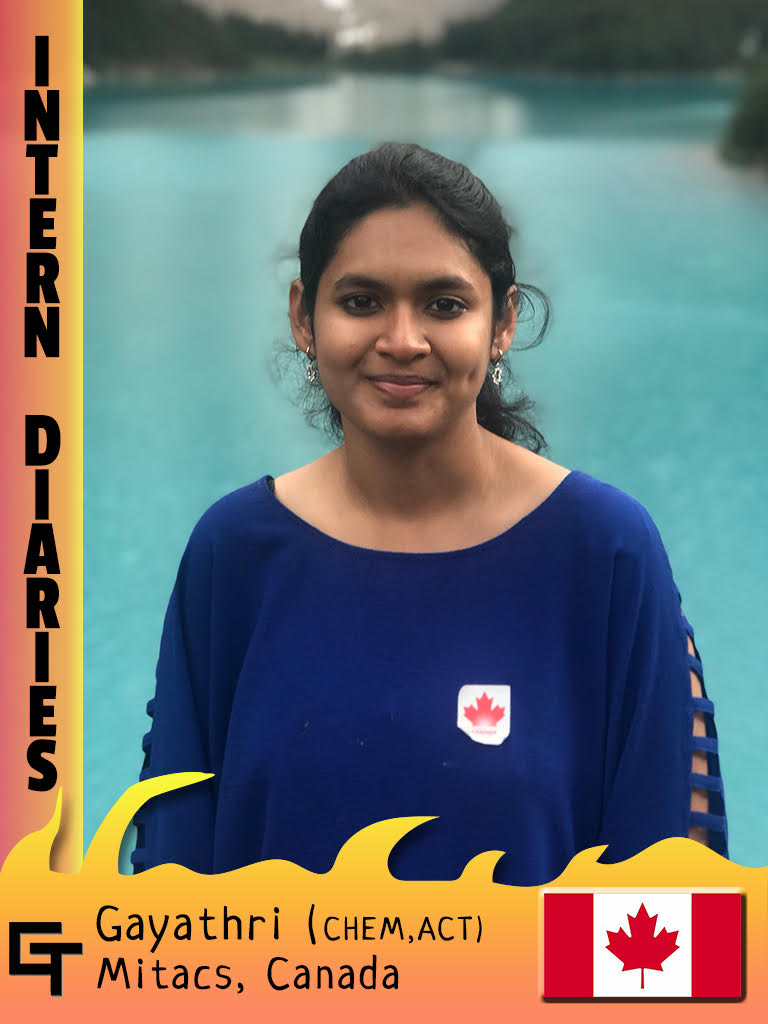 INTERN DIARIES is an account of some remarkable internship experiences of students of Anna University. It started with a notion to be inspirational, informative for others and guide them to some extent while they plan their internships. Gayatri, a 3rd-year student, pursuing chemical engineering in AC TECH, Anna University, shares her internship experience in MITACS, a non-profitable organization in Canada aimed at providing a platform for eligible students from various countries to equip themselves with knowledge and experience through their programs. Here is an excerpt from the interview.
Interviewer: Aditi V
Interviewee: Gayatri S
GT: Tell us about hobbies and passion.
Gayatri: My hobbies are painting and singing Carnatic songs. I love exploring and experimenting new things which fascinated me to travel. My passion lies in becoming a successful engineer. As of now, I wish to attend another internship as I believe that it would help to equip myself furthermore in this trail.
GT: What did you decide to do after graduation? Has this internship altered these decisions in any way? If so, in what way?
Gayatri: I have planned to pursue higher studies after the graduation. But, that is more of a long-term goal. Immediately after graduation, I would like to work and I might continue for a few years if I am interested. This research is good, but confined to one particular topic and it is better to research in a broader sense. But since my aim is not research oriented, I don't think it has altered me in any way.
GT: Why MITACS and how did you get to know about it?
Gayatri: As I said before, I love exploring things. I always wanted to do an internship abroad and I decided Canada was the right place to do so. So, I surfed a lot about various Universities and Organizations there, offering internships and thus I came to know about MITACS. Even some of my seniors residing there recommended me to apply.
GT: What was the application procedure like? For how long did the selection process go on and what did it comprise of?
Gayatri: The procedure was tedious and went for four months altogether. It involves getting things done by various people. Sitting for the transcripts, LORs, document verification, applying for visas and passports, preparing yourself to answer the video calls that involve answering the questions in regard to your topic of research, consumes a lot of time. Moreover, doing all of these won't assure you an internship. Only a few are selected from a large no of applicants.
GT: How did you prepare yourself after you came to know that you were selected?
Gayatri: Unlike most of the research internships, the applicants are provided with the topics on which they can do their research which relieves you from the responsibility of having an innovative idea to research on. I decided my topic from the bundle they provided and I started to prepare myself by reading books, articles and so on pertaining to it. It was from one of my core subjects so I sought help from my professor too.
GT: How important was the role played by your GPA? What are the other qualities apart from academics that a person should possess to have an edge on these selection processes?
Gayatri: GPA matters to a greater extent. But there are also people interning with a GPA of 7.5. They look out for people with sound technical knowledge, previous research experience, and an excellent resume. Be judicious while choosing the topic. If you choose a topic that is outside your domain, you may not get through the interview.
GT: Give us some tips to present an ideal resume. What are the elements that can add uniqueness to your SOP? Whom did you approach for LOR?
Gayatri: I would personally advise people not to include everything that they have done in their resume. Include only a few things of which you have a thorough knowledge. When it comes to SOP, add your own idea. Be genuine as it is highly appreciated. I approached a professor from my department for LOR. He handled classes and he knows me well too.
GT: What are the common mistakes we make while searching for an internship?
Gayatri: There is a plethora of resources when it comes to applying for an internship. It is not advisable to apply for anything and everything, merely to get an experience. I feel that this is where many go wrong. Decide where to go and stick to that. Strengthen your fundamentals and prepare yourself for it. Don't let your mind waver.
GT: Tell us about the internship.
Gayatri: MITACS provides four programs. The one I applied for is MITACS global link, meant for undergraduates with one more year left for completion. It is one of the highest paying internships. It provides a stipend for housing, food, transportation charges and towards student enrollment fees. Students from prominent institutions like IIT are preferred. The selection process takes place in two phases. During the first phase, Indians will be less in number. There will be a gap between the two phases. Meanwhile, if some declined the offer, those seats would also be considered at the time of the second phase in which Indians and Mexicans are preferred. The work culture is pretty good. Initially, I found difficulty with the timings as we were expected to work for 12 hours. But soon, I started liking the work that I didn't find it difficult to stay up late.
GT: Tell us about the research you carried out, there.
Gayatri: This is the only research that is tied up to the industry so there is a lot to learn. The topic is purification of heavy and light gas oil by removing sulphur and nitrogen particles. Canada has large deposits of gas sands, treating which yields us heavy and light gas oils. My research was about purifying those by removing the impurities and then testing if it could be used for transportation.
GT: What are the skills that you acquired through this internship?
Gayatri: Apart from the research, there were presentation sessions which were headed by the people from the industry. These were typical corporate-style presentation sessions where I was questioned about every minute detail that I put up through the presentation. So it improved my speaking skills, gave me an idea of how deeply one has to delve into the topic to give an impressive presentation. It is an independent life here. So I learnt to take good care of myself.
GT: What do you think about this Intern Diaries?
Gayatri: It's really a very good initiative. It may be easy to come up with innovative ideas but successful implementation of the same and making it go a long way takes patience, cooperation and coordination from all sides. I believe you people are doing well and keep doing this good work.
The Guindy Times thanks Gayatri, for giving her time for the interview.