Srikrishna
Bachelors in Computer Science and Engineering, Final year, College of Engineering Guindy
Intern
Citicorp, Chennai
Interviewer: Janani Alagarsamy (GT)
Interviewee: Srikrishna
GT: What was the selection process like? How many rounds of interviews did you have? And how impactful was your CGPA?
SK: We were initially screened based on our CGPA and then called in for the interview which consisted of just one technical round. Though my high CGPA helped me get through initial screening, it didn't have that much of an impact later on.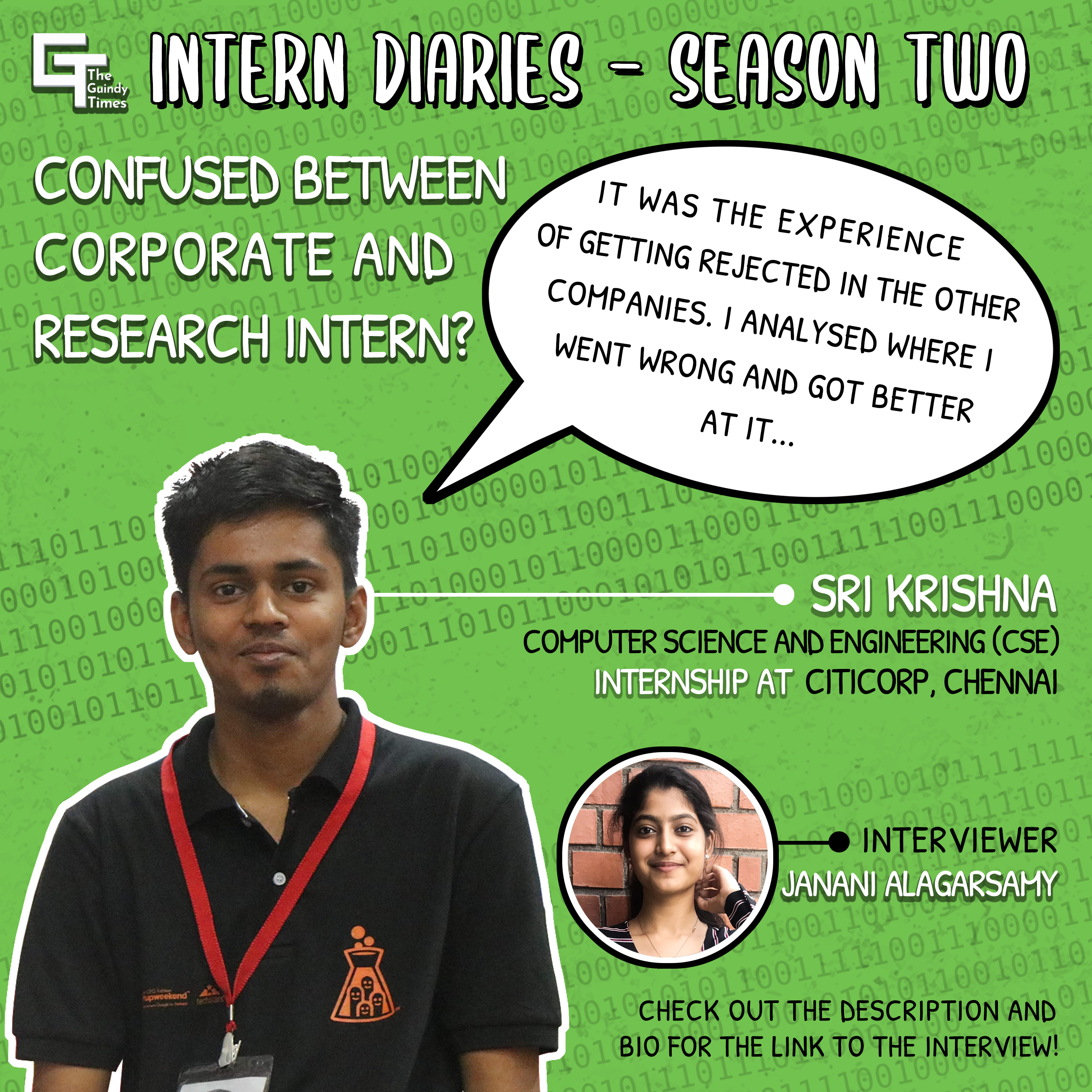 GT: To what do you attribute the reason for being selected for an internship program at Citicorp?
SK: I attribute it to the experience of being rejected by other companies. This helped me introspect and find out areas where I wasn't strong in. Working on my weakness helped me improve myself. Also, clear and concise answers to questions I was asked, during the interview gave me an upper hand.
GT: How were the environment and the work culture in Citicorp?
SK: The environment was friendly and engaging. Due to this being my first corporate internship, I got the opportunity to put all concepts and lessons from college to practical use. It also helped understand the functioning of the corporate world.
GT: Has this internship helped you to make future decisions?
SK: My internship was an amalgamation of the domains, Technology and Finance. I do look forward to working in these fields in the near future.
GT: What is your take on the standard of our curriculum from the corporate point of view?
SK: Our curriculum is perfectly synced and equips students with all the basic knowledge that the corporate environment demands. The period of internship proved to be ideal, to put all theoretical knowledge to use.
GT: Did you have any preparation for the internship that you could share with us?
SK: I had prior experience with competitive programming. Practising on sites like geeks for geeks, leetcode and SPOJ helped me in assessing my coding capability, before the interviews.
GT: What is that one tip you would like to pass on to your juniors?
SK: It is advisable to do a corporate internship in the second year and a research internship in the third year as it gives a student a clear perspective to the new technologies and introduces them to the practical work that is done outside the college environment.
GT: What was the most enjoyable part of your job?
SK: The most enjoyable part of the job was the flexibility and the amount of learning experience it presented. The work culture was nurturing and adaptive to new ideas.
GT: What is the best professional advice you've received?
SK: The best professional advice I received is "Know when to speak up and when to remain silent"
The Guindy Times thanks Srikrishna for spending his time and wishes him all the best for his future endeavours.