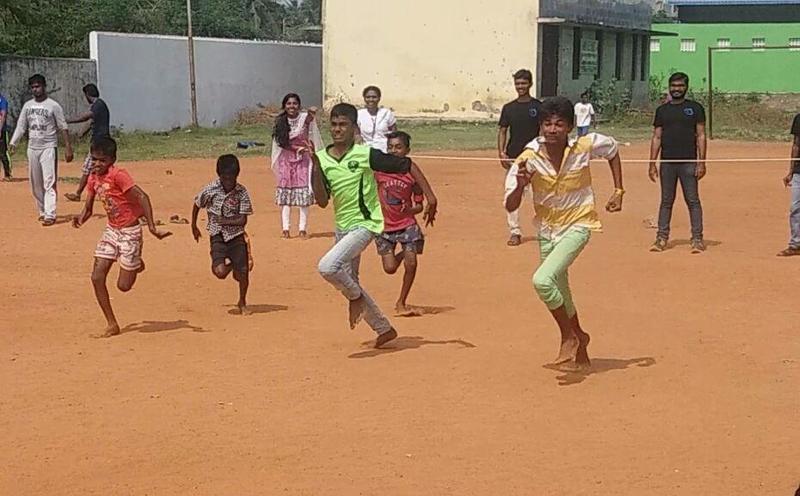 With Christmas carols and jingling bells everywhere, students of Centre for Biotechnology decided to play Santa Claus for the children of the slum areas near Canal Bank Road, Kotturpuram in the true spirit of the season.
Funds were raised by student volunteers and faculty members and events were organised in collaboration with the NSS wing of the ACT campus.
"Previously, there have been quite a few events organised for orphanage kids and yet, this was unique. All of us were really excited to be a part of it!" said Mohammed Siddiq, Senior volunteer of NSS, ACT and Vice President of Biotechcellence 2017.
The minute we arrived, there were a bunch of enthusiastic kids huddled around us who inquisitively registered their names for events planned for the day. We were overwhelmed by their curiosity and their unified passion for football. "The kids of our area are professionally trained in football along with their academics, in an effort taken by the State Government", mentioned the coordinator Mr. Kumar, with pride.
Under the scorching sun, we chose to conduct simple events like running race, spoon and lemon race and tug-of-war. The games were conducted for different age groups and active participation by the kids kept everyone on their toes, despite the high temperatures. "Our kids are lively and energetic. However, it's not often that they get a platform to express their talents" said Mr. Madhanagopal, a senior representative of the residents.
Later, prizes were distributed to the winners of every game and all participants received refreshments, in addition to a Christmas gift. "Though we had a hard time organising the event due to the aftermath of the cyclone and the demonetization initiative, the cheerful faces of the kids made it completely worth our efforts. After all, real happiness lies in sharing what we have with others", said Karthik, President of 'Biotechcellence 2017'.
The team then distributed a few old clothes collected by the volunteers to the residents of the slum. The volunteers also visited 'The Banyan Adaikalam', a transit care centre for the homeless, to distribute refreshments as a part of the Joy of Giving initiative.
"We are planning to organize more such events to encourage these kids and inculcate the habit of sharing." adds Varsha, Lady Vice president of Biotechcellence 2017.
All in all, it was a day well spent, with loads of happiness in the air!