Mrs.Sharada and Mrs.Kamala are one of the first few female graduates from CEG belonging to the Telecommunications batch of 1953. Aged over 80, the two engineers were more than enthusiastic to sit down with a couple of us for a chat filled with witty quips and jokes.
Both day scholars, they tell us a bit about their college experience as a whole.
Mrs. Kamala: "College used to be from 10am to 4pm and we used to have workshop early in the morning at 7am. I used to travel from Egmore, taking a bus then a train."
Mrs. Sharada:" I used to travel everyday all the way from Triplicane by bus and had to switch to a second bus in between. During our second year, which was particularly hectic, Kamala and I stayed in the principal's house. Since there was no women's hostel back then, he offered his residence as he was hardly there anyway. There used to be a big room where we'd study and sleep and a smaller one where we'd eat. We used to have food delivered to us 55 rupees per month consisting of twelve idlys (all meant for one person!) which Kamala and I would share."
What was your journey towards choosing engineering?
Mrs. Kamala: "I had scored very high marks and in Chennai there were only three engineering colleges back then: CEG,A.C.Tech and M.I.T. I knew an engineer was what I wanted to become so I told my parents that. They were all for it! Of course, there were others, who told me I was making a bad choice but when you know what you want in life(and your parents are okay with it) you must chase it! So I never bothered to listen to them."
Mrs. Sharada: "I had a full hundred percent in Physics,Chemistry and Math. My elder sister who is also a CEG graduate was my inspiration, after all not all of us can be our own creation like Kamala! I had six sisters who were all immersed in academics, so picking engineering was a very natural choice for me."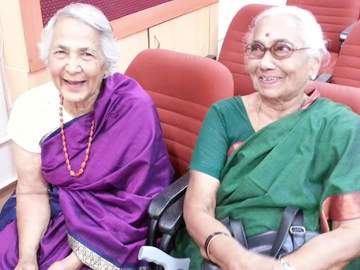 What was your Career after graduation like?
Mrs. Sharada: "I worked as a Constructive Engineer in The National Physics Laboratory for seven years. I was very much immersed in my work and I enjoyed it! The trend those days was to keep studying till a marriage opportunity came along, and if that opportunity didn't work out, you'd continue studying! That's exactly what I did. After working in NPL I did a Post-Doctorate in Toronto after which I got into the marriage tangle, and that was the end of it! Luckily I married an open-minded man, my boss. I continued working and you can read my experiment in the August issue of Life Magazine,1957. "
Mrs. Kamala: There used to be only four departments back then: Civil, Mechanical, Highways and Telecommunication. There weren't many job openings those days. Telecommunications graduates would get hired for a starting salary of 130 rupees as opposed to Civil graduates who were hired for a minimum of 200 rupees! I was hired by State Broadcasting for a starting salary of 175 rupees. Later, I switched to All India Radio where I worked till retirement.
How was it being the only two girls in class?
"All our classmates were real gentlemen! Of course, there were the occasional paper arrows that'd hit our heads. Which the boys would then proceed to claim they threw, only because we had missed our names in the attendance roll-call, but we all knew that was a complete lie!" says Mrs. Kamala laughing.
When told that CEG now has a female student population of sixty percent, their reaction is one of pure joy!
"That's really great! The first female engineering student was May George. She was followed by Rajalakshmi Reddy,Mary Matthews and then both of us. There was a bit of a gap after that and the next female student joined only when we were in our final year. We always thought we were equal to men. We were there to study and achieve. That's it." Says Mrs. Sharada.
Her last line really struck a chord with me. It seems like that's the perfect way for women to address gender issues and discrimination: with a sense of self-esteem.
"I do remember being highly upset upon receiving a rejection letter from the Indian Air Force, because I was a woman. My classmate Patel had applied and I followed suit. I wish I'd preserved the rejection letter they sent when I too applied to be a navigator in the IAF." says Mrs. Sharada.
We tell her things have changed now and a couple of female final years have been recruited from CEG this year to which she responds with a satisfied yet wistful smile.
With a sudden boldness one of us ask if they ever got any proposals during their college days.
"All I can say is, don't ever miss an opportunity!",Mrs. Sharada says with glinting eyes and a mischievous smile. The more shy Mrs. Kamala slowly says,"Well ,one of my classmates did, after we graduated…and we got married! A couple of boys wrote to me before, but I never replied." she adds.
Towards the end it felt like we were sitting with our grandmothers as the conversation steered to topics such a Facebook with Mrs. Kamala being a frequent user while Mrs. Sharada stated her intense dislike for it. "There is no need for such a site, e-mail is sufficient.",she tells us. They show us photos of their class reunions, a thing that used to happen every February." The first year we decided to meet, everyone came from America, London, everywhere. Then the numbers started to dwindle. Last year's meet was the final one. We won't be having reunions anymore.", Mrs. Kamala states, the corners of her mouth clearly conveying her melancholy.
The three of us gather around the two of them ready to take a picture,"Selfie ah?",Kamala maam says. We burst into fits of laughter exchanging impressed looks. Picture perfect.