BEHIND THE SK!REENS
This series from Guindy Times gives insights about what it takes to organise Kurukshetra 2020 by interviewing 10+ teams
An Interview with CTF's Projects team
While the preparations for the K!20 are going on in full swing, the CTF Project team Coordinators, Arun (CSE), Dinesh (Agri) and Ragavendran (EEE) shared their inside stories.
Interviewer:Sameeha (GT)
Interviewee: DINESH KUMAR G (AGRI) KUMARAGURU S (MANU) SENTHAMIZHSELVI K (CIVIL) ARUN PRASAD M (CSE)
Q1) CEG Tech Forum strikes us as a team that is focused on project exhibition. Could you brief us about some of the most innovative solutions you came across? And do you keep track of the success rate?
Kurukshetra was primarily started for projects and it has been 14 years, till now the focus hasn't been shifted to anywhere else. Previously our members helped companies in manufacturing some of their spare parts. From there on, we enlarged and multiplied into various domains and now we are shaped into a forum. As far as we are concerned, thinking and coming up with ideas is the most important thing. The failure comes only when we stop trying. Our innovative projects of the past years include Single wheel scooter, LoRa technology MTC bus tracker, CEG Amenities app etc. K! Hut near IT department is built by K! Team.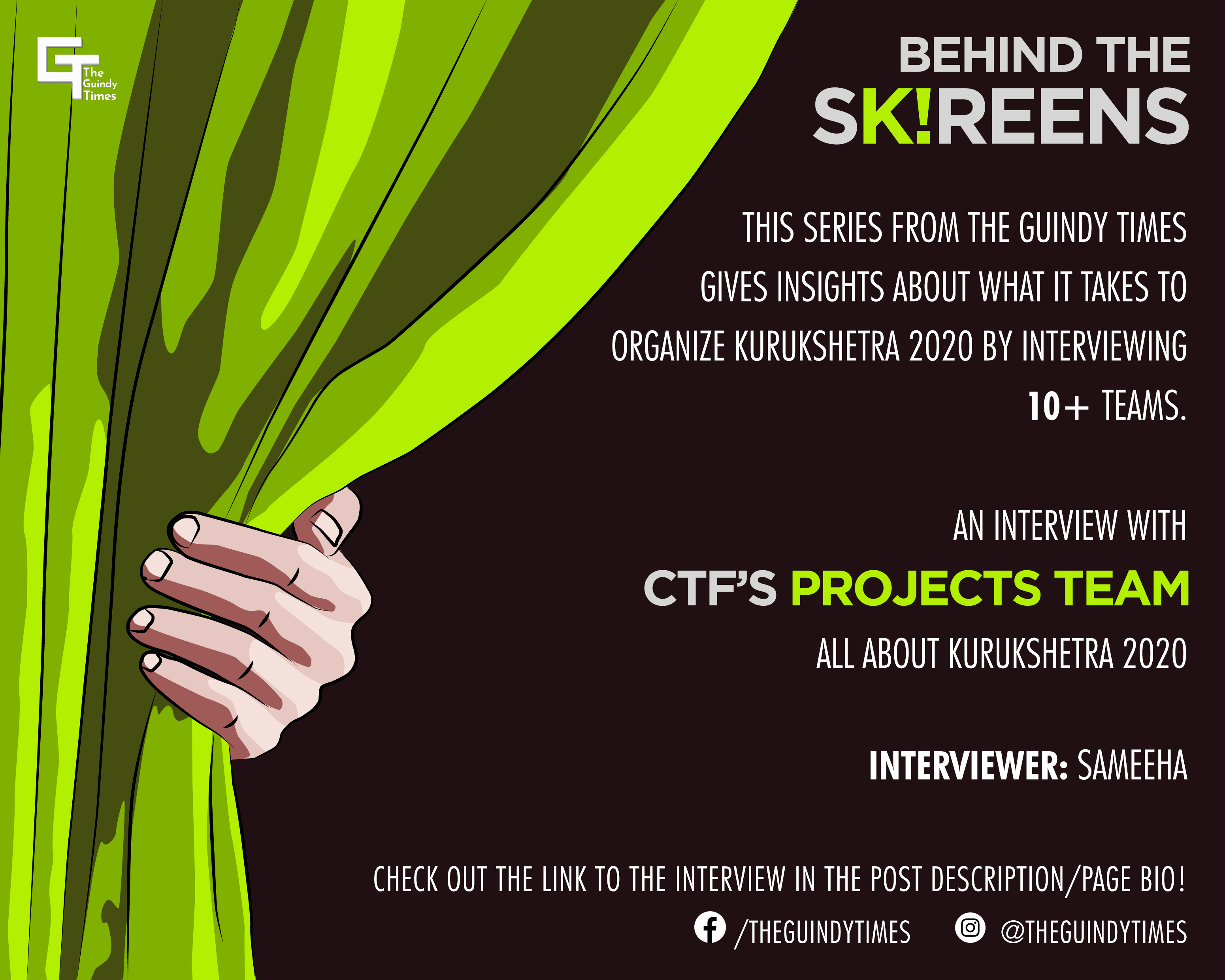 Q2) How many projects are made for K!20? Were you able to complete everything within the set time frame?
Initially through a brainstorming session we collected 200 ideas from our students, out of which 60 were shortlisted based on several factors like feasibility, scope, etc. Some of the good ideas our students came up with were way too involved to be implemented at present. After several interview sessions with student innovators, we ended up with 21 ideas of which nearly 10 are aforetime and some are a little bit arrested.
Q3) The K! Box of K! 19 was a good initiative which gained good popularity among the students. So what is the plan this year to bring the ingenious ideas to the limelight?
This year we are trying to do something different. But we are not going to compromising on the usual ones. For K! 20, we are having an inter college project display competition called K! Innovate on the theme "Revolution". There has been an enormous response and we are expecting it to turn out to be successful. The main aim of our event is to hunt out the ingenious ideas. A K! Innovate team can be interdisciplinary with any number of members to bring out good projects. Entrepreneurs and startups are also encouraged.

Q4)What are the significant wins of CTF members where they have made their presence known in various competitions?
Every year our members participate in a countless number of competitions which include project displays, hackathons like Angel Hack, IFA, SIH, other college symposiums, corporate tasks etc. Last year our member won at Nokia Innovation Challenge and also snagged a place at SIH. It was for an amazing project that automatically rectifying the detected faults in devices. Currently, we are working on a bore well rescue bot which is aligned with the theme "Revolution".

Q5)What do you wish to say to students with ideas and without platforms to prototype their idea? Do they get mentoring support from CTF all along?
Of course they can join hands with us. The final years who wish to mentor the young minds are also welcomed. CTF serves as a bridge between the mentors and the mentees. Even the alumni of CTF are easily approachable and they are ready to be of aid to students. It is a bitter truth that most of the people who come up with better ideas do not allocate enough time to get it done. Money isn't a constraint at all. CTF will provide the interested students with required money. We are waiting to hear ideas that can bring about good change.
The Guindy times thanks the Projects team for their time and wishes them all the very best in their endeavour.