BEHIND THE SK!REENS
This series from Guindy Times gives insights about what it takes to organise Kurukshetra 2020 by interviewing 10+ teams
An Interview with CTF's Marketing team
Interviewer: RAGHAV (GT)
Interviewee: PRASANTH A AE (MAT SCI),KUMAR MONI (IT)
One of the most important technical fests is about to take place, and marketing is all the rage. Because after all, what is an event without marketing it? Here is an interview with the student directors of the marketing team.
Q:How long have the preparations been going on for?
A:Since September, for about four to five months.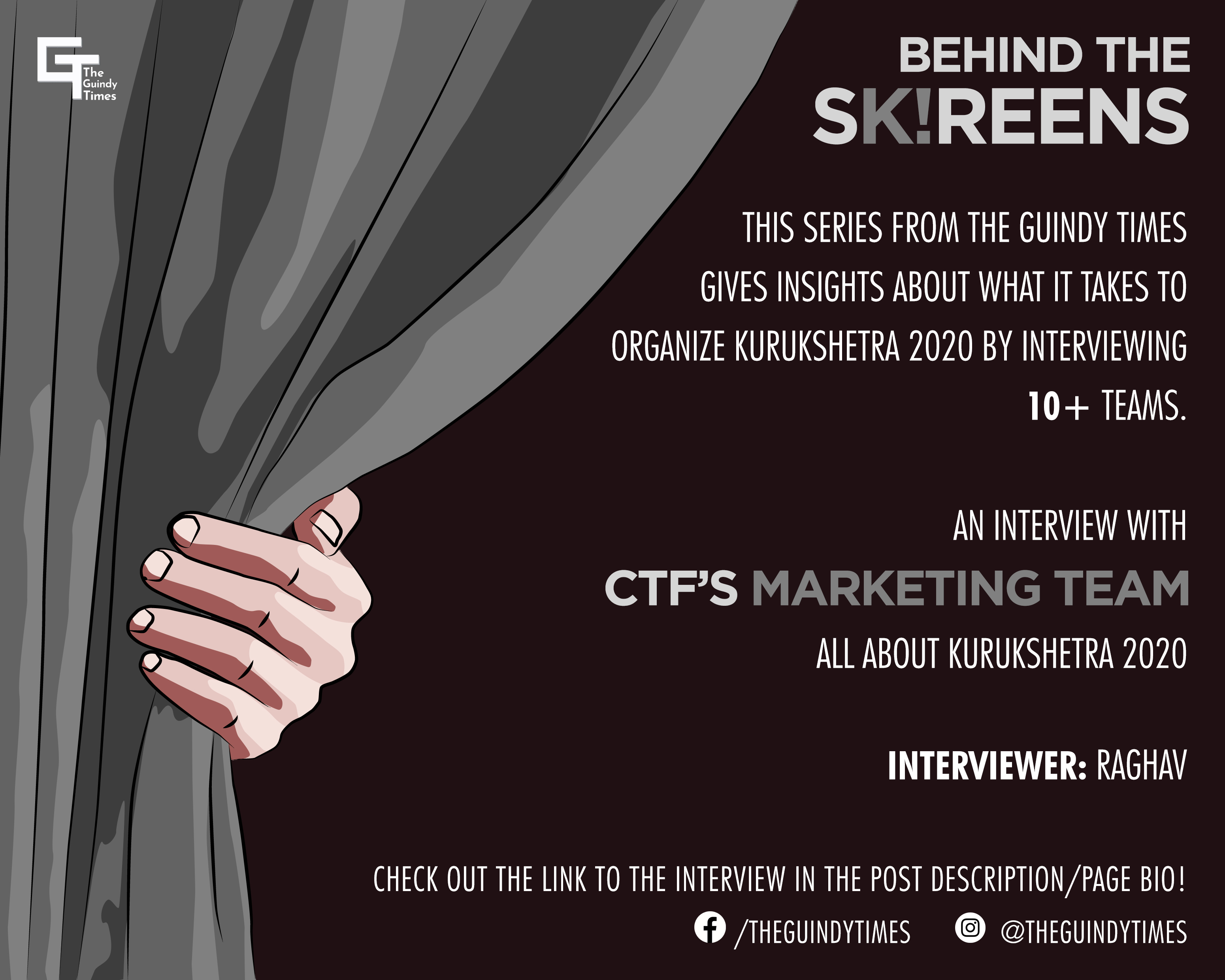 Q:How was the response from our own college? What kind of awareness has been spread with regards to K! ?
A:Internal marketing is done by the HR team, by circulating social media posts, posting banners and circulars around the campus and class pitching, where we go from class-to-class and we directly pitch in, as to what events are to be held at Kurukshetra and how they would benefit technology enthusiasts.
Q:How about external marketing? How far has Kurukshetra reached other colleges?
A:Marketing for other colleges and attendees who'll be attending from outside our university is done in a step-wise fashion:
Calling – We have our own student database, of students who have attended our previous editions, and we call them up, and explain more about the fest this year, and find out whether they'll be interested in attending the fest this year.

Select student ambassadors - Whatever details are generated, be it events, descriptions, workshops or competitions will be sent over to all student ambassadors after their selection, and they spread the word in their college about event, and in return earn the recognition of being a Student Ambassador, and other benefits that tag along.

Email marketing – We send emails to all colleges, be it the deans, HoD's or student representatives, and attach a copy of all brochures and details with regards to the events, workshops and competitions that are being held and they respond to them, and usually response is good. We also provide a certificate for recognition, which will benefit attendees in various ways.

Direct marketing - Using records and graphs, of our previous editions, we directly go to colleges that have attended our fest in large numbers in the previous editions, and we pitch in to the students, as to how their seniors attended Kurukshetra, and emphasize on the wonderful time they had here.

Search Engine Optimization (SEO) – Under SEO, we optimize the Google search engine to show our event to those who have repeatedly searched for our event on Google search, and Google Ads also play a vital role, by displaying our ads to viewers to are interested in the domain of events we host for our technical fest.
Final statement from the marketing team
"Events, workshops and other technical competitions at Kurukshetra 2020 are like events at other technical fests, but the difference is that we offer quality, as in the Events we host will surely give attendees a better learning experience and exposure, and the value of the certificates and added accreditation, such as our affiliation with UNESCO helps in profile building. To conclude, we will ensure that technology reaches everyone, along with the quality it deserves."
The Guindy Times thanks the marketing team for their time and wishes them all the very best for the future.