BEHIND THE SK!REENS
This series from Guindy Times gives insights about what it takes to organise Kurukshetra 2020 by interviewing 10+ teams
An Interview with CTF's Logistics team
Interviewee Names: Arun Deepak, Ajith, Pragadeesh
Interviewer Name: Krish Srinivas(GT)
The Logistics crew of K'2020 is led by Arun Deepak from the department of Mechanical Engineering, Ajith from Agricultural and Irrigation Engineering stream and Pragadeesh from the department of Mechanical Engineering. Here is an excerpt from the interview with them.
Q : Can you give us a brief account on how you envisage Kurukshetra 2020?
A: Since this is the 225th edition of KURUKSHETRA and CEG is all set for its 15th edition of K!, we thought of doing something different. Additionally, a maximum of 10 projects are going to be exhibited by students from each department apart from the usual ones. Moreover, K! TALKS and K! Debate will be the new inclusions this year. "Recycle CEG" will be given more emphasis this time. Also, we are planning to conduct programs that impart knowledge to students about internships and placements.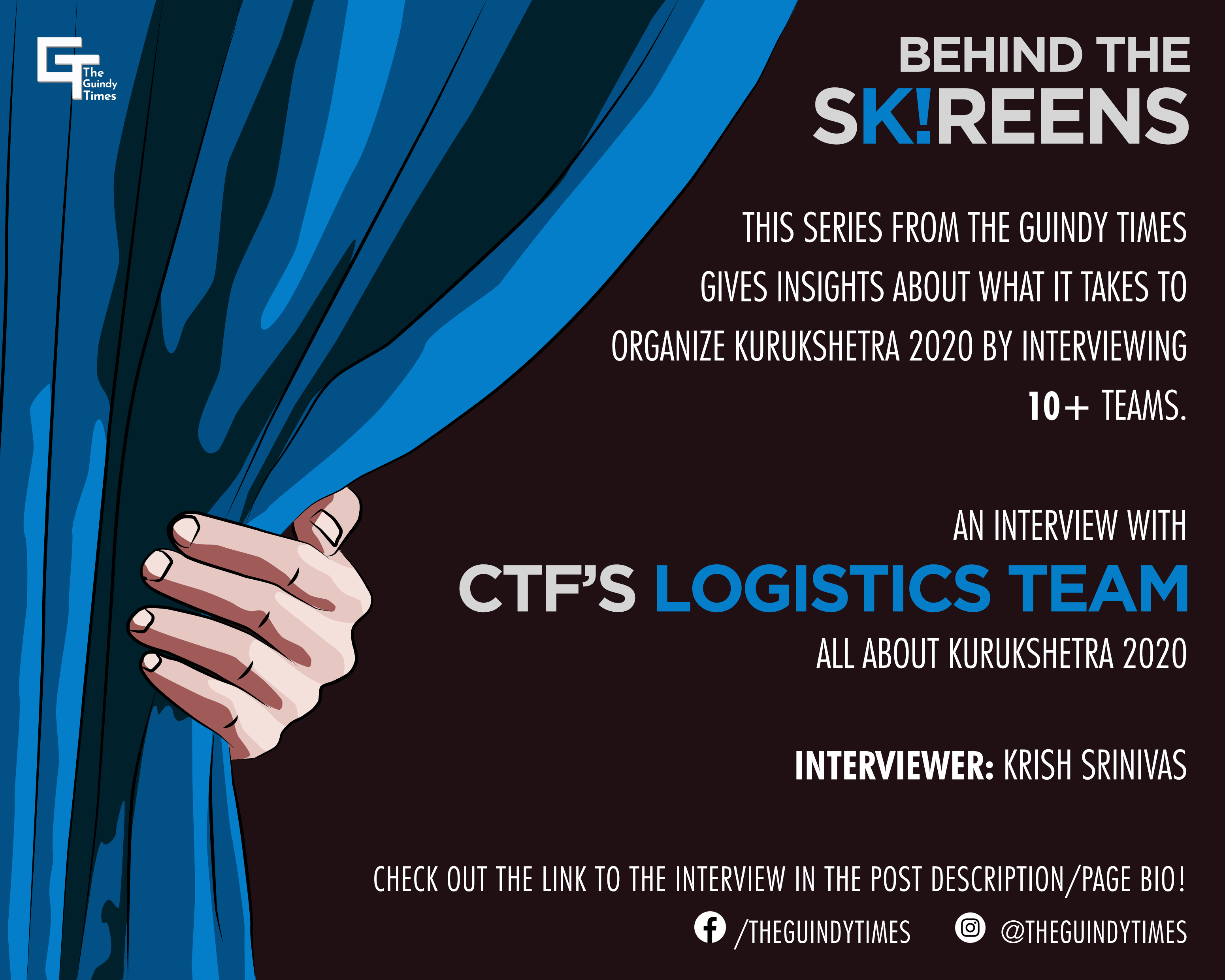 Q : What would you consider to be the best part of working as a student director in CEG Tech Forum?
A : It offers a great scope for learning and developing skill sets. There are a lot of discussions and meetings with corporate companies, so a student director will learn to speak without flaws in public gatherings. We will acquire logical and analytical skills to tackle stressful situations as we will be held accountable for the huge sum used for the event. We also learn to efficiently manage the teams as we will be the ones who split the work among them.
Q : What is the role of Logistics team? How do you handle challenges in this task and on-day pressure?
A : Out of 18 teams in Kurukshetra, the Logistics Team is responsible for the fest to run in a smooth manner. We work with every other team and always should use the money judiciously. We invest in less costly items to curtail unnecessary expenses and but at the same time shouldn't trade-off quality. We need to ensure whether all requirements are met few days before the event. Optimization of the resources is an important point to be kept in mind as that enables the team to provide other teams with what they need. We always make sure that there is an excess of every item than what is actually estimated to be required as a preparation to the additional needs on the day of event. Right from the banners near the main entrance to T- shirts and stalls, everything comes under the Logistics team.
Q: Do have any time schedule? And how do you split the work?
A: The Logistics team does not have a fixed work schedule. All the directors will not be present every time, hence whoever is available will take up the responsibility. Since most of the work is not within the campus, we can't be loath to go out because that's how we reach out to various people.
Q : There are many teams that you work with especially the Finance team. How do you manage the expenses?
A : Budget allocation is purely taken care of by the Logistics team and Finance Team. We will have many discussions regarding the budget allocation for each event, workshop, etc. The Finance Team provides us with a rough estimate for everything mentioned above and the Logistics Team assimilates it and carries out the execution in a cost effective manner.
Q : With a few days left for Kurukshetra, what is the team currently working on?
A : Kurukshetra is around the corner! We are in the process of making the necessary arrangements for meeting the on-day requirements. Also, many domains will have certain common needs and we are working on fulfilling those. Juniors are split up accordingly and are assigned specific tasks.
The Guindy Times wishes the Logistics Team all the best for this upcoming event.