BEHIND THE SK!REENS
This series from Guindy Times gives insights about what it takes to organise Kurukshetra 2020 by interviewing 10+ teams
An Interview with CTF's Initiatives team
Interviewee Name: ABINAYA (Manufacturing)
Interviewer name: Pugazhendhi (GT)
Every domain in CTF work hard, not only for 'K!', but also for general welfare in their respective domains. Initiatives, the domain, that unfortunately do not have enough reach in the college, are here to talk with us about the work they do and how they try to make a difference.
Here's an interview with Abinaya, one of the heads of Initiatives.
Q:Can you tell us the part that the team plays in 'K!'?
A:Initiatives usually does the marketing for K!, and also takes up other projects and initiatives.This domain works not only in college, but also works in social development, creating social awareness, generating new ideas to be implemented in and around us.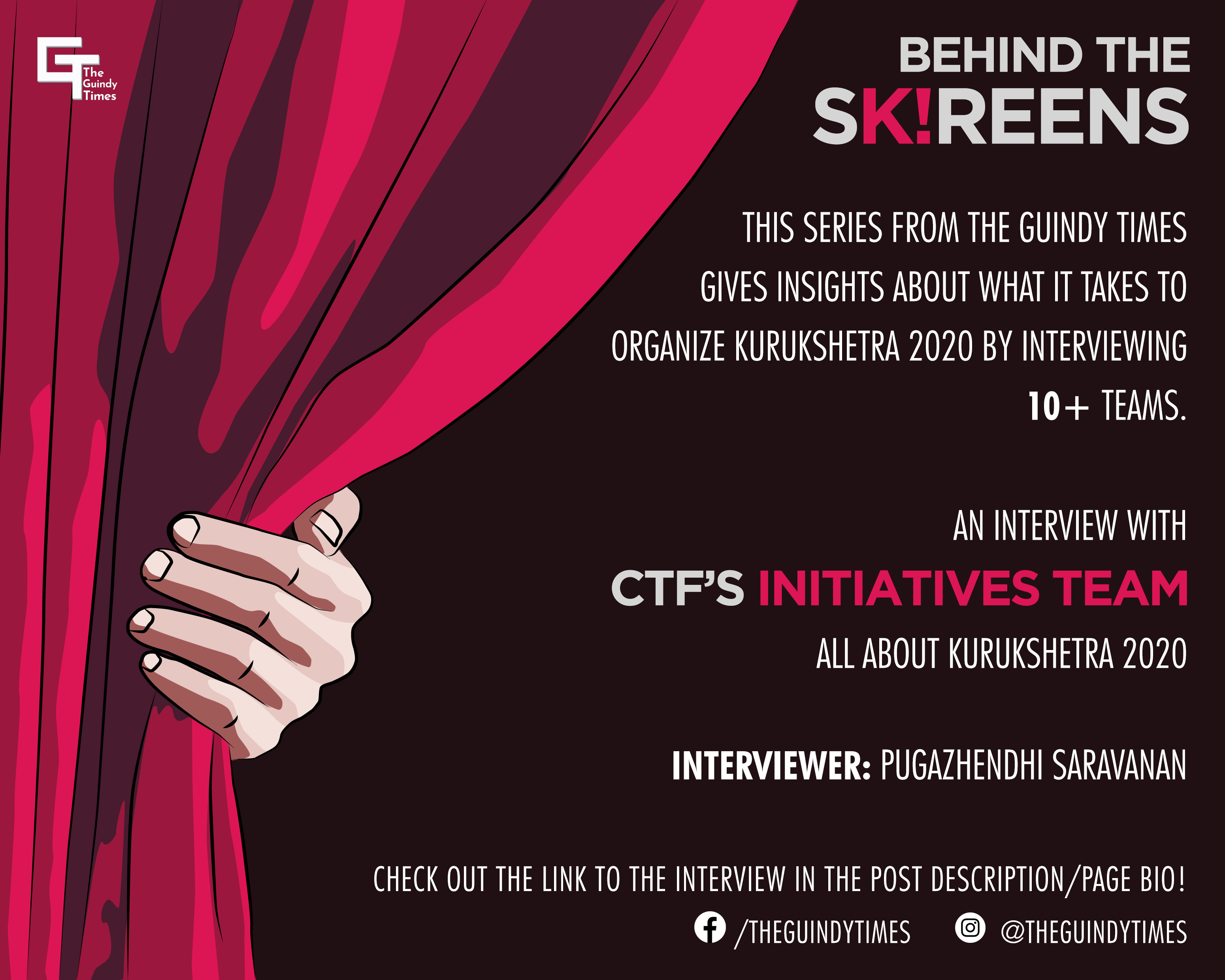 Q:What has this domain contributed so far?
A:3 years ago, we carried out an initiative called 'E for Educate' for which we collected E-waste and sold it. We then used this fund and helped the poor children. Now we are working on 'Recycle CEG', an eco-friendly initiative in collaboration with Green Brigade. We are attempting to collect all the paper waste in CEG and recycle it into notebooks. We will then resell these notebooks within CEG and use the profit to help poor children. Alternatively, we are thinking about giving the notebooks to poor children.
Q:What is the relationship between Initiatives and other domains?
A:Every domain is interdependent in CTF. It is a tradition that no matter which domain you are a part of, you help every domain that is a part of CTF, we are a family.
Q:What is it like to be a part of this domain?
A:We try to do our part in giving back to the society, which gives us immense pleasure and satisfaction. Unfortunately for us, this domain is far less populous as compared to other domains. This is a challenge for us as for carrying out larger ideas, we need a much larger manpower.
Q:What does the future hold for your domain?
A:As of now we are concentrating on 'K!' and 'Recycle CEG'. We hope our juniors will carry forward this domain and CTF, and make it not only successful, but also impactful for the college and society.
The Guindy Times thanks the student director for sharing this with us and wishes them all the very best for K!20.