BEHIND THE SK!REENS
This series from Guindy Times gives insights about what it takes to organise Kurukshetra 2020 by interviewing 10+ teams
An Interview with CTF's Xceed team
Interviewee Name: SWETHA M(CSE),SRINITHI S (MEDIA)
Interviewer name: Gurunivash(GT)
Here's an interview with the student directors of CTF.
Q:What are your responsibilities as far as Kurukshetra is concerned?
A:We have a team of 10 members inclined towards designing posters for marketing on social media and we do work for drafting the contents for the magazines. As a new initiative, this year we also have conducted events for people with a flair for writing.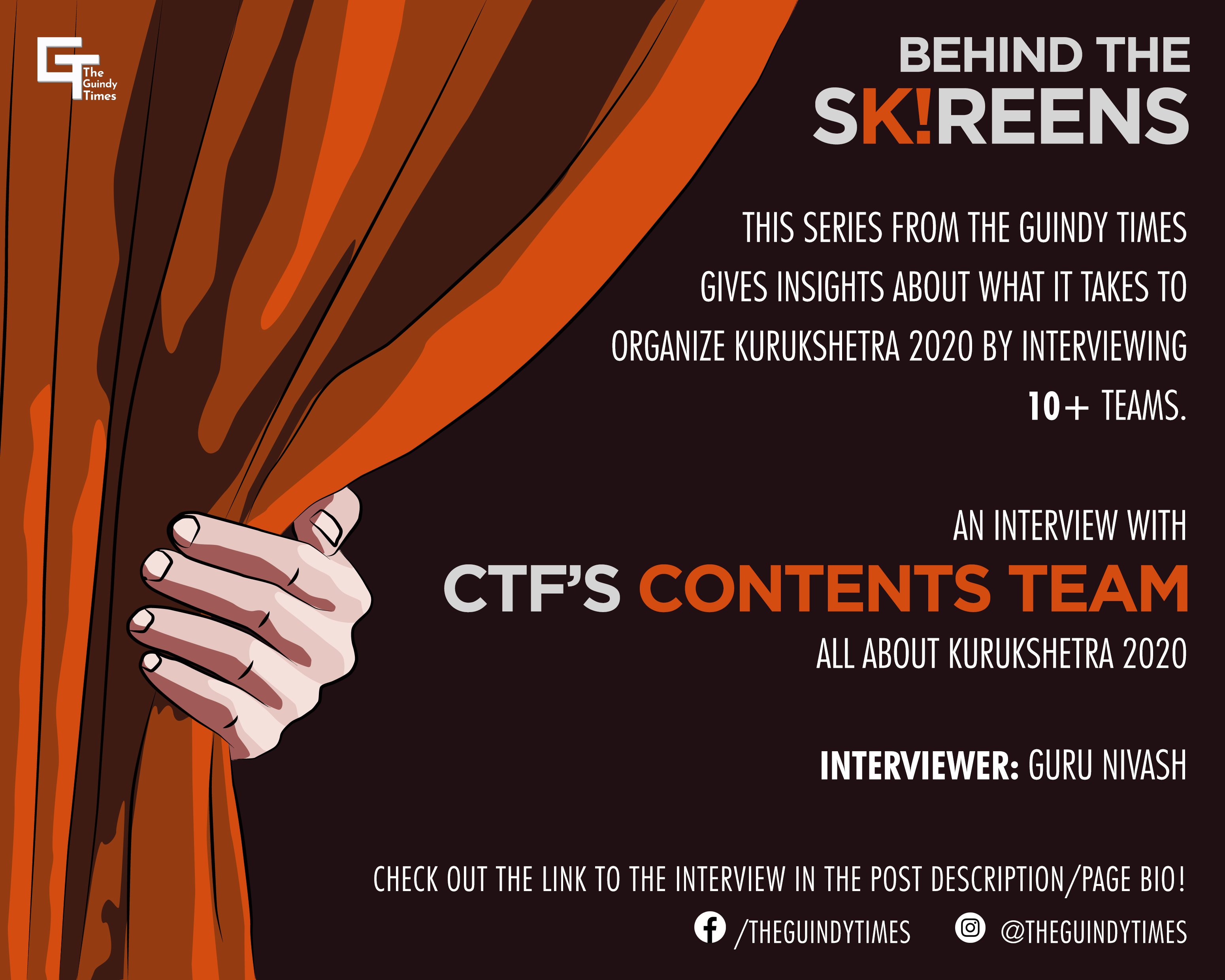 Q:What impact does the quality of the content have?
A:As the saying of Will Rogers goes, "You will never get a second chance to make a first impression." Contents do convey the face of what we try to accomplish. It helps rope in more people by invoking their interests. Hence I believe good content is always essential.
Q:How do you work on developing content for any event/poster?
A:We are required to have a full-fledged knowledge about any event in order to develop one. For this, we gather information from those who are part of planning it. Then we think of various ways for execution and pool in all our ideas. Finally we frame it word by word.
Q:How do you make the content crisp and catchy?
A:Choosing the apt words and putting it the right place will get this done and that is a herculean task. We also guide our juniors in accomplishing the same.
Q:Can you walk us through your experience?
A:I have been a part of the Contents team since my second year. For a logophile like me, developing contents is always a favourite task. Being a student director of the contents team, every moment comes off as joyous to me and I view it as a continuous learning process.
Q:Can you brief us about the magazine that you are working on?
A:So, the very first edition of the magazine, Revolution 2020 is aimed at bringing out some of the interesting and innovative ideas from students.
(So, what are you, Ideators waiting for? It's all here for you to exhibit your innovative ideas!)
Q:From your point of view, what is Revolution 2020?
A:It's 2020! And we come across many platforms to which we can expose ourselves, gain knowledge and create new ideas that may have the potential to revolutionize our nation. I hope Kurukshetra will be such a platform for students to showcase their innovative projects and ideas.
The Guindy Times thanks Swetha and Srinithi for sharing her views and wishes her team all the very best for this fest.