BEHIND THE SK!REENS
This series from Guindy Times gives insights about what it takes to organise Kurukshetra 2020 by interviewing 10+ teams
An Interview with CTF's Brand Relations team
Interviewee Name: SHIVA PRAKASH S (CSE)
Interviewer name: SHVANI SM(GT)
Q : Firstly what is the purpose of having a domain for brand relation and what exactly does it do?
A: As the name suggests, it creates a "brand" that actually takes the event to a whole new level and makes CEG stand apart. So the team actually pulls in reputed and famous companies for offering internships, workshops thereby making the event very distinct and also providing plethora of opportunities for starving minds!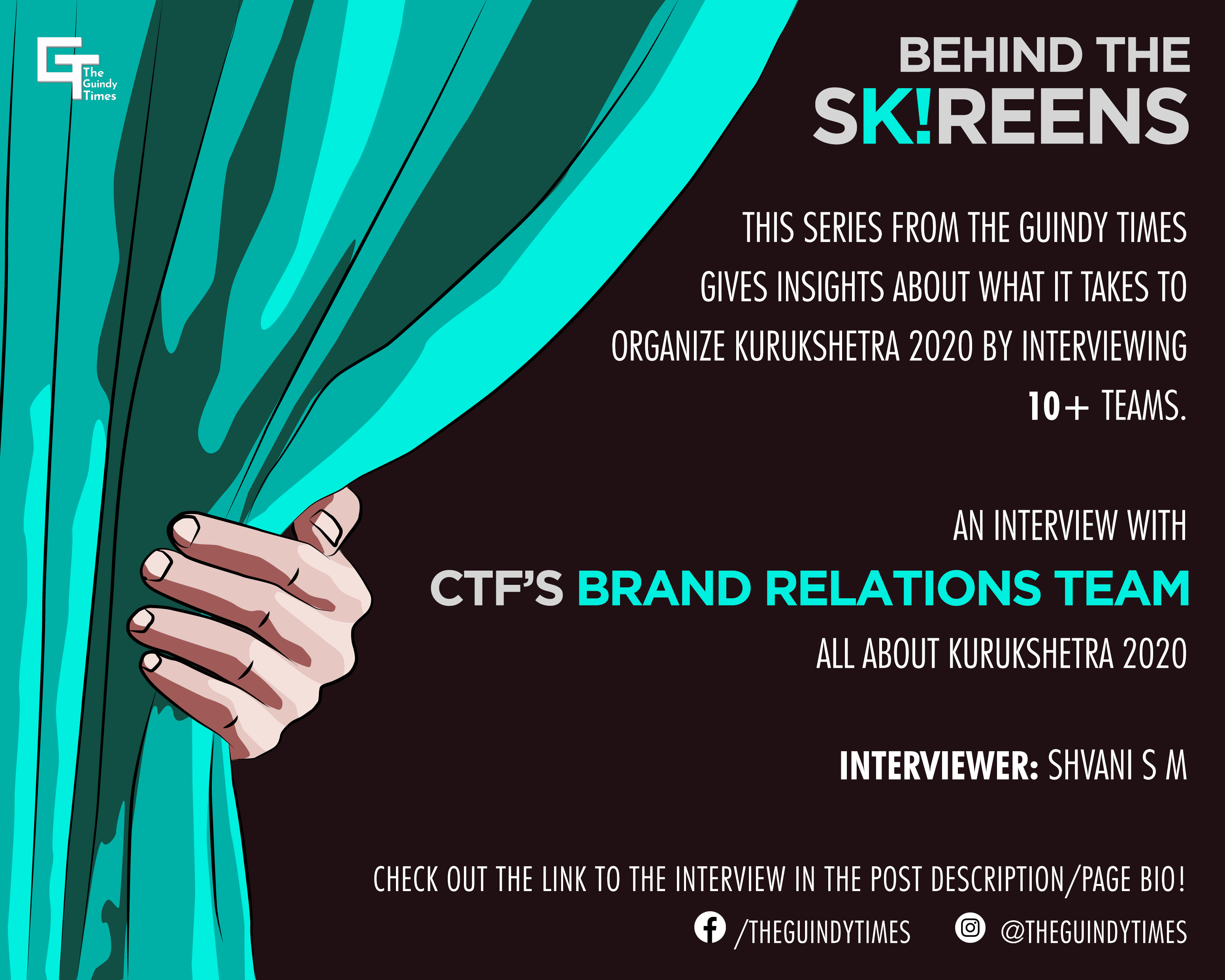 Q : How do you collaborate brand relations with other teams of CTF?
A : We actually work with many other domains, for instance, Xceed. We accompany them to colleges, interact with the students there and conduct workshops in their place which is apparently a cool and productive marketing strategy. Thus the names Kurukshetra and CEG will be remembered for long.
Q : What are the new initiatives taken this year?
A : This year, we are planning to set forth the "Internship fair" which takes the best brains to start-ups and acts as a platform benefiting both the company and the student.
Q : What is the added advantage of being in this domain or how do you think it adds up to your resume?
A : You will learn how to communicate with corporates, handle them thoughtfully, which will be of great use in the near future. You will get to interact with disparate people, from students to higher officials.
Q : What are the difficulties you faced by being a part of this team?
A: The database we had before was insufficient. So we had to start from the scratch, which was a tedious and time consuming process. Marketing this, on the other hand was also not a cakewalk. We had a hard time convincing companies for the internship fair, since this is the first time.
Q : Do you think that you have set an utmost level of standard this year? Can any improvements be made in the upcoming years?
A: This is the first time we are trying to do something like this so the companies taking part are minimalistic. So we have set a standard and I hope the next set of people who take charge make use of this workflow and pitch in to many more companies for the event in the future.
The Guindy Times thanks the student director for sharing this with us and wishes them all the very best for K!20.