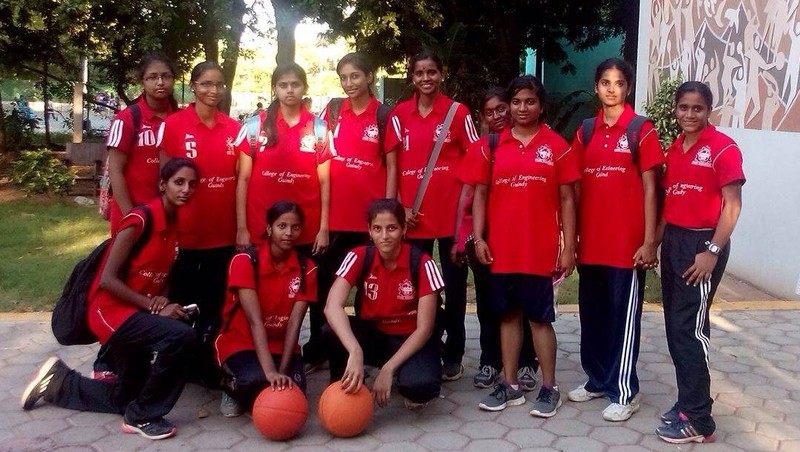 On Friday the August 22nd, 6 teams including CEG assembled in SMIT (Sri Muthukumaran Institute of Technology) college for the inter college basketball tournament. A series of matches was held from around 10 in the morning to about 5 in the evening. The teams that participated include REC (Rajalakshimi Engineering college), SVCE (Sri Venkateshwara Engineering college), JIT (Jayalakshimi Institute of technology), SMIT and CEG. The Principal of SMIT flagged off the event following which he wished every team good luck.
The 1st match was between SVCE and SMIT (the home team), the winners of which was to play against the CEG team. After quite a struggle SVCE emerged victorious beating the home team by 3 points. This match was followed by the match between JIT and REC. The JIT team with their skill and speed won the match with ease. Under the captaincy of Karthika (A 3rd year ECE student) the CEG team played against SVCE. With a 2 point lead from the beginning the CEG team beat SVCE thus entering the finals against JIT. JIT once again proved to be unbeatable thus winning the (zone 2) series of matches and qualifying for the inter Zone tournament.
The CEG team once again emerged as the runners up. Prof.Dr.D.Arivuoli, the Chairman of Sports Board, Anna University graced the CEG team with his presence during the finals showing his support. The CEG team's success was thanks to Dr.B.Balakumaran and Mrs. Elavarasi who not only accompanied the team but also coached them. The team strives to do better in the upcoming matches.