Neeraj Pandey is a highly talented director who gave us 2 excellent movies 'A Wednesday' and 'Special 26'. He teams up yet again with Akshay Kumar, who is known for dishing out dumb masala entertainers one after the other for 'BABY'

PLOT:-
The Indian Army forms a Secret agency to combat terrorism called 'BABY'. BABY had started with a team of 12 members although its strength is now reduced to 4. They embark on a mission to eliminate terrorism from India.

The movie is one of the most realistic and gripping thrillers ever made in Indian cinema. Akshay Kumar as one of the members of 'BABY' (Ajay Singh) does a brilliant job. We wish he would act in more movies like this instead of his usual comedies. He is very apt for the role and there is no protagonist becoming a superman kind of thing in this film despite it being an action movie. Rana does what he does best as a macho man and Taapsee's role is more or less a special appearance. Anupham Kher entertains us in spite of him being present only in the second half. The other supporting actors are aptly cast and look tailor made for the roles they play. The Screenplay of the movie is excellent and it does not have any unwanted elements.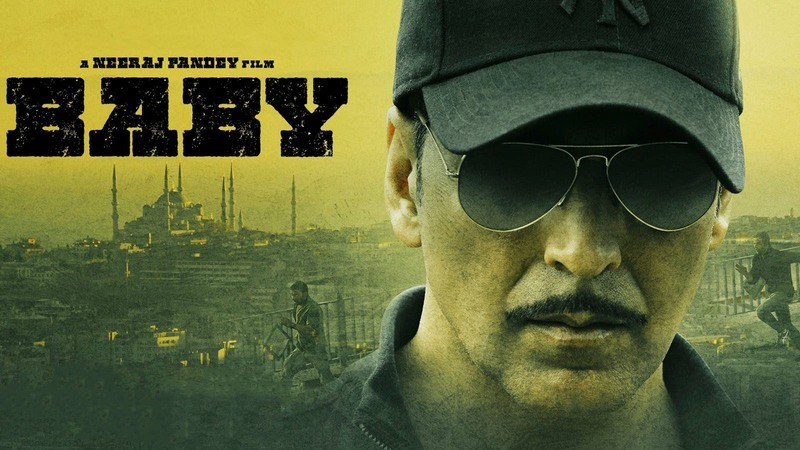 There are only 1 or 2 songs in the movie and that too with a run time of less than 1 min. Humour is hidden in the movie here and there. M.M.Keeravani does a terrific job with BGM which elevates the mood of the movie. Some negative points include lack of entertainment value, an ordinary first half and clichéd display of Muslims as terrorists.
This movie is for the mature audience who are aware of what's happening around us and who have some sort of interest in social issues. Neeraj pandey delivers an extremely taut engaging thriller yet again and makes our Indian cinema proud. A movie which should not be missed at any cost especially if you like well made realistic action thrillers.
RATING:- 4/5