"PINNACLE", the National level Technical Symposium of the Department of the Mechanical Engineers, CEG, Anna University was held on March 11-13. The fest was inaugurated by Dr.Ravichandran, Executive Director (Retd.), Lucas TVS, who is also an alumnus of CEG. The inauguration took place at the Tag Auditorium on March 11th in the presence of more than 300 students.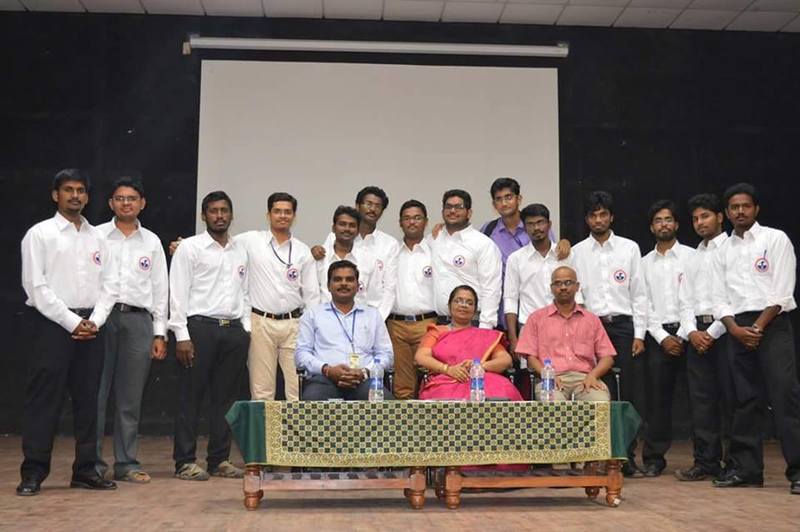 The symposium had Workshops, Events, an Auto Show and much more. Three workshops - Auto Renovate, Advanced Metal Forming & Casting and Industrial Robotics were a part of it."We usually don't have more than four workshops and that's our success formula. This year, to make the workshops more interesting, we reduced the number of boring lectures and tried to make them more practical", said Praveen Kumar A, the Workshops Secretary for Pinnacle. The Auto Renovate Workshop offered a 'hands-on' session and helped students learn by dismantling and assembling things. The workshop was attended by nearly 450 students from various colleges. The participants of Advanced Metal Forming and Casting workshop were also taken on an Industrial Visit to Kamachi Steels and Cafoma Engines Ltd. The SME joined hands with Axis Global Automation for the Industrial Robotics workshops which made its debut this year. "We decided to have it because it would be useful for industrial training and it is also an elective for mechanical students. A special highlight of the workshop was the live demo of 'Yaskawa' robots which are used for automation and all other purposes in the industries", said Praveen.
The symposium had more than 15 events with were divided into 6 categories with some surprise events to create fun. There were two internship events – Robo Show in association with SP Robotic works and Auto quiz (organised by Vivek Prasanna and team) from Go bumpr, with both the sponsors being CEG Startups. While 'Go bumpr' promised to hire interns from mechanical department, S.P.Robotics Works has already offered internships for three students. The non-technical online events - brain teaser and Snapshots were also actively participated by students. For the first time, the winners of Snapshots got the chance to attend a weekend DSLR course at Ambitions 4 photography academy, worth Rs.15000 each. Technical events like CAD Modeling attracted many students. While CAD Modeling had more than 50 participants, Auto Quiz witnessed more than a hundred. The General Quiz hosted by Giridharan from Mechanical Department was appreciated by many owing to its quality.
"The turnout was really good. We had more than 200 registrations for the events. E-bay coupons were provided for those who registered to draw in more participants", said Arjun Mohan, the Events Secretary. "Our flagship event 'Pentathlon' received good response from the students. Nearly 120 students participated in it and this year and as a special highlight, the winner of the event was given a Karbonn Smartphone partially sponsored by Poorvika Mobiles. The usage of ramps and other obstacles in Focus (Line Tracer 2.0) was highly appreciated by the participants. The Stimulation Games were sponsored by Tata Gluco+ with prizes amounting to a million and we also had a Play Station in Gamindrome. Our team was very united and I could say that we were a great example of unity. All the teams were in coordination which added to our success. So, overall this has been an upgraded version of Pinnacle", Arjun Mohan further added. Paper Presentation included three streams - design, thermal and mechatronics.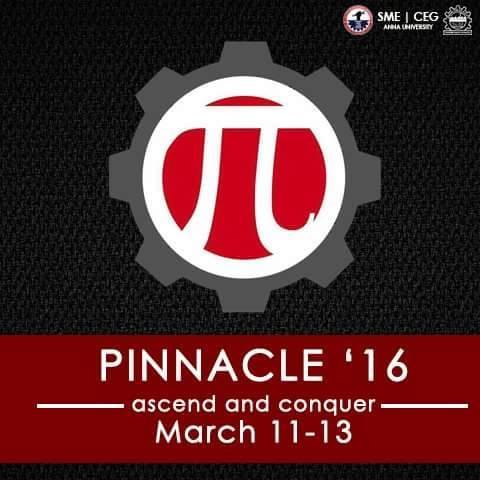 This years Auto Show 7.0 was a crowd puller, as usual, featuring vintage cars like Mustang 67, Dodge 64 and Morris 8 along with stunning supercars like BMW i8, Audi TT, etc. Another special feature of this year was the introduction of GREEN TOWN CHALLENGE – the flagship entrepreneurship event of Pinnacle. Saplings were planted and things were using only recyclable material.
Pinnacle has been reaching new heights with each year and this year was no exception. The Guindy Times appreciates the efforts of SME in organizing such an amazing symposium and wishes them a great year ahead.