Anna University boasts of being one of the premier institutes in the country when it comes to academics. But it also has a rich sporting culture. In the words of the Registrar, Prof.Dr.S.Ganesan, "Sports do not build character but they reveal it. To excel in sports it is essential to put in hard work, dedication and determination." "Sports are essential for all to keep fit and healthy. It helps to enhance the health condition and also serves as a good way of burning those extra calories. The character of a person is revealed through sports as it helps to maintain discipline" says the chairman of university sports board, Prof. Dr. D. Arivuoli. We shall now have a look at some of the sports achievements by our own University students in the last academic year.
CEG:
Men's Ball Badminton team of CEG won the zonal championship and the other men's team events that earned our college the zonal championship are Tennis, Football, Hockey, Hand ball and Chess. Kho-Kho, Kabaddi and Basket ball teams ended runners up in the corresponding zonal championships. In the women's team events Badminton, Ball Badminton, Chess and Table Tennis teams won the zonal championships
Coming to the individual achievements, R. Divakaran, III-Manufacturing and V. Parimalamaran, IV-IT got the second place in the south zone hand ball tournament. C. Manikandan got second place in the south zone Ball Badminton tournament happened in SRM University. S. Archana, III-Civil got silver in 100m and bronze in 200m Athletic events held at Rajiv Gandhi University of Health Sciences, Bangalore. P.V Nanthidaa participated in the Chennai Open Tennis tournament in 2014. R. Bhuvaneswari got the gold medal in the inter zonal chess tournament. P. Michelle Chatherine I-CSE got gold medals in the Under-20 Commonwealth chess championships and Under-18 Asian youth chess championship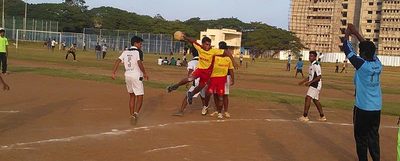 AC Tech:
Men's Kho-Kho team from AC tech won the zonals. Men's Hockey team got silver medal and Men's Hand Ball team got bronze medal in the zonal championship. Badminton team was the runners up in the zonals.
Mr. M. K. Shiva Elango, IV-Textile, got II place in Kho-Kho zonals final list. Mr. P. Praveen Prabakar III-chemical got the silver medal in south zone tournament. Mr. P. Sengani III-Apparel got silver medals in 400m and 800m in the zonal meet and a gold medal in 5000m running in the CM Trophy. Mr. M.F. Ashwin I-Chemical won gold medals in Fencing in U-17 and U-23 state level games.
SAP:
Lakshya Ragavendran, II B.Arch is national level Squash player. She won a lot of accolades last year both on state and national levels. She got a gold medal in the All India Inter University Games and silver medals in Junior National Squash championship and 35th National Games. She is the winner of Under-19 Indian Junior International Open. She also participated in the World University games 2014 and Wispa international Senior Women tournament.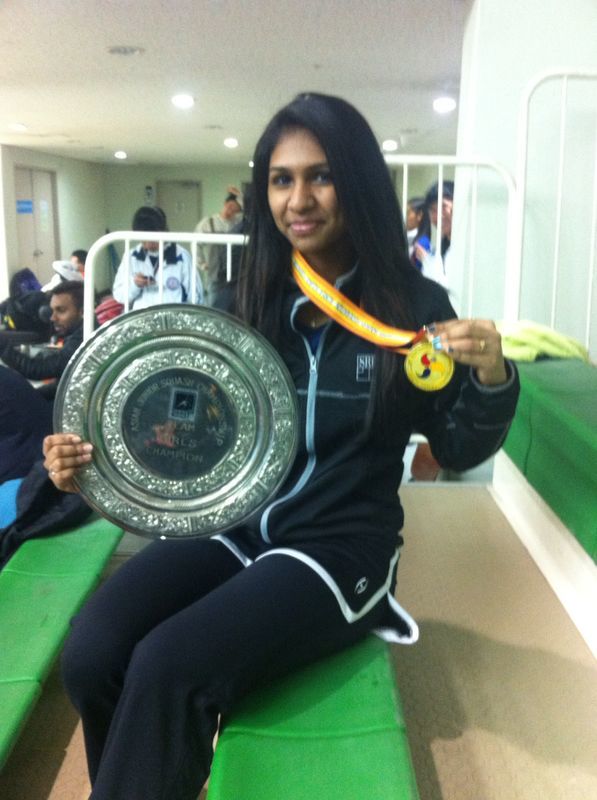 Ishta Palaniappan, V B.Arch got a silver medal in the Craft Air weapons national shooting championship at Delhi and Bronze medal in the 24th All India G.V mavalankar Shooting Competition at Ahmedabad. she also participated in the Pune Shooting Championship and the Tamil Nadu state shooting championship
Prof. Dr. M. Rajaram, Vice Chancellor, Anna University in his message says that "Anna University shall strive to be world class institute by producing professionals with high technical knowledge, professional skills and ethical values. Not just that we also aim at the all round development of the students. We encourage the students to play at least one sport to stay fit and healthy. We are also working on improving the sports facilities available in our university."
Source: Anna University Sports Achievements book 2014-15 published by Anna University Sports Board on the occasion of the annual Anna Sports Fest that happened in April, 2015.
*First picture: Divakaran at the heat of the game.
**Second Picture: Lakshya after victory.