"I'm not going to lie but the field requires a lot of hard work" says Tharini.
If someone offers you an amazing opportunity to work in a field you are not so sure of, say yes and learn how to do it. Opportunities like these do not cross paths often. Nothing is
worse than missing out on an opportunity that could've potentially changed your life. Push yourself, because no one else is going to do it for you.
Tharini Seenivasan
Bachelor of Architecture in School of Architecture and Planning, Fourth year
Intern
Architecture Red, Chennai

Interviewer: Priyadarshini(GT)
Interviewee: Tharini Seenivasan
GT: How long was this internship for and what was the application procedure like?
TS: They posted an ad on Instagram and that is how I came to know about the opening. I applied for the internship around March with a portfolio that I had prepared beforehand. I was then called for an interview during which I was asked about my projects and was then asked about the duration of work too. I decided to do it for a month.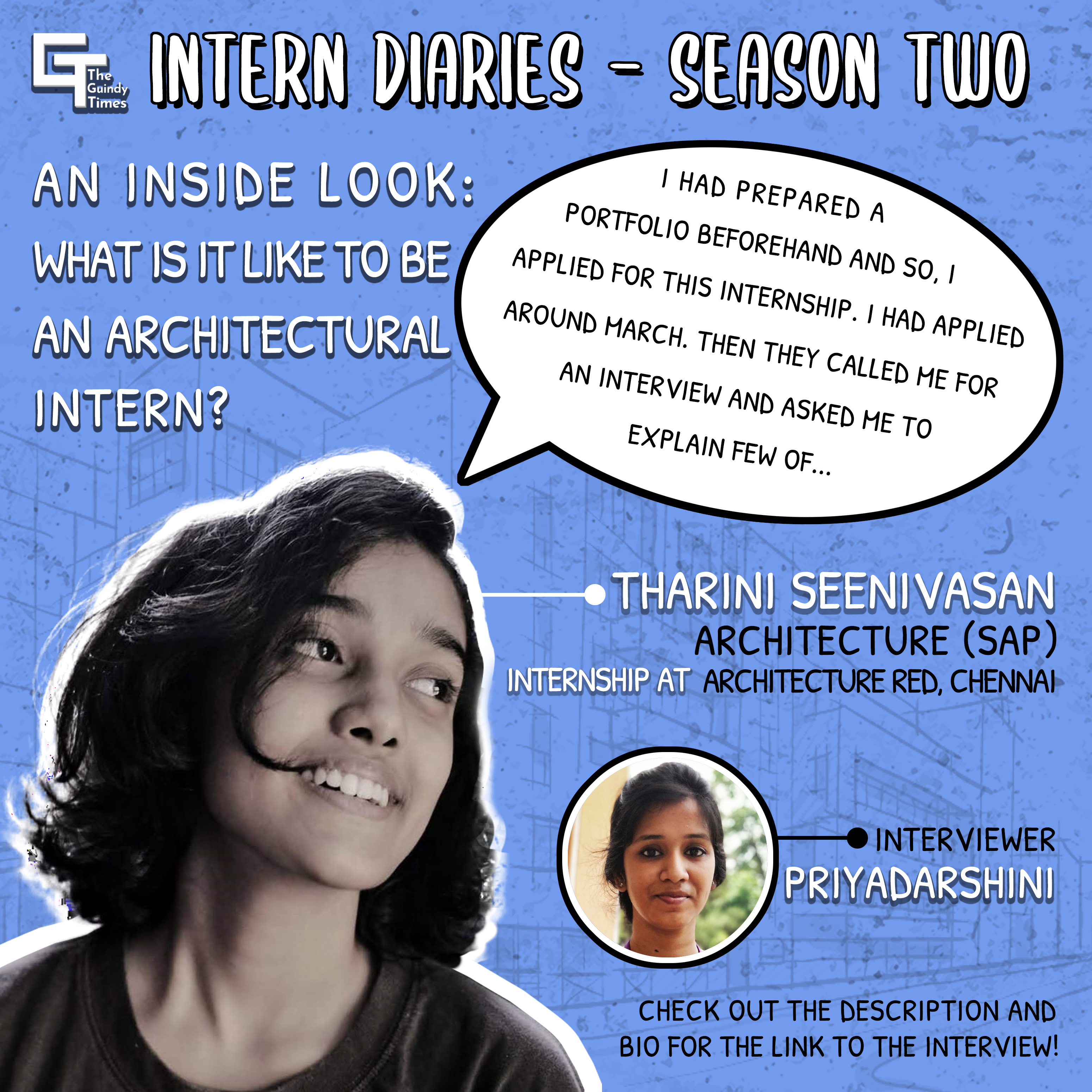 GT: Can you give us some tips for building a strong portfolio?
TS: Though there is no necessity for it to be formal, it should be creative. It is okay to be a little quirky. Choosing a colour theme helps in making a portfolio stand apart from others.
GT: What do you think has helped you in having an edge over this selection process?
TS: I will give credit to my design style. During the interview, one is asked about the difficulties they faced during the design process and your response is assessed. Having a good design style helps in creating a good impression.

GT: What project did you get to work on and how relevant was our University curriculum to that?
TS: I got to work at a school in Mahendra City World which was in its starting stages. As an architect, we have to study the site and perform initial site analysis. The very same procedure followed by them. Our curriculum is very much in accordance with what they do.

GT: Are you planning on working in the same field in future? If not, how has this helped you make a different decision?
TS: I'm thinking about working in the same field. But it is a bit tiring due to the long working hours, but that just depends upon the firm you are working at. You have to work really hard to get a decent package.
GT: How did it feel like to work in a corporate environment?
TS: It was quite similar to college. We would discuss our project and my senior architect there cleared our doubts. Every alternate Saturdays they have a volume session, where each architect gets to share something. We take turns every alternate week.

GT: Do you feel that prior learning of some concepts would have helped you better?
TS: Fluency in certain software applications like 'sketch up' would have helped pace up my work. But that is not an issue, they do teach us what to do. It is also a learning process.

The Guindy Times thanks Tharini Seenivasan for spending her time to share with us the experience of her internship.