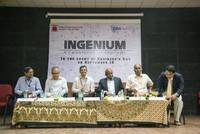 Engineer's Day was celebrated in campus on the 15th of this month with Ingenium, an interactive event between students and five successful industry professionals, organized by the CTF here at the TAG Auditorium. The five eminent speakers were:
Mr. Moorthi Chokkanathan

, the President and Global Head of Enterprise Solutions and Hexaware Technologies, who was also the moderator,

Mr. Sivakumar Malli

, the co-founder of Gold Mile Solutions, Director of Dekoit Technologies and Aamlaa Technologies,

Mr. G. Muthukrishnan

, Chartered Engineer and Consultant (Metallurgy),

Mr. Ramesh S.

, General Manager, Ashok Leyland, and

Mr. Ramesh Santhanam

,

Director & Corporate Advisor for EUKA PTY

.
The topic of the session was 'Digital India, and the role played by engineers in it'. The gist of the discussion was that India, now moving from the agricultural economy to an industry-based one in the 21st century, can have her transition enhanced with the help of digitization. Leveraging the digital era for smooth, seamless development through faster communication and overall performance, was a key point.
"The Dean of CEG, Dr. P. Narayanasamy, praised the students of CEG for being such meticulous organizers whilst welcoming the panel members. After a vivid video that lauded all engineers on this special day, the discussion began.
Questions were posed by Mr. Moorthi to the four panelists, and later on by the audience as well. Through this open-minded discussion, many present learned a great deal, especially about the present scenario of digitisation in India. Questions were asked not only on how the digitisation would benefit different fields, but on its hidden drawbacks as well. The talk also included connections between entrepreneurship and digitisation. The atmosphere was light and the chat between the panel members was enriching.
The discussion came to an end at 5:10 p.m. Mementos were then awarded to the speakers, followed by a vote of thanks. Various projects done by students for the previous version of K! were showcased at the entrance of the auditorium for the guests to witness and remark on.
The guest lecturers were pleased with the crowd's interaction, and the audience had departed thinking about the wisdom that was delivered to them.
P.S: For those of you who missed the captivating talk, interviews featuring each of the five panelists have been published on The Guindy Times website - which can be found by clicking on the corresposding names in this article.