'The whole purpose of education is to turn mirrors into windows.'
Abiding by the above quote, Rotaract Club of CEG (RCEG) successfully conducted its 14th edition of Vizhithiru, a career guidance and educationally motivating program for school students from in and around Chennai. Around 250 students attended the program on 6th October 2016 which started at 9.30 am.
The inauguration was graced by dignitaries including the Dean of CEG, the Student Advisor and committee members of RCEG. Rotarians from the parent club of RCEG, Rotary Club of Madras South, also attended the inauguration.
The welcome address was presented by Mr. Dhivyaraj (President, RCEG). The morning session continued with speeches by the dignitaries.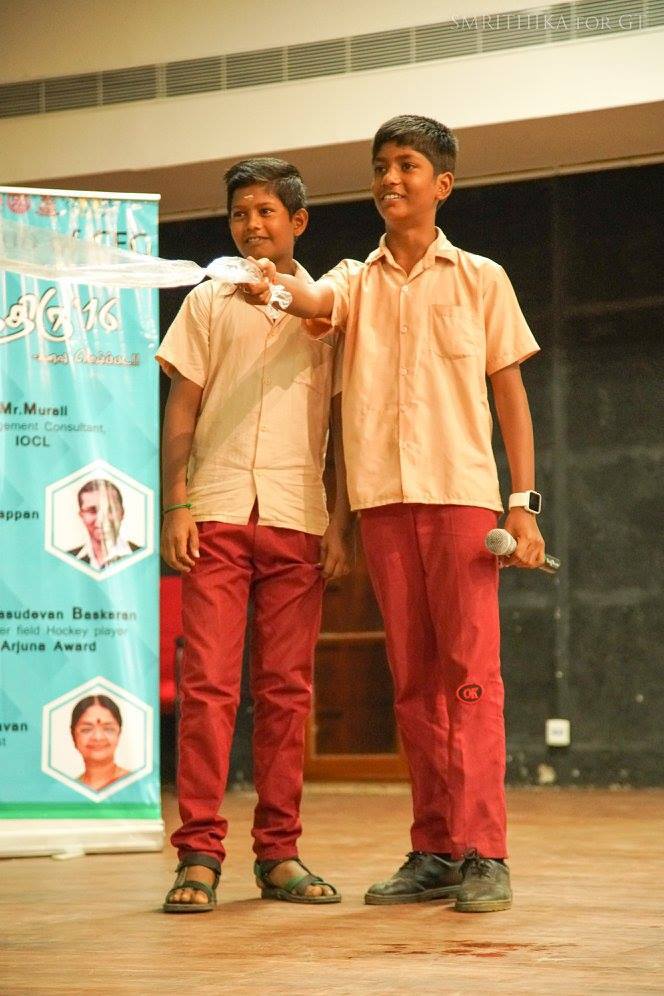 Every year, RCEG invites notable speakers to inspire and motivate the students with their enthralling speeches. Following this tradition, the first among the speakers who addressed the audience this year was Mrs. Asha Marina, President of the Rotary Club of South Madras. Following this, Mr. Vasudevan Baskaran, a former Hockey Player of the Indian Team delivered a few thought-provoking words.
The afternoon started with a talk by Mrs. Girija Raghavan, an eminent personality who advocates women empowerment, who wisely spoke about the fine line between relationships and feelings that school students often experience. She brought a feeling of oneness in the heart of fellow Rotaract members by telling them that she had herself headed the Rotaract club of K.K. Nagar, and took a group photo with a few eager club members.
Next up was an exciting performance by the 'Spartanz' crew, which not only entertained the crowd, but also delivered a subtle message at the same time. This was followed by a talk from Mr. Sivakumar Palaniappan, Founder & President of the Toastmasters Club of Coimbatore. He spoke of his struggles for proper education and how any person with commitment and determination can succeed in life. The last event was one that left everyone in splits- a comedy talk show by 'Santhanam' Lokesh and Sujit of 'Kalakka Povathu Yaaru' fame who were second to none in their witty talks and mimicry. Finally, the speech by Mr. Murali, Management Consultant, and Senthil Kumar, Executive Director of Southern branch of Indian Oil Corporation Ltd. (IOCL) turned out to be the most memorable one throughout the event.
'Vizhithiru' finally came to an end when the club members presented mementos to teachers of different schools who participated and also collected individual feedback from their students on their event.
The Guindy Times wishes The Rotaract Club of CEG continued success in 'Vizhithiru' and the best of luck for more such inspiring events.