Kartheeswaran KK is a CEG alumnus and one of the masterminds behind Ninjacart, a supply chain and logistics start-up launched in 2015. On 8th February 2019, he was invited to give a guest lecture as a part of Enantra'19. Guindy Times had the privilege to interview Kartheeswaran who shed more light about Ninjacart, the biggest agri-tech platform in India.
Interviewer: Anusha
Interviewee: Kartheeswaran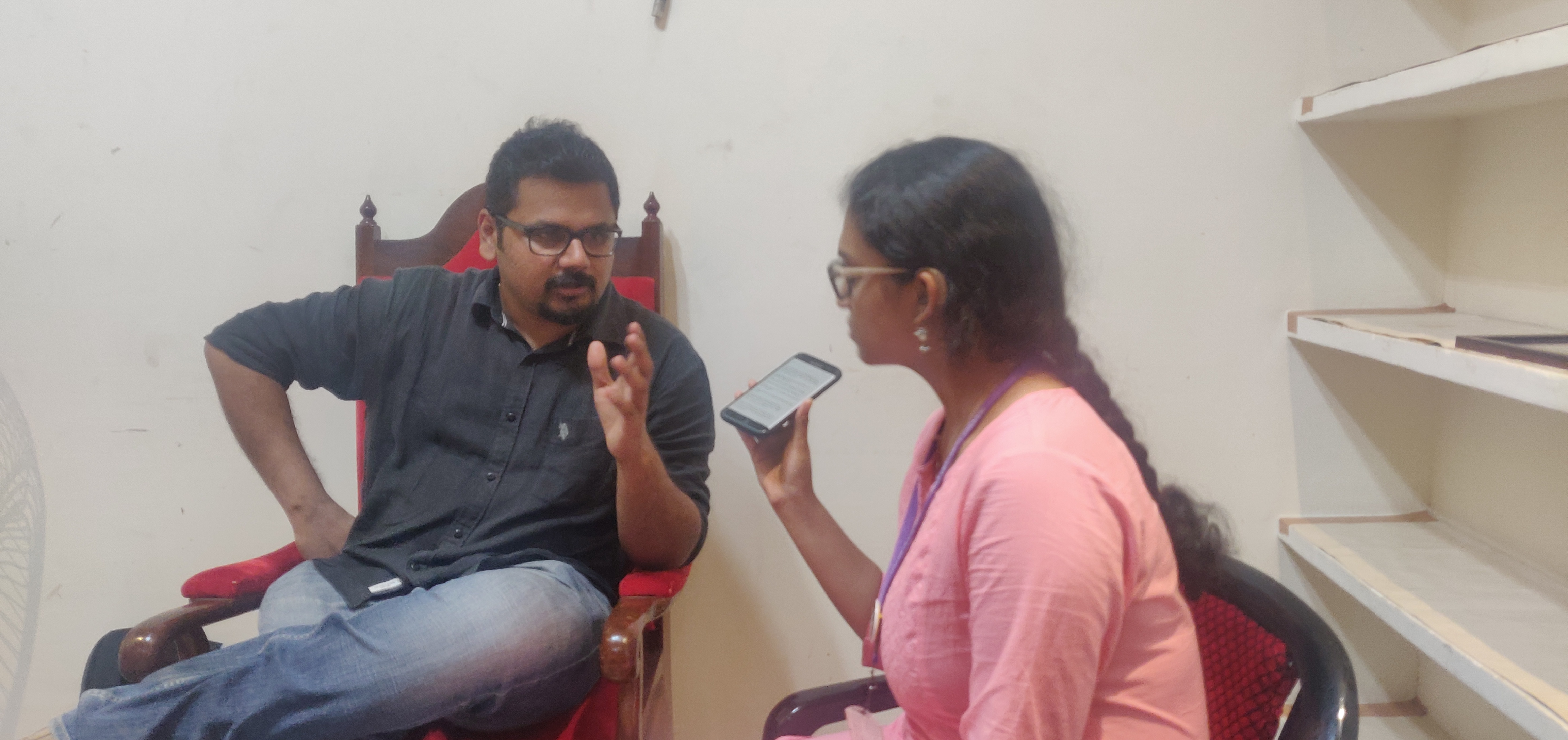 GT: From where did you get the inspiration to start Ninjacart?
Kartheeswaran: I didn't want to start a B2B company, like what we are today. I started the company with a B2C mindset, something in relation to Grofers, and BigBasket. But later, at some point in time, I realized that I was not doing substantial business in the B2C space. I wanted to prevent the number of layers or middle-men involved in the agricultural supply chain and to add value to lots of farmlands.
GT: How was the name Ninjacart formed?
Kartheeswaran: Well, we looked up the internet for website names and eventually came up with Ninjacart; "cart" represents the shopping basket-like service we provide and we speed up and provide efficient transportation hence, the name "Ninja".
GT: Could you tell us the main goal of Ninjacart and how it helps farmers?
Kartheeswaran: Every farmer with whom we have worked with will get an extra one Rupee per kilogram of their produce. This makes a huge difference. Normally, the farmer would get revenue of say, 2 lakh per annum but when he sells his produce to us, he will get revenue of 2.5 lakh per annum which is a 20 percent increase in revenue and has a bigger impact on his life.
GT: We are hearing a lot about people from non-agricultural background investing in farming. What do you have to say about that?
Kartheeswaran: I think people from IT or other technological sectors are starting to look for purpose in what they do. Everybody is willing to earn more but people are starting to realize that beyond a point, it's not about the work they do, it's about the self-satisfaction. And you derive this sort of fulfilment when you go back to your roots, back to your hometown, and make a difference. So agriculture is the natural option.
GT: So, what advice would you give them and how can they do better things in the field?
Kartheeswaran: Agriculture is a profitable business, but it is portrayed in the wrong light in the media as a publicity stunt. A large part of it is horticulture i.e., growing fruits and vegetables. It is a very productive business and I recommend everyone to start investing in it. There is a lot of material online and there are lots of companies like Intergarden which provide a variety of opportunities and help you get started.
GT: What strategies and technologies does Ninjacart use to solve common problems and how does it set itself apart from similar supply chain companies?
Kartheeswaran: For succeeding in this field there are two simple viewpoints. First is, to have very strong business acumen. It's not a classic business where you go push all the buttons and magic happens. One has to get to the ground, work with the farmers and retailers, and go on Monday mornings at 2 o' clock to see the options of the day. Second is a very strong technology and resources. What we tried to do is to expand through technology and that's why we set up in multiple cities which have a much shorter time-frame because they have stronger supply chain technology.
GT: On behalf of Guindy Times, I would like to congratulate you for making it to Forbes India's '30 under 30' list for the year 2019. How do you feel about the achievement?
Kartheeswaran: I feel the same way any normal person would, I suppose. It's good recognition for the work we have done, and I am happy about it.
GT: You are an alumnus of CEG, what was your experience like?
Kartheeswaran: I was in the 2012 batch. CEG is great and it has a lot of free-range activities that cater to every student's interest. I used to be a part of the robotics club, and I like hacking. I used to play a lot of video games. I was a part of CSAU, the Computer Society of Anna University and Kurukshetra which is organized by CTF, of which I was a student director. I have been whatever I wanted to be. CEG is a place where people get to do the things that they like. It is up to the pupil to choose what path they want to take. They have to make the best use of CEG. It gives the push in the right direction. It is purely up to the students' motivation level.
GT: What advice would you give for a person that is looking to expand in the supply chain field?
Kartheeswaran: There are lots of online materials. They can come and join Ninjacart! They can try some very specific supply chain institutes like NITIE in Mumbai. They can also intern in companies like Amazon, Intel etc. It all depends on that person's goals.
GT: Could you tell us about the internship options at Ninjacart?
Kartheeswaran: We always look for people with high energy and enthusiasm; someone with a lot of willpower. As long as there is an intent to learn, a thirst to prove something, then you will love the atmosphere at Ninjacart. Anybody can contact me through my mail address.
GT: Who are your role models?
Kartheeswaran: My grandfather and my dad. My grandfather himself was an entrepreneur and guided me a lot in this journey. My dad always says that you must be the one to work hard to achieve your own goals and nobody is going to hand it to you very easily. He taught me about sheer perseverance. Thirukumaran Nagarajan, the co-founder and the CEO of TaxiForSure is my role model too.
The Guindy Times thanks the Team behind Enantra for giving us this opportunity
Tweet