It's 11'o clock, I'm at the Hall of Guines, whispering voices everywhere, headphones on everyone's ears, people practicing in a hushed tone. People were sweating despite the chill AC because of their nerves. Even at 11:45 new contestants were registering. By 11:50, they introduced the judge, young and smart looking Athreya, a recently passed out Ceg-ian. First on stage was a first year. One after another, all with their own unique voices started to fill the auditorium with melodious songs. The one-man jury was looking curiously for mistakes and noting his results .
Voices echoing everywhere and audience supporting the fresh voices with their applauses. At that instant I was thinking that "Oh man a lot of great singers are there in CEG" in my mind. Just then a male vocalist blew the roof off with an A.R.Rahman romantic hit song. There were other memorable performances, a husky voice who sung a latest hit of Anirudh, and a performance of a hit song of Illayathalapathy, also the first 'red tag' contestant had a voice that swept the whole venue, a classically trained voice always got the full attention of the crowd.
Around 12:20, Shivani with "Enna thavam seithane" song just stole everyone's heart .My mind voice just then whispered, "She really got thavam from god." The whole venue was awestruck with her singing. With 'Konjum mynakale', another first year was spreading happiness to the crowd.
Some of the green tags rocked the crowd too. Couple of performers even sat down and sang with thalam giving a classical touch to their singing.
As we waited for the results from the jury, a purple tag gave special performance which mesmerized all.
Five finalists, all with fab voices were-
KIRTHANA, VANI NAGARAJAN, SHIVANI, PESHMA PRIYA and NARESH. All ended up being freshers.The next round started after 5 minutes and to our surprise each one of them gave performances beyond expectations.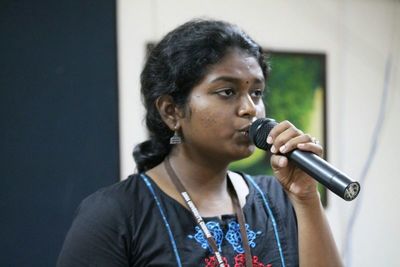 The voice of AGNI 2015 was SHIVANI(on the left), a first year EEE student. And the second place was bagged by KIRTHANA, a first year IT student.
(PS - It was such a great program. Thank you seniors for your great effort for arranging opportunities for your juniors.)