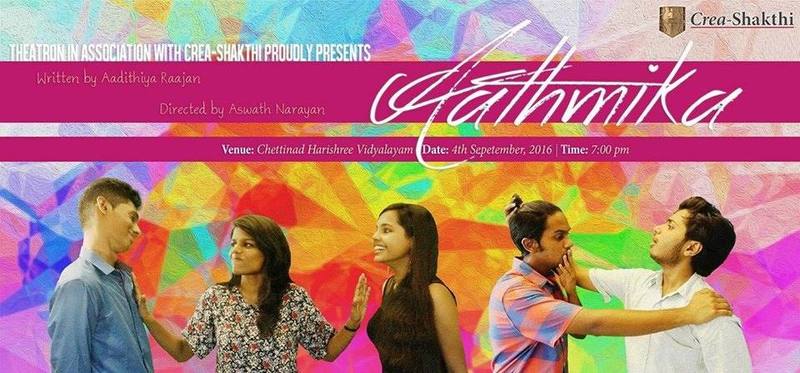 Theatron's latest production in Tamil- Aathmika, helmed by first-time director Aswath Narayan and written by Aadithya Rajan, was performed on the 4th of September at the Chettinad Hari Shree Vidyalayam auditorium.The play was an entertaining rom-com with strong performances by the actors and humor wrought throughout.
The story is centred on the split personality of Mridula (Aparna Narayanan)- her alter ego Aathmika, existing unbeknownst to her - which is known only by her close friend Sruthi (Arthi), and the efforts of the male protagonist Karthik (Aadithya Rajan) to woo her under these uncommon circumstances.
The primary strengths of the play are its cast and direction. Kudos to the director for not wasting scenes, making each one genuinely funny. The direction wouldn't work, however, without the actors playing their parts to a T. The lead pair have good chemistry, and you find yourself rooting for Karthik, often having a hearty laugh at his expense and Mridula/Aathmika's polar personas.
In another perspective, Karthik's scene of frustration at his odd predicament is powerful in its emotion and minimalism. The supporting cast is small, but makes their presence felt whenever they're on stage. The actors are charismatic and natural, such that it almost seems like they're playing themselves on stage. They engaged the audience with their performances and comic timing, garnering loud cheers. In addition, the dialogues penned by Aadithya Raajan, were crisp and hilarious, with no signs of verbosity. The backstage crew also worked seamlessly, with quick transitions between scenes, good prop placement and lighting.
Where Aathmika falters however, is the lack of depth to the story. It's a breezy 80 odd minutes, but at times, it felt like the script skimped on thematic seriousness in favour of more laughs. Threads such as Mridula's serious mental illness itself, her issues at home, and dealing with her recognition of the condition, are picked up but left hanging. Thereby it loses out on a lasting emotional impact that could've balanced the humor and made the play more memorable.
Overall, Aathmika was a funny, light-hearted original venture by Theatron, that had its audience engrossed throughout.
The Guindy Times applauds the Theatron team's hard work and talent, wishing them the best for future productions.