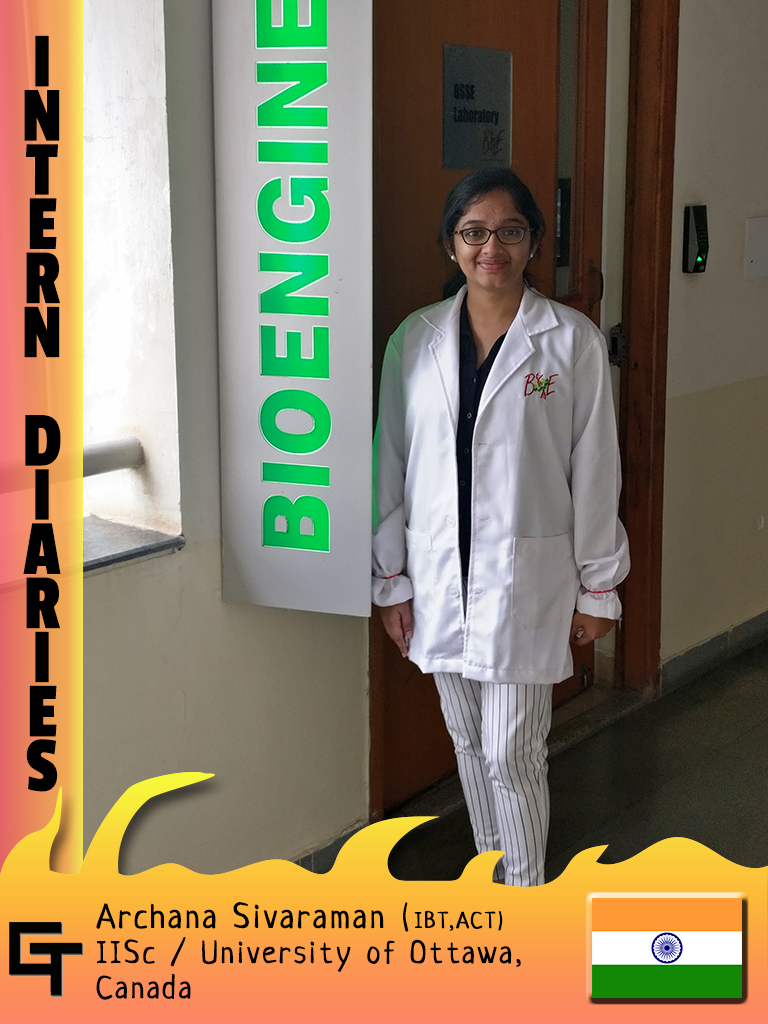 The Intern diaries is an initiative by the Guindy Times, to bring live experiences from Interns who've done their work outside the city, to the students of AU who're still in the application process.
Archana is a final year student pursuing her Industrial Biotechnology course at the Centre for Biotechnology, ACT, Anna University. She's the kind of student who wanted to try something new and ended up loving the broad domain of Immuno-engineering at the Indian Institute of Science, Bangalore.
Interviewer- GT
Interviewee- Archana Sivaraman
GT: When would you recommend to be the best time to start applying for internships?
Archana: Ideally, I would encourage students to start applying from the end of October up until January. That is in the case of portals since that's when they tend to stay open. If you're planning to approach or write to the professors, you could do that whenever possible, but it's generally good to do this around the time you plan to start your internship.
GT: What exactly was you project based on?
Archana: The broad area of my Internship was Immuno-engineering whereas my specific project was to work on a drug delivery system for diabetic foot ulcers.
GT: So, how did you land on this topic? Was it out of interest or just the curiosity to try?
Archana: No. I was not genuinely interested in that area. But I did converse with one of my professors as to what all areas might I become interested in, for my post graduate studies and while doing so, he suggested that I look into the profile of this professor at IISC Bangalore and contact him to see if he might be willing to let me work on his project.
GT: I do feel that nailing one's resume right, plays an important role in getting an internship. Do you have tips on what needs to be specified and what needn't, in a resume?
Archana: I would say that writing down everything you've done so far is the outline. Being genuine about the information is key! It is always good to write about things apart from curriculum as well. For instance, I did mention about my previous experiences from internships and trainings I've undergone.
GT: Was there any interview procedure to get through the place?
Archana: No, there wasn't one. I did although, have an e-mail conversation with the professor concerning the various procedures to be done while I'd be there.
GT: Students who apply through portals and don't make it in, are usually left with the question of why they didn't get in, unanswered. What do you think could be a general reason?
Archana: I think the factor of luck plays an important role when we talk about 3-4 students per lab and about 1000 people applying. But other than that, convincing the professor also helps her/him weigh your interest and willingness to work in his project and also how much useful you will be to them during your period of work, there.
GT: While we're in the topic, do Letters of Recommendation help increase the chances of securing the internship?
Archana: Not completely. If word of mouth of a person whom the professor knows, is put across, that might generously affect your chances of securing an internship, positively. Generally, LORs through portals aren't that effective, but at the edge, they might.
GT: How was the experience there in terms of living alone and how different was it from college life?
Archana: It was entirely different as it was the first time that I spent my entire vacation separated from my family. Since back in Chennai, I'm a day scholar, I lacked the little edge that hostellers have. There was the problem of language, since I didn't know anything from Kannada. But the thrill of living something this new was a lesson for life.
GT: Did you explore the place during your stay there?
Archana: I did, during the first two weeks of my stay there. But afterwards, I kept myself busy at the lab all day long. Travelling was difficult because I didn't even know how to tell the auto driver the right location of my destination. It was the beginner's fun I would say!
GT: Did the institute take care of your accommodation? If not, how did you manage it?
Archana: No, at IISC Bangalore, accommodation wasn't provided. I do however, have a relative there and even though it was an hour's travel from the institute and back, my parents strongly insisted I stay there, out of concern. Also, there were times when I had to stay at the lab 24 by 7 to work which was a very nice experience accounting to roaming around the campus at nights.
GT: Were you homesick at any point during the two months?
Archana: I was homesick many a times. I did call my parents a lot to make it less uneasy. But on the other hand, this was definitely a look-into-the future sort of experience, where I was shown a trailer of life after graduating.
GT: Was preparation prior to the internship, needed? If yes, what efforts did you put in?
Archana: Yes, I did. I wrote to my professor concerning this issue and he advised me to brush up on immunology and biomaterials, but otherwise, he also sent me articles on the same, to refer to.
GT: Would you recommend the IISC, Bangalore, to students on the hunt for internships?
Archana: I don't have to recommend IISC for people to get interested in it, since its reputation in the field of science speaks for itself. But the Immunology department is a cool place to learn. It was only recently established there, therefore they don't have set protocols to tell you how to work.
This is an advantage because it gives lots of scope for experimenting. Whereas in other labs that I've been to, it's only been a labor job, where the protocol guides us, and we already know what results to expect. Here, it's more of figuring out what to do, troubleshooting and bringing up ideas, and reading a lot on the area. In other words, there's facility, and end result, but the gap in between both is to be filled by you and that's what gives an idea of R and D. The professor there actually sat down with me and took time to explain concepts, which are pretty rare to be found these days. I, basically, was made to feel at home almost.
GT: To wrap it up, what are your thoughts on the Intern Diaries series?
Archana: I think it's a really cool initiative by GT. It's also different from what GT usually does and this'll definitely give students an idea on how to proceed with their applications based on their seniors' experiences.
GT: Thank you for your time.
Archana: Thank you.
The Guindy Times wishes Archana all the very best, in achieving her future goals and thanks her for her time for the interview.