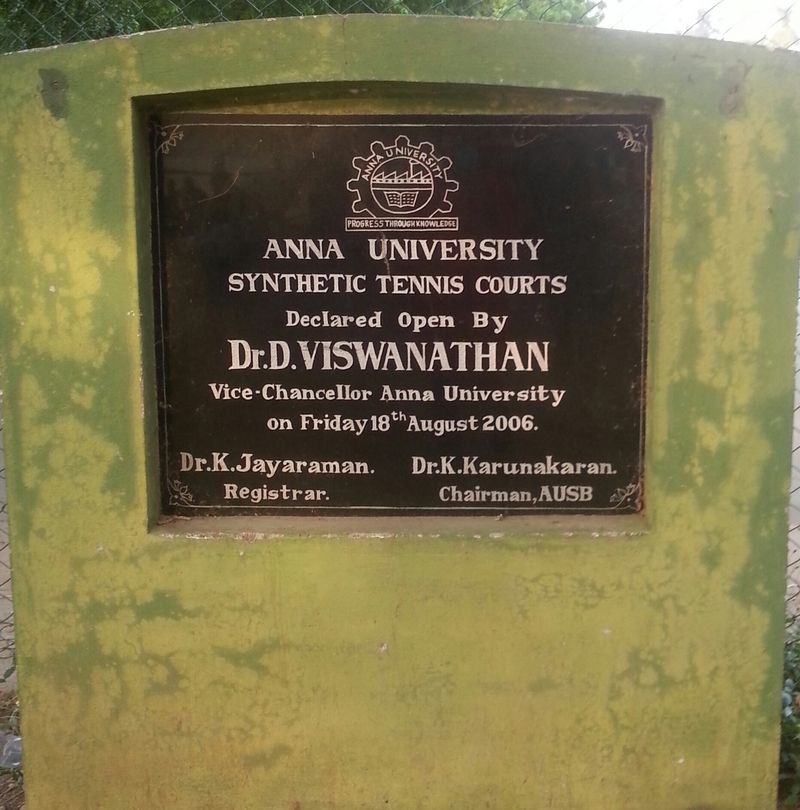 The tennis courts occupy a corner of our big campus. We boast of as many as four well-maintained clay courts and two hard courts, much more than most of the campuses in India can. Let's find out more about these courts from Mr. Suresh Sonachalam, who is one of the Anna University coaches.
Reporter: Sir, when were the tennis courts built?
Coach: I am not very sure about the inauguration of the clay courts, but the foundation stone outside is for the hard courts. We previously had 6 clay courts, two of which have now been converted to hard courts.
R: How did tennis flourish here?
C: Long time ago, we started a program called "Prime Tennis", through which we have been promoting tennis here. (In between for a while it was run by some other organisation though, but we took it over again)
R: Can kids from outside train or play here as well?
C: Yes, kids come here as part of a coaching program. We train children of all levels. We have state level players, even national and international players training with us. We even have a Davis Cup player who trains with us. He is one of the top players in India. We also have the under 18 girls' national champion and the under 14 girls' national champion playing among us.
R: Do AU students make well use of the court?
C: Yes, to an extent. The problem is that kids these days are subjected to academic pressure. They come and train for a while and when it's time for exams, they disappear. This sport needs constant practice. It's a game of focus and plays a major role in personality development.
R: How many students come here for training?
C: From AU, we have about 15 players who train under us. From outside we have about 70 to 80 players. There are a few AU students who come and play by themselves. They don't want to be trained as they have been playing the sport for a long time now.
R: When are the courts open?
C: The courts are open from 6am to 10am and from 2pm to 6:30pm on the week days. On Saturdays we play matches and we are closed on Sundays. We host tournaments all year round. About 4 to 5 national tournaments take place apart from the zonal, interstate and inter-college matches.
R: Who do you coach along with?
C: I coach along with my partner, Mr. Balaji. Including us, there would be about eight coaches here.
R: Can the students come and join anytime?
C: The students can come and join the training whenever they want to. We normally assess the interest level of the student and we discourage students who want to learn for a month and forget about the sport later. However, with AU students we are more open. They can come in and learn at any time.
R: How much is the fees, sir?
C: For outsiders, we charge 1500rs per month and for AU students it is 300rs per month.
R: Do you think the present arrangements are working well for the AU students?
C: As far as the tennis courts are concerned, I would say that the students are utilizing it properly. Since we have coaching here, the students are at a benefit. They can come in and start training right away. With just the courts and no coaches, I think it would be of no use. Students would come in, play for a day and give up thinking it is too boring. Tennis is a complicated sport and it is important to know the techniques to enjoy the game.
R: What would be your message for the AU students, sir?
C: The AU Sports Board has taken a lot of initiative to provide an opportunity for all sports. I can see four to five different sports being played on the ground, every day. The students have to realize the importance of physical education. As John. F. Kennedy rightly said, "Physical fitness is not only one of the most important keys to a healthy body, it is the basis of dynamic and creative intellectual activity." Tennis is all about coordinating your feet and mind. This sport gives you the right motivation to excel in whatever you choose to do.
Mr. Suresh Sonachalam is a National Coach who travels with the under 14, under 16 and under 18 champions. He and his partner Mr.Balaji were among India's top ten players. Mr. Sonachalam is one of the five International Tennis Federation High Performance coaches in India.
A Parent's POV:
"I came to know about the tennis coaching through some friends. My kids are happy and enjoy playing here. The coaching is very satisfactory. They get one-on-one attention and it is very systematic. Depending on my children's interest, I will make sure they continue playing." says Mrs. Sandhya, mother of Mathura(9) and Kaviya(6).
The interviewer is a bubbly, cheerful, typical Chennai girl who one day dreams to visit all the places in the world.