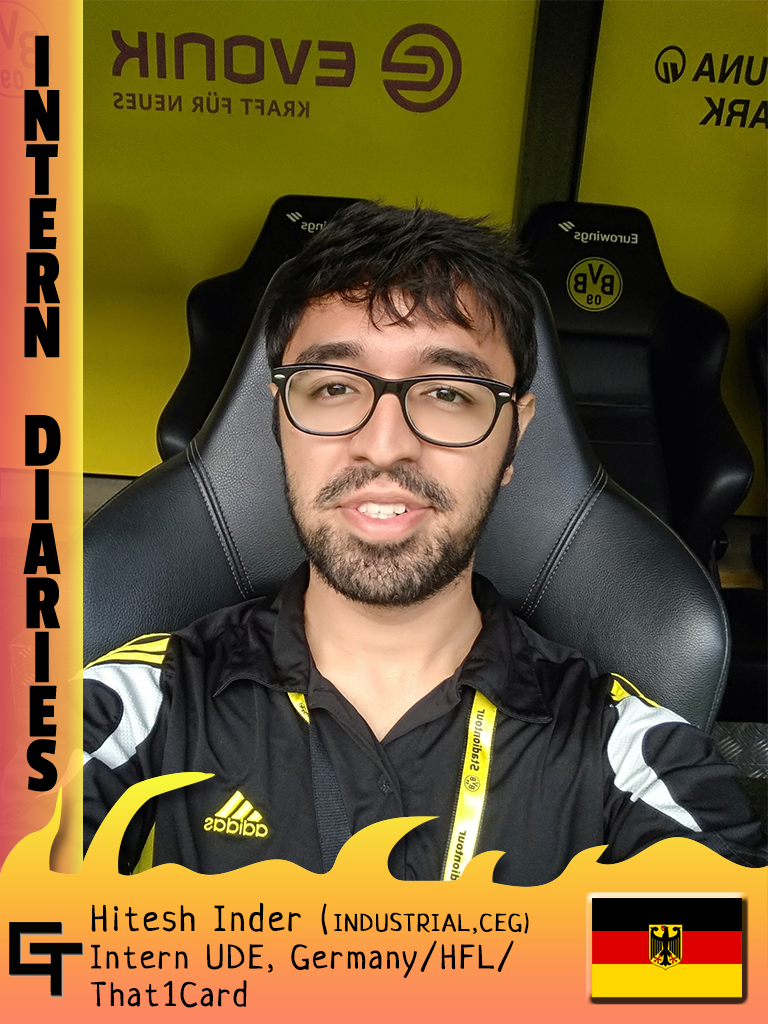 Hitesh Inder, who is currently pursuing his final year in B.E. Industrial Engineering, CEG shared his internship experience with The Guindy Times. He did his third year summer research internship in University of Duisburg-Essen, Germany in the domain 'Scheduling'.
Interviewer: Neelesh Karthikeyan (GT)
Interviewee: Hitesh Inder (HI)
GT: Hello Hitesh! It is a pleasure to talk to you. Tell us more about yourself.
HI: Hey. My name is Hitesh. I was born in Chennai. I studied in National Public school, Gopalapuram till my tenth grade and I shifted to state board and did my 11th and 12th in DAV. I chose Industrial Engineering because I honestly didn't like the other fields. I always wanted to do an MBA and this was the only field which had management subjects in it and additionally 'The CEG thing' obviously.
GT: What do you feel about your department and its scope?
HI: It is one of the most sought after courses in the US. The trend is picking up really fast in India and almost all companies need an industrial engineer. Our department had the highest placement record last year among all four campuses. So yes, it has a very good scope.
GT: Tell us about your internship experiences, like how many internships you have completed and what were the companies and universities?
HI: I have done three internships so far. In my second year summer break I interned in 'Hinduja Foundries ltd', a corporate company in Chennai. It was like an implant training where you observe things. In my second year winter holidays I interned in a startup company named 'That1Card', Anna Nagar. It was more informative and involving. Currently I am doing my third year summer research internship in University of Duisburg-Essen.
GT: When is the best time to start applying for internships?
HI: For research internships during third year summer break you have to apply before six months. For corporate internships you have to ask the companies for the vacancies . It's always better to approach earlier for interning in good corporate companies.
GT: How did you search for the interns and plan on when to do an intern exactly?
HI: I wanted to do an internship in all the type of companies. I did my first intern in a corporate company, second was a startup, third is a research intern. So that I can get an idea like what to do after my B.E., instead of taking a wrong decision after four years.
GT: Will CGPA play a role for interning overseas?
HI: Yes, CGPA plays a role not only in internships but sadly in whatever you do.
GT: Do we have to write SOPs and get LORs for internships as well? If so, whom can we approach?
HI: Well, it depends on the company. I wrote an SOP for the startup. Companies ask for an SOP to know why you want to do an internship and how it will benefit them. Internships in some corporate companies might require LORs.
GT: The most important aspect of the selection process is the resume screening, do you have any tips on how an ideal resume should be?
HI: Resume is the most crucial part. People will judge you and call for an internship only with your resume. Make your resume precise and don't lie. Avoid adding basic stuff like participation in events.
GT: Where you had your internship interview? What was the most challenging part of the interview round, and what was your special mantra to ace it?
HI: I've been to three internships and I didn't have an interview as such.
GT: Since you did your internship in Germany, what were the difficulties you faced in getting a visa?
HI: Nowadays it's easy if you have the required documents before the visa interview. In some rare cases they might ask for documents which weren't mentioned.
GT: Can't we get the paperwork for the interns done without the help of agents?
HI: Yes. I didn't go for agents, the paperwork was done by me only.
GT: While interning in Germany can we survive with English or is it mandatory to know the German language?
HI: I don't know German and I have survived for two month(laughs). We can survive and there is Google translate also. Some people here understand English too.
GT: At times during research one gets tired and loses hope and interest, did this ever happen to you? If so how did you tackle it?
HI: It depends on the topic, you might lose interest if you choose a topic which you do not like.
GT: Where and how did you book your accommodation? Was it taken care by the institute or did you arrange for it separately?
HI: The institute offered a dormitory for us to stay for one semester, since we have to stay only for two months I booked my accommodation in 'Airbnb' which is a reliable and trustworthy website. Some contacted the professors and the professors arranged the accommodation for them.
GT: Any word of advice to your juniors on the independent lifestyle which was different from normal college life?
HI: It is an amazing opportunity to embrace the new culture but managing your financial resources is the trickiest part. If you are interning with a stipend it will greatly help to manage the resources and you can tour the place. I've been touring Europe for two months which is really a wonderful thing.
GT: At times one could feel certain kinds of insecurities, for example in the field of academics. Do you feel if you had probably studied up a few vital subjects beforehand you could have found yourself in a better place. If yes, elaborate.
HI: I think it is a general thought that occurs to everyone. I would advise everyone to study in such a way as to remember concepts for a longer time and most importantly enjoy the subject.
GT: Would you recommend the 'University of Duisburg-Essen' that you interned for others and why?
HI: I would definitely recommend UDE, the staff here are really helpful and they are ready to offer letters of recommendation for higher studies. But it's not the top most university in Germany. Our department has a tie-up with UDE and are sending 5-6 people every year.
GT: What do you think about the series 'Intern Diaries' by The Guindy Times?
HI: The Guindy Times is doing an amazing job. Contacting people from various departments about their internships and posting in their platform will seriously help a lot of juniors. Even I came to know about this internship through my seniors. The intern diaries will be useful for many students for sure.
The Guindy Times thanks Hitesh Inder for sharing his internship experience for the benefit of the juniors.