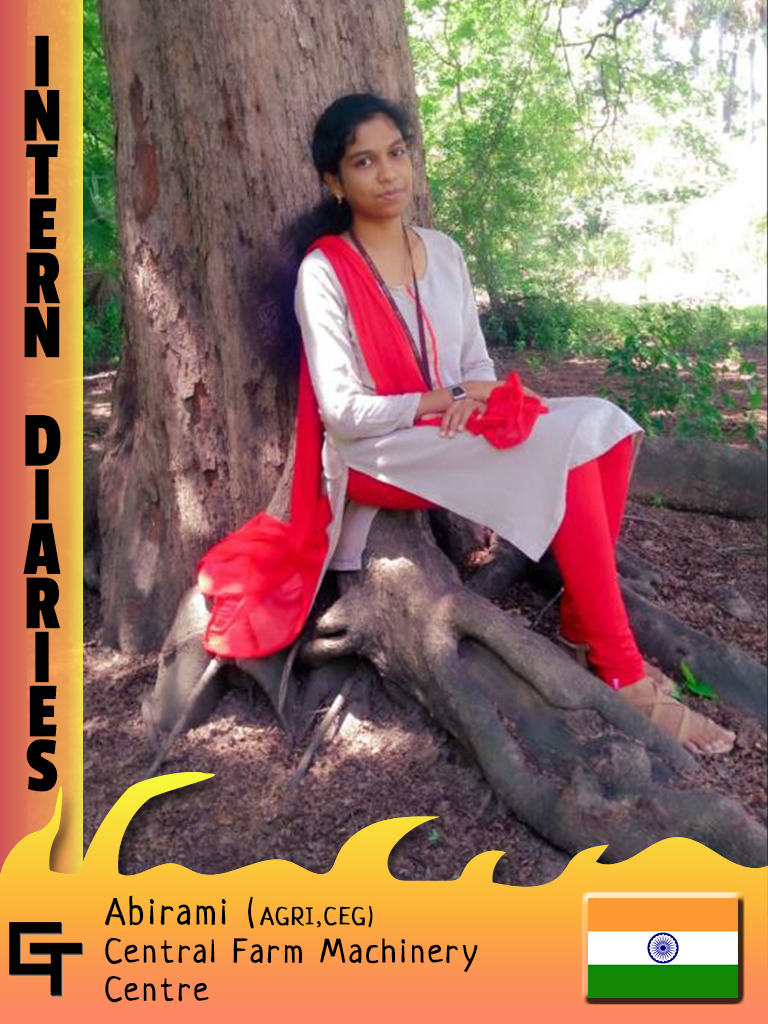 Abirami, a final year student, from B.E. Agriculture and Irrigation, CEG, Anna University, has done an internship in CFMTTI (Central Farm Machinery Training & Testing Institute), Madhya Pradesh. Along with her classmates, she worked on farm machines that are suitable for agriculture and learned how to operate them.
Here's Abirami's experience.
Interviewer: Dinakaran
Interviewee: Abirami
GT: How did you get to know about the internship?
Abirami: With respect to my department, there are two divisions: irrigation technology and farm machinery. The first step is to figure out which appeals more to you. Once you've done that, you're supposed to look up companies related to that field. Then it's just a matter of emailing those companies requesting an internship.
GT: When is the best time to start applying for internships?
Abirami: There is no specific time, really. But if you're interested in interning at a specific company, you have to check their website occasionally, so that you don't miss the deadline, in case they're looking for interns.
GT: What was the most challenging part of the internship/research process?
Abirami: I did my internship in Madhya Pradesh along with my classmates. We had to travel through train which took us around three days to reach the destination. That was extremely tiring. At my workplace, the working hours were from 08:30 am to 05:00 pm which wears you out every day. Apart from that, in Madhya Pradesh, everybody speaks Hindi primarily. As we did not know the language, it was quite a struggle to communicate with other people effectively.
GT: Could you relate your subjects with this internship?
Abirami: Absolutely! I studied everything theoretically for 3 years in college. But working hands-on, as an intern, gave me tremendous knowledge. After finishing my internship in Madhya Pradesh, I am confident enough to operate a tractor by myself!
GT: Most students who major in agriculture go for an IT related job. What is your opinion on this?
Abirami: I agree that it's true. But in my field, we have so many opportunities to help farmers. Agriculture students will become entrepreneurs in farm machinery. By using technology, we can increase the production rate of crops. This is so much better than any IT job as farming gives you a kind of satisfaction that you can't get anywhere else.
GT: Do you have a LinkedIn profile? Is it of any use?
Abirami: Yes, of course! I try to keep my LinkedIn profile as attractive as possible. It's a really good platform for students.
GT: What is your advice for your juniors?
Abirami: Before applying for any internship, try to understand the company you are entering into thoroughly.
GT: What do you think about GT's Intern diaries?
Abirami: It's a really good initiative which will help students a lot. I hope everyone utilizes this opportunity well.
The Guindy Times thanks Abirami for the informative interview.