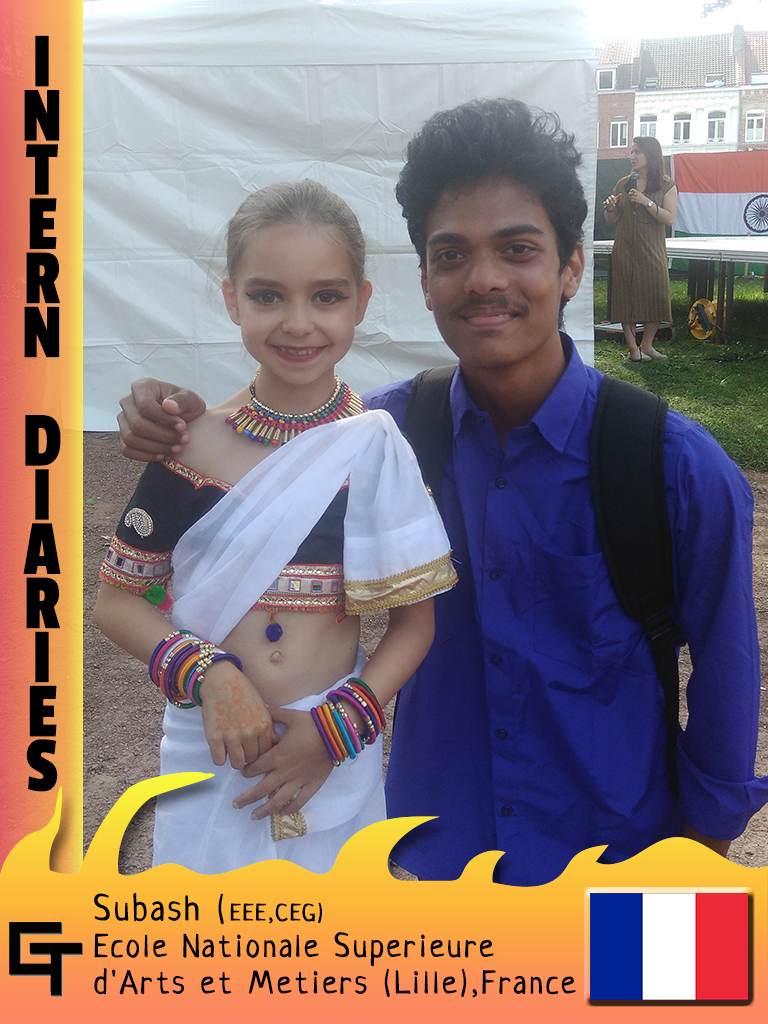 Here is one of those basic rules of life: There will always be opportunities for those who find and pursue them. The fortunate people are those who have taken more chances than ordinary.
But we need an approach for grabbing opportunities. On that note, it was a great pleasure to interview Subash Chandar, a final year student of Electrical and Electronics Engineering in CEG and who did his summer internship in École Nationale Supérieure d'Arts et Métiers (Lille), France.
Interviewer: Janani Alagarsamy (GT)
Interviewee: Subash Chandar
GT: When is the best time to start applying for internships?
Subash: You should start executing your summer intern plan by the beginning of the 3rd year, else the process will become tedious.
GT: What should one note and follow while writing an email about an internship to the concerned University professor abroad?
Subash: It's very important to note that every email sent out to a professor must be tailored for the specific subject, faculty and the required skills. Mastering this skill will give the professor more involvement and consideration. Learning a programming language and modelling software will enhance your chances for research work. It's important to note that one should be ready for a Skype interview about the field mentioned about on their resume and SOP.
GT: How did you search for the internship and plan on what to intern on exactly?
Subash: I developed an interest in Electromagnetic Theory taught by Dr S.Usa.This made me take up research work under her guidance. I decided to apply abroad in this domain with systematically mailing professors who are closely related or working on a research project in my field of interest. Getting in touch with my seniors about their internship provided an example. Without the step by step guidance from them, I wouldn't have made it here.
GT: Do we have to write SOPs and get LORs for internships as well? If so, whom can we approach?
Subash: Yes! SOPs and LORs play a crucial role in securing an internship. Writing a genuine SOP will give you the freedom to showcase your unique skills, interesting activities, and curiosity towards to the chosen field.
GT: Are GPA and backlogs major barriers for an internship abroad?
Subash: Building up a unique resume by engaging in the research field, a quality internship and a decent GPA of 8.8 and above will give you advantages of scholarships or good stipend in a foreign university. Focusing on your talent to present your skills positively is of primary importance to the professor during the selection process. GPA and backlogs would follow consequently.
GT: Describe your internship in France and what is it about? What was the most challenging part of the internship/research process?
Subash: I interned from May 14th to July 20th in École Nationale Supérieure d'Arts et Métiers (Lille) in France under the guidance of Dr Frédéric COLAS. My research intern was on the upgradation of convex quadratic programming solver for Model Predictive Control in C language. The most challenging part of this internship was independently solving and facing problems in research, communication and importantly food.
GT: Where and how did you book your accommodation? Was it taken care of by the institute or did you arrange for it separately?
Subash: I booked my accommodation in an Airbnb due to pricey rooms offered by the institute. Fortunately, the countryside where I lived was a tourist spot.
GT: Would you recommend the industry/university/organization where you interned, to others and why?
Subash: Definitely! Apart from technical knowledge the internship abroad would provide, acquiring life skills individually such as solo travel, befriending a stranger from a different country, dealing with the cuisine and language would be a major barrier, but experiencing the same would make you an independent person, in turn, discovering your capabilities.
GT: What do you think about GT's Intern Diaries?
Subash: It's a beneficiary initiative taken by GT. I had to figure out a lot of information on my own from my experiences and communicating with the right people. The juniors will have a better idea on how to plan and execute the plan appropriately, than us.
GT: Thank you so much for the interview. It sure was an informative session.
Subash: My pleasure!
The Guindy Times thanks Subash Chandar, for giving his time for our interview.