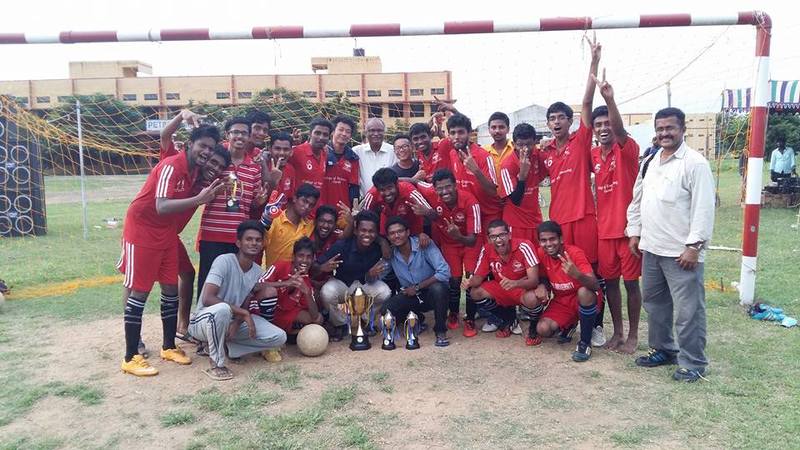 Yet again, the CEG football team has won the Zonal Football tournament, which consists of teams from
all colleges(university departments+affilated colleges) of Anna University. The matches are played on a
knockout basis and are played according to the rules of the All India Football Federation, unless or until,
modified.
THE TEAM THAT DID US WONDERS:
ROHIT
THANZEEL
ADARSH
RAHUL
KANTHASAMY
TSEMI
SUMANTH
NAVANEETH
ARVIND
ANWAR
ROHAN
SULTHAN
ASHWIN
SRIPAD
GOWTAM
KALIDAS
NITIN
VIPUL
SARAVANAN
The rules of the game are straightforward. Every game is a knock out game, and if the game is tied after 90 minutes, Extra time of 15 minutes per half will take place, and even then if the scores are tied, penalties take place. The winner goes in, the loser goes out
Since we were Champions last year, we got a bye in the first round, leaving us to face Sri Venkateshwara College of Engineering in Sriperambudur in the second round, which we won on penalties 5-4 after the game was drawn 1-1, with the CEG goal coming from Adarsh.
Quarters were against Rajalakshmi institute of Technology,Chembarambakkam and we won that game thanks to a solitary goal from Navaneeth.
Semifinals awaited us with eager anticipation, and our opponents, DMI College of Engineering from Thiruvallur, and goals from Nithin and Sumanth gave us the required win, to reah another ZONAL FINAL.
Final's day approached, all players fresh and raring to go, against Loyola Engineering College. Semifinal star Nithin against got on the scoresheet, and Anwar joined him in, before a goal from the opposite in the dying minutes of the game, where they had 4 corners, mad it intense.
We retained the cup, the boys have made us proud once again.