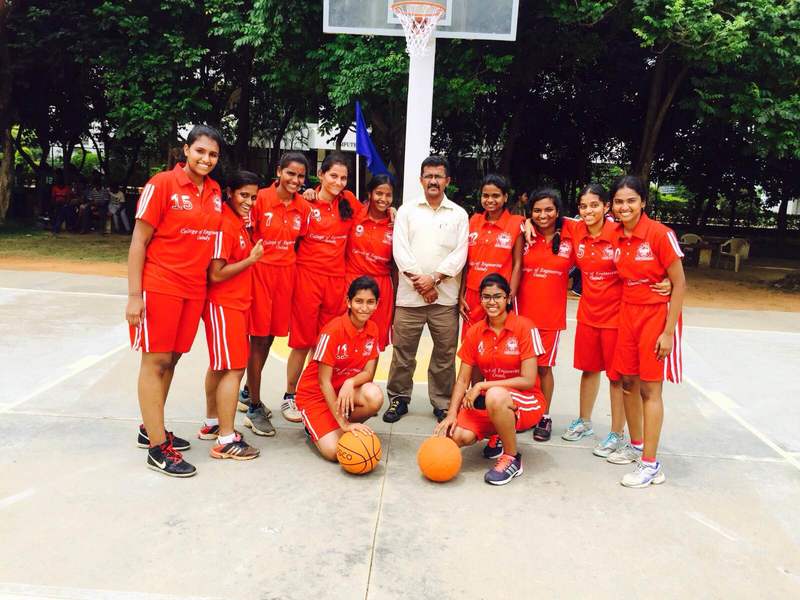 On 25th August 2015, the zonal tournament for the girls basket ball team was held at Sri Muthukumaran institute of technology(SMIT). 5 teams namely Jeppiaar Institute of technology (JIT) Sri Venketeshwara college of engineering (SVCE) ,College of engineering Guindy(CEG) , Rajalakshimi engineering college(REC) and the home team SMIT , assembled at the tournament's arena at 10:30 am. After a formal introduction of the teams the matches began. The 1st match was SMIT vs REC. REC began with a lead scoring early baskets. However, as the match progressed and the hand taps multiplied, the SMIT Team grew stronger. Towards the end,with a score of 22-15 the SMIT team emerged victorious.
The second match of the day was between SVCE and the reigning champions JIT. The JIT team as always exhibited remarkable skill and confidence. This team started with a steady lead and maintained its stance through out the match. With a score of 4-28 the team won.

Following this, SMIT played CEG. The winners of this match were to enter the finals. This tournament being the final one for our team captain Kartiga , Kavya our shooting guard and Pavitra our point guard the team vowed to give its very best.The match began with the CEG team securing the jump ball but not scoring.The team secured an early lead and sustained it through out the match. Aarthi, the second year civil department student emerged as the star player of the team scoring 7 of 13 baskets in this match.CEG won the match making it to the finals, with the score being 25-7.
Post lunch break, the finals began,CEG Vs JIT. The jump ball was secured by CEG however the team failed to make use of this advantage. The JIT team began to score swift and witty baskets. The CEG team was in constant rotation with hope to secure as many baskets as possible. However ,the JIT team's talent and skill remained unmatched. The match ended with a score of 6-33. Yet again, the JIT team remained unvanquished.
The last match for the day was played between SVCE and SMIT who were competing for 3rd place. This was a rather close match. SVCE won the match securing 3rd place.
With this, the zonal tournament came to an end.

JIT is to play at the inter-zonals on the 9th. Will they remain the champions? We sure do hope so.