Ajith Kumar has the track record for being the worst script selector and everything has been downhill for Gautham menon since VTV. This duo has come together for "Yennai Arindhal".

PLOT:-
The movie is about the life of a cop named Satyadev (Ajith) and it tells us why he chose to be a police officer, the hurdles he faces in his personal life due to his profession, his beautiful love life with dancer Hemanika (Trisha) and the cat and mouse game between him and the villain Victor(Arun Vijay).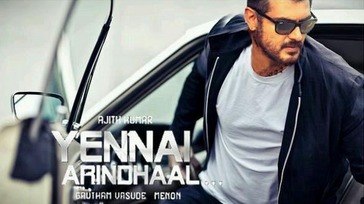 To begin with this movie has Ajith's Career best characterization (My previous favorite was Manohar from Kandukondein Kandukondein). He is charming, stylish, brave and yes, sensitive too. This movie does not have any clichéd scenes which you will see in Ajith films like him walking with a bomb exploding in background with a supercool BGM, self reference as 'thala' or the regular hero worship. He proposes to an already married woman with a child, cracks jokes here and there and as a perfect father, his mannerism will surely attract everyone. There is not much scope to perform for Anushka and Trisha as their appearances are very short but Trisha makes a mark and shines even in that short lived cameo like role. This movie might give Arun Vijay his much needed break. He is excellent in his role as Victor, be it the fight scenes, dialogue delivery or the dance. Vivek does a good job as a cop providing humour.

Harris jayaraj has given mesmerizing music after a long time but BGM for the movie is strictly average. "Mazhai vara poguthe" and "Unakenna venum Sollu" have the best visualization. Cinematography by Dan McArthur is good. GVM has regained his touch with this film and he has a good story though he could have dropped nostalgic scenes which reminds us of his earlier films. The movie lags in the first 20 minutes and 1st half overall is a bit slow, though it had a very good flashback. The 2nd half makes up for it as it is extremely fast paced and entertaining despite the predictable climax. The movie also has a lot of cuss words in it which will make it a little awkward for a family audience.
This movie will be liked by everyone and it will be a treat for Ajith fans as he appears throughout the movie and also narrates it in an immensely likeable manner. We wish Ajith does more movies like this rather than concentrating on films which ride purely on his stardom. Though this is a notch below Menon's previous cop movies like "Kaakha Kaakha" and "Vettaiyadu Vilayadu", it is a good, engaging and enjoyable fare from him.

Rating:- 3.5/5.