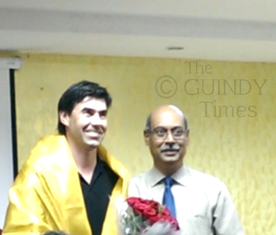 Stephen Fleming needs no introduction as he is none other than namma CSK Coach! In International Cricket, he led the Kiwis for over a decade, and was praised from the likes of Shane Warne as the "Best Captain in World Cricket." More recently, he's taken over the role of ambassador to the world promoting higher education in New Zealand.
On the 25th of August, 2014, Stephen Fleming visited Anna University addressing students in the Henry Maudslay Hall. After his speech, a quiz on NZ was held. Autographed bats were given away for every correct answer.
What is the secret behind CSK's consistency?
We do some core things very well so we are consistent. We keep the same team and show faith in people and we don't make emotional decisions.
Where do you see CSK in the upcoming Champions League?
We'll be at full strength with Bravo coming back. We are having a very good chance till the semi-finals and even till the finals. But that's not it. We want to win this time.
How's MSD doing right now?
Well, he's under pressure right now, but his form is very good.
Do you think IPL is a good platform to train players worldwide?
It's a great competition, though not good for Test Cricket. It's still a great tournament where players from around the world want to play in.
You've found yourself in various roles in the cricket world – a player, captain for NZ, a player for CSK, a coach for CSK – which one would you call the roughest?
It would be captaincy. When you don't play well, when the team doesn't play well, it is hard on you and your confidence goes down. Coaching is an easier job compared to that.
NZ is co-hosting the 2015 Cricket World Cup. Moreover, it is holding the 2015 U-20 FIFA World Cup. Do you think NZ has established itself as a major world sports centre?
For a small country, we've got some great facilities. Getting these type of events is great. Next year's gonna be great.
What do you have to say about Chennai?
I call Chennai, 'My home away from home' as I spend 3-4 months in this city every year.
What do you think about our campus, Anna University?
I just spent some time going through the list of your alumni and was impressed to see that you've had a cricketing history here. Some great players have been here. You've got some great facilities too. I've heard of the success stories of this campus –its graduates and their careers. So, it's very impressive.
Will Indian students find it difficult to adapt to the NZ lifestyle?
No. Not at all. NZ is very accommodating. The only problem would be the cold. A nice jacket would do for that.
As an ambassador for education in NZ, what is your role?
It is our duty to promote NZ as a country and make students consider NZ as an option for higher education and their careers.
What's awesome about NZ as a country?
NZ is a very beautiful country. You might have seen the country while watching LOTR, as it was shot there. It's a small, young country with a population of 4.3 million. It's a developing and welcoming country. We've got beautiful beaches and it's nice to live in NZ. Hindi is the fourth most spoken language – so you can see it's diversified. And, it's a very safe country.
How good is education in NZ?
In the last few decades, NZ has developed brilliantly and evolved a wonderful education system which was previously restricted only to New Zealanders. However, now it is open to students from all over the world. We have eight fantastic universities all ranked among the World Top 500 and institutes across New Zealand that offer diverse programs. So, you could tailor a career based on your interest. It could be sports, management, engineering, etc.
---
Rapid Fire with Stephen Fleming
Favorite eatout in Chennai - The rocks in EA
Favorite shot - Cover drive
Favorite sport other than Cricket - Golf
Most memorable innings – 134* against SA in World cup 2003
---
Here's an excerpt from his speech: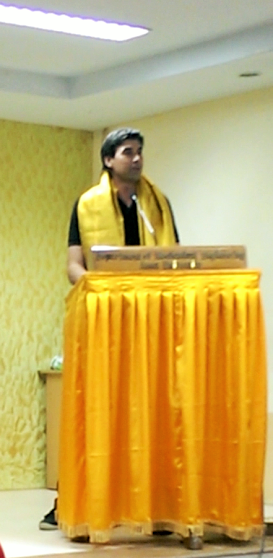 I would like to talk about an incident where India – NZ relations got almost strained. It was a test match against India in the Basin Reserve, Wellington, which can be a very windy place. So, when you were a helmet, the wind whistles – which is quite distracting. I was facing a very good, fast bowler - Javagal Srinath. He was bowling downwind, and this wind was strong. He delivered a bouncer and I ducked, but a little too slowly and it hit my helmet and went down to fine-leg. I was really shaken as the wind was blowing and the ball hit loud. My adrenaline started pumping. While running, I went past Srinath who was talking and yapping away something at me. Well, there are two things a bowler likes to do very much – 1) Get you out. 2)Get you hurt!
So, here I was thinking, Javagal is really enjoying having hit my helmet. He is bowling really fast and excited and had hit me. I was the captain and not very happy about it – I was hit and was under pressure. I didn't take it kindly. And on top of that he was telling me something. I was like hush- hush Srinath, hush-hush Srinath! Then he suddenly stopped and walked towards me. I was like, oh no! Here we go. He then asks "Fleming! I was asking if you were okay?" It was a very humbling moment for me. I told him, "Yes, Javagal, I'm okay. It was a great delivery." Then we shook hands and moved on. Thankfully, NZ – India relationship is still very strong!
I chose a career in teaching in the field of Physical Education. One of the reasons I chose this field is because I had a love for cricket. Plus, I wanted to have a career in cricket. However, my parents were like 'there's no way you could make a career out of cricket!' Well I proved them wrong. Either way, the knowledge I gained helped me when I took over the mantle of captaincy at age of 23 and even is helping me even now when I'm a coach. I've used my education skills to advance my team. With the teaching skills I'm able to stand and give a speech to some of the best players in the world – delivering my strategy as if I'm in some kind of classroom. I am able to give a good talk about the plans to Dhoni, which he should be able to take it down to the field. I'm able to handle Media. I'm glad my parents had a firm belief about the importance of education.