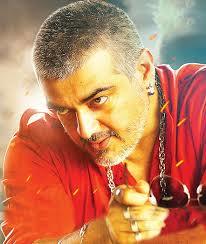 This Diwali brought with it the rains, hampering the sparkling crackers that define the festive mood. But don't let it bring about a frown to your face, for there is much more to Diwali than just the fireworks. Sweets, lamps, colours, and new dresses - not to forget the festival-release blockbusters – set the mood for this auspicious occasion. The dull sparkle of this year's crackers was made up for by movies which set the screens scorching, come Diwali. Vedhalam, starring Ajith Kumar, Lakshmi Menon and Shruthi Hasan was one such movie which had the audience in a tizzy.
The story line revolves around Ganesh (Ajith), who dotes on his sister Thamizh (Lakshmi) a doting brother with a dark side to him. What it is, and why it is there, forms the crux of the story.
Ajith makes Vedhalam what it is - anyone else in his place would have made it dreary and wearisome. That said, Vedhalam caters exclusively to his fans and boy, are they overjoyed! One such example was a fellow moviegoer seated behind us in the theatre, who simply couldn't restrain himself from telling his friend about the next scene. He was very visibly excited like he was watching it for the first time, though he obviously wasn't. This is just the kind of reaction that the makers anticipated, and they sure have succeeded!
However, here's a precaution: "DO NOT VENTURE NEAR VEDHALAM IF YOU AREN'T AN AJITH FAN!"
The movie clearly plays to the gallery with Ajith having his fans go berserk with his performance and dialogues. One notable instance is the audience going absolutely wild when he says "Therikkavidalaama?" . The songs created quite a spectacle in the theatre, managing to draw most of the viewers out of their seats, while the background music Theri Mass had them screaming their lungs out - apart from which, the rest of the soundtrack was average. Anirudh needs to be given a pat on the back for not disappointing.
Lakshmi Menon, who plays a major role in the movie, has executed it perfectly, doing justice to her part. However, the movie lacked continuity between the scenes, with one shot showing the antagonist and the next one showing a completely irrelevant temple scene - the editing does leave a lot to be desired for. One factor which seems out-of-place in the movie is Shruthi Haasan. It makes one wonder why she is even present in the movie. Her role neither advances the plot, nor does it provide her with much scope to exhibit her skills, which have been hidden for quite some time now. In addition to this, her voice actually changes mid-film - I never knew one could change their voice completely! If you know someone who can do a voice changeover, please do let me know for it may come in handy! How the director could oversee such a major flaw in filmmaking confounds me.
Coming to the humour element in the movie - or is there any? I am left so dumbfounded at the stupidity of the comedians that I am confused if it indeed is just the portrayal of their character, or is it their natural trait? It is extremely pitiable - they keep shouting so much all through the movie that you badly want to stuff their mouths to keep them from talking again; they may have us queuing up outside the ENT specialist with all the noise from the "hilarious" dialogues and music. The background music sometimes gets too overpowering, leaving you squirming in your seats because of all the noise. I so regretted not having brought my ear plugs. They would have proved very helpful.
But looking past all these flaws, Thala Ajith still manages to entrance us, and has us screaming for more. Although the twists and turns were predictable, we could sit through the entire movie because of him. Though Vedhalam has its fair share of hits and misses, it is a party for Ajith fans. And, in case you want to watch it despite not being one, go armed with ear plugs and lots of popcorn.