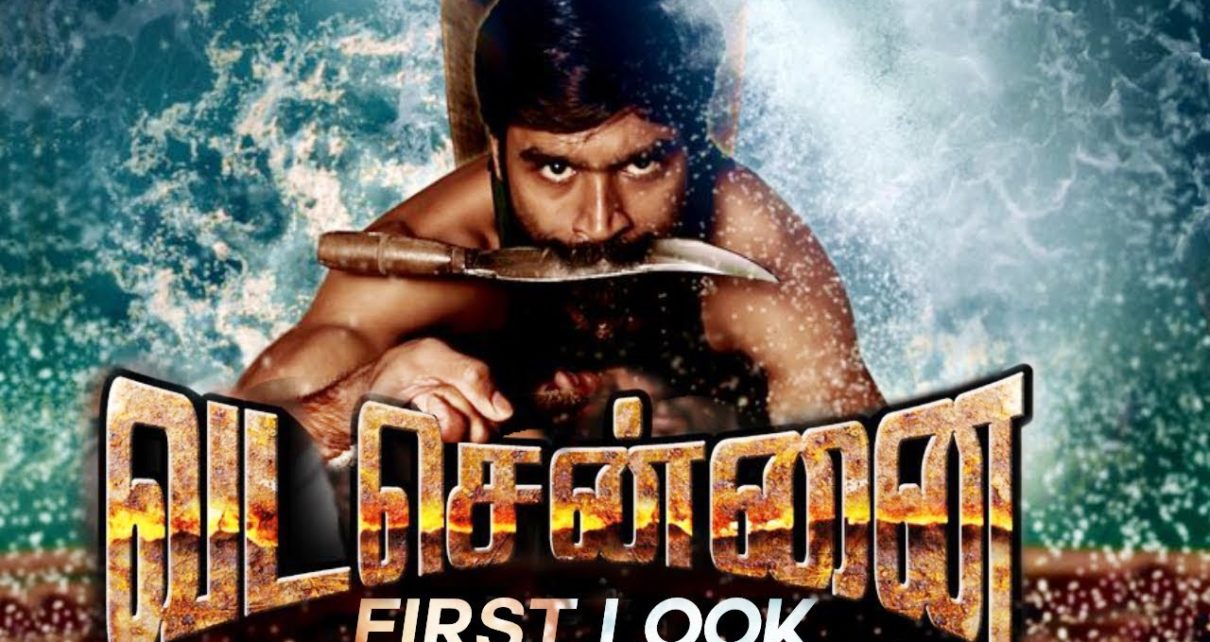 It's been nearly 7 years since Dhanush and Vetrimaaran had collaborated on a film! Can they deliver another success? Does this film match the expectations and hype set forth by its teasers and songs? In an industry were masala and action movies are so common, how does Vada Chennai stack up against these films?
A 10-year old script in the making has finally been translated onto the big screen and it is quite evident in every shot that the director Vetrimaaran, has put in his heart and soul into everything. Described by him as his dream project, Vada Chennai is by far the most ambitious Tamil film till date. The film perfectly depicts that area's activities, dialects, politics and how an innocent boy was dragged into this bloodshed world when his back was pushed against the wall. Usually gangster films are associated with mass hero scenes and sequences, but the director has aptly painted his canvas to tell the story he wants to tell without subjecting himself to such clichés in the action genre. The way he has developed his story and his presentation of it using real life political references and gangster allegories is what provides a different spin to this violent drama. The lack of songs, over the top action sequences and sticking to the basics of what seems simple and believable are the biggest strengths of this film.
Coming to the plot, the movie deals with how an innocent young boy who harbors a dream of becoming a national level carom champion gets dragged into the gruesome world of bloodshed, violence and drugs. This gangster drama is more of a battle of wits than a battle of swords and it follows the course of events taking place over a 20-year time period. Each and every event in this movie seems to have a domino effect, with everything connected in some way or the other and each character (whether big or small) has a role in those chain of events. Regarding performances, Dhanush is the heart and soul of this movie. His amazing screen presence and realistic performance is a definite treat to the eyes. The women, who are often portrayed as innocent and docile ladies, are also made of blood and flesh. Aishwarya Rajesh as the feisty foul-mouthed next door girl and Andrea Jeremiah as the mastermind behind the turn of these events, slot into their roles effortlessly and are a complete revelation. The supporting cast which includes Kishore, Samuthirakani, Daniel Balaji and Pawan do full justice to their roles with their performances. But the real show stealer in this movie is director Ameer, who absolutely bosses the screen with his role as a do-gooder smuggler and the people's champion.
The director's vision is well translated by his technical crew. While Velraj's camera angles and panoramic shots adds a bit of slickness, Jackie's production design and the use of different background colors to showcase the different time periods is an absolute masterstroke. Santhosh Narayanan's music acts as the perfect foil to Vetrimaaran's screenplay. The strategic placement of his BGM at crucial junctions helps in elevating the overall appeal of the film. On the downside, the film's runtime of 166 minutes could have been trimmed down greatly to have presented a far more gripping and thrilling watch. The non-linear narrative and the number of characters involved can at sometimes be confusing and hard to follow, but it does not hinder the overall enjoyment factor. Furthermore, the gruesome action sequences, drug smuggling scenes, jail sequences and the usage of many cuss words can at sometimes be unnerving, but the director must be applauded for sticking to his guns to present the true nature of the gangster world to the audience.
In the cinematic world, many films paying close attention to this particular place in Madras have come and gone, but none of them have captured the sheer authenticity and realistic portrayal of this area and its inhabitants as Vada Chennai has done. This film is relevant in today's world of politics and rowdyism and will surely strike a chord with the younger generations. Overall, Vada Chennai is definitely another success for the Dhanush-Vetrimaaran combo and it is definitely a film that should be enjoyed on the big screen. So please do watch this vibrant gangster drama at a theatre near you.
Tweet