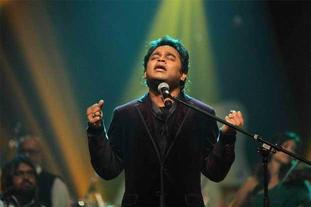 On A.R.Rahman's birthday, we set out to write a comprehensive list of the genius' top 20 songs. Little did we know the magnanimity of the task we had undertaken. When we set out to it, we shortlisted a little over 50 songs. But the fact that we have failed miserably in cutting it down to his top 20 songs is standing proof of the beauty of his compositions. Being in no way qualified or worthy of rating his songs, the list below is in no particular order, my favorite, top twenty Rahman songs.
1. New York Nagaram - Jillinu Oru Kaadhal
The depth of his voice, the beauty of the lyrics. Nothing more. Nothing less.
2. Hosanna - Vinnai Thandi Varuvaya
Because "Ulagathila ethana ponnu irundhum naan yen Jessya Kadhalikanum?"
3. Arabic Kadaloram - Bombay
Because nobody can not sing along when this plays.
4. Dil se - Dil Se
Because decades after its release I don't think twice before singing this when someone talks about Dil se.
5. Pachai nirame - Alaipayuthe
Because you don't need a reason to like this song.
6. Unthan desathin kural - (Single)
Because no song has ever made you miss home when you're at home.
7. Athangara marame - Kizhaku Seemayile
Because we've stood up and swayed to this song for 20 years now, and we will for years to come.
8. Thaiya thaiya - Dil Se
Because we grew up singing this song
9. Adiye - Kadal
Because not many people can pull off the blues like he did.
10. Poovukul - Jeans
Because duets like this don't even exist anymore.
11. Taal se taal - Taal
Because this is the definition of music and the soul
12. Oru deivam thanda - Kannathil Muthamittal
Because it makes you fall in love with the little orphan from Sri Lanka again and again.
13. In Lam Ho - Jodhaa Akbar
Because he softly takes you to a musical high.
14. Pettai rap - Kadhalan
Because it makes dead men dance.
15. Katre en vaasal - Rhythm
Because this song doesn't need a reason.
16. Manamadura/Vennilavae - Minsara Kanavu
Because the angst of love has never translated into a better song than these.
17. Khwaja mere khwaja - Jodhaa Akbar
Because it's the perfect song to listen to before you sleep.
18. Ganana ganana - Lagaan
Because it's raining feels*.
19. Naan yen - (Single)
Because this is a question I ask myself everyday and only he can make it sound beautiful.
20. Uyire - Bombay
Because this song has something so deep it that makes me want to keep listening to it. But I have no idea what it is.
We said 20, but we know we've cheated in more than one place, and even then, this list covers a fraction of the brilliance his compositions are. So, if we've missed out your favorite ARR song, feel free to let us know in the comments below!