Watching Ryan Murphy's "The Normal Heart" isn't always easy. But there are several reasons you should.
What reasons? You should watch the 132-minute film, because "The Normal Heart" seethes with rage, truth and love in every single performance by an A-list cast. You should watch because Larry Kramer's play is so much more than a relic from the early years of AIDS - it is a great play that has become an even greater television film.
Kramer, one of the founders of the Gay Men's Health Crisis in New York City, first saw his play performed in 1985. At the time, it was considered an important work, but viewed more in terms of its advocacy than as great theatre. The play made enough of an impact to spark a discussion of adapting it for film or TV, but for nearly 30 years, nothing happened.
One reason for that was doubt that a theatrical film about gay men dying of AIDS could make money. Another was the growing misperception that AIDS was no longer the public health and political issue it was in the years before medical advances made it possible to live with the virus that causes it.Murphy clearly saw that "The Normal Heart" was not trapped in the amber of a few brief years in the early 1980s. His film, with an adaptation by Kramer, captures the conflicting attitudes and emotions in the New York gay community as indifference and denial turned to panic, anger and despair, but it also recognizes that "The Normal Heart" tells a human story far beyond both its subject matter and the time in which it is set.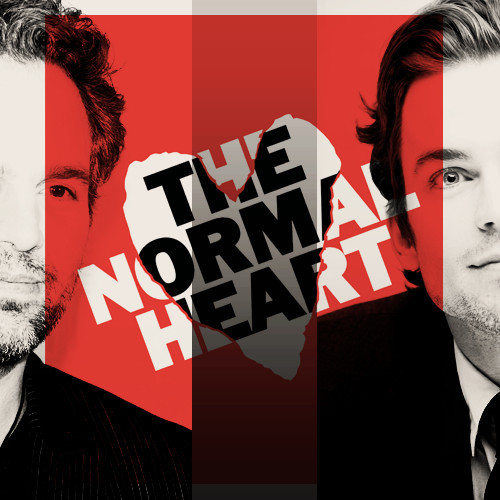 Murphy's film captures so much about this moment in history, not the least of which is how AIDS would politicize gay men and, in many ways, lay the groundwork for the growing acceptance of LGBT people in our own century.
Although out in some ways, some of the characters in "The Normal Heart" are still living double lives, such as Bruce Niles (Taylor Kitsch, "Lone Survivor"), an investment banker who becomes the first president of the Gay Men's Health Crisis. Ned continues to press GMHC toward greater urgency and action, to the point where he is viewed as more harmful than helpful and is expelled from the group.
Murphy's direction is superb, especially in the performances he elicits from this cast. Ruffalo seethes with rage and impatience as Ned. With this single performance as Felix, Bomer handily demonstrates that he is so much more than a smooth pretty face. He begins as the Matt Bomer we know from "White Collar" - handsome, serene, and seemingly unflappable. As his body shrinks and his eyes and cheekbones become sunken, we feel Felix working so hard to maintain that outer serenity, to mask the terror and growing hopelessness inside him. It is a performance of singular power and beautifully modulated complexity. It's impossible not to be moved by the sense of anger and frustration that infuses "The Normal Heart," but Kramer's screenplay corrects the play's imbalance between political issues and the humanity of the characters. Because of that, the play has developed an even more universal appeal as a television film. Anyone who has sat at the bedside to hold the hand of a loved one whose life is slipping away can identify with the abyss of pain and helplessness that men like Ned experience.
Others of note? Well, truth is, that would include the entire cast. Jonathan Groff ("Looking") as Craig, felled by illness before he or anyone else knows what hit him; Kitsch as the serial monogamist Bruce Niles; Jim Parsons ("Big Bang Theory"), as sweet-natured Tommy Boatwright, quietly tracking the tragic progress of AIDS through his own Rolodex cards. Alfred Molina("Spider-Man 2") is memorable as Ned's lawyer brother; stage director Joe Mantello ("Take Me Out") delivers a soliloquy of anger that becomes a dramatic fulcrum in the play; and Julia Roberts, sour, steely and unglamorous, makes Emma Brookner the cold-hard-facts foundation of the play.
In short, "The Normal Heart" belongs among those great works, as both a play and now as an unforgettable television film, that transcend their time and become hallmarks for that period of history. Allowing us a glimpse back into the past and firmly reminding us of the challenges the future hold. It is emotionally raw, harrowing and a thing of such singular horrific beauty, it will move you, exhaust you and, almost paradoxically, thrill you at the heights television drama can attain.