This 2nd year B.Arch student from SAP is not like any other. At 18, she's already part of the National Team, and is the No.1 for Under-19 Women's Squash in the Country and the No.3 in Asia. Having won several international tournaments like the DDA open in 2012, setting a record as one of the five Indians to have reached a quarter final in the British Junior Open in 2013 and more recently, winning the Indian Junior Open last year while still balancing her hectic first semester at AU, here's the story on how she made it to the top...
How it all began....
She was six years old (and "smaller than the racquet", as she puts it!) when her dad first made her try her hand at squash, at a club at her hometown, Salem. Talented right from the start, she gives all credit to her parents for identifying her potential, guiding her (both parents being squash players), and making her join the India Cements Squash Academy in Chennai( Now the Indian Squash Federation). Eventually, she entered the competitive world and won her first national tournament when she was just nine.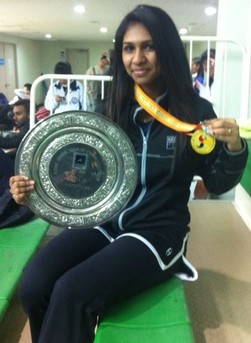 The journey...
With more frequent visits to Chennai for intensive training, she soon became a player to watch out for. She was one of the youngest Indians to play for the National Team in the under 15 category. She has even received applications from Harvard and Columbia University, but declined as she wished to play for our country instead. With awards for 'Most promising player' among others, she was even dubbed "Star of the Semi Final" at the Asian Juniors in Korea.
Balancing Squash and SAP...
"I want life to be challenging!", she says. "It's been hectic, but I think it's possible for me to become both an architect, as well as a professional squash player!" In the past year, she has learnt to manage staying up overnight to submit projects as well as dedicating atleast 3 hours for training everyday.
On her Contemporaries and Idols...
"It's a proud feeling to play with such talents. Joshna Chinnapa is a determined player and is capable of making a comeback despite injuries, while Dipika Pallikal is a fighter during a match. My Idol in the Squash World would probably be Nicole David ( World No.1- Women's Category) from Malaysia. It's exciting to watch her play, and a great learning experience!"

Crossing hurdles....
She admits to times when she found it difficult to balance it all, but doesn't like to give up. Writing her board exams a day after returning from the Asian Junior Open, coping with the pressure in her first semester at AU and making up for exams and tests she missed while attending tournaments, has been tough, but she's managed to overcome all of those with ease.
Message to Juniors
"The world of competitive sports can be an eye-opener and can give you great exposure to new places and people. Try to play as much as you study and keep yourselves healthy and active. Tap your potential at the right age, and you could go places."